VINE Garage Band stays busy playing weekly gigs at Mankato assisted-living facilities
---
The VINE Garage Band has been busy.
In just six years, they've played more than 300 gigs, nearly all of them at senior living facilities in and around Mankato, and they know how to get a feet tapping and heads bobbing.
With more than 100 songs in their repertoire, their style is hard to pin down. In a single set, they cross genres from polka, to rock 'n' roll, to folk and then back to big band music.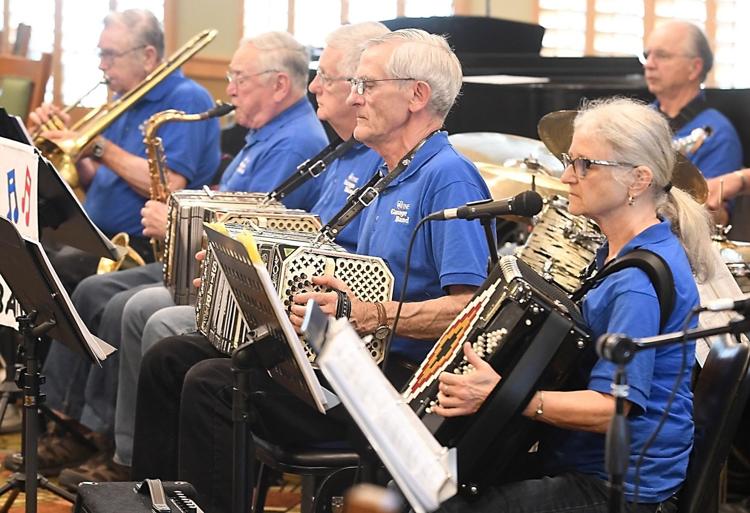 "People always think they like that old time music at senior facilities, but that's not true anymore," said Ken Schweim, band leader and concertina player for the 11-piece group. "Yes, we're an old time band, but it's gradually changing. Now they're asking for more music from the 1950s and '60s, country western, big band. So we're adding a lot of that to our list also."
A life-long musician, Schweim had dreamed of forming a band and playing gigs. He dabbled with rock 'n' roll in high school back in the early 1960s, but nothing took off. Now he's playing with an assortment of musicians, the majority of whom have played professionally. They range from 62 to 87 years of age.
"I've always wanted to play in a band since I was a kid. Now that I'm retired I thought, I'm going to get it done while I still can," Schweim said.
Saxophonist Don Sieberg and drummer David Kroell have been in the band since their first rehearsal at VINE Community Center six years ago. An administrator at VINE was impressed and they struck a deal; the fees they earned from gigs would pay for their practice space. But with an average of one show a week, practices subsided. Now the money earned is simply a donation to VINE.
Schweim selects all the songs, and writes the music for each instrument. Because they play so frequently, they are always looking for musicians to fill in when band members can't make a show.
Like the majority of the people in the VINE Garage Band, Seiberg and Kroell are seasoned musicians. The VINE Garage Band is just one of several bands they play in.
"The oldest guy in our band, Don Seiberg, he plays in I'll bet 10 different bands. It's not uncommon for him to play three jobs in one day, with different bands. And he has to travel from place to place, from Albert Lea to Lake Crystal. He's just an interesting guy."
At their afternoon show at New Perspectives in Mankato on Tuesday, Seiberg lists off the other bands he plays with, the Echos Big Band from St. Peter, community bands from Mankato, Albert Lea and Lake Crystal, and the occasional duo with his sister, who plays the accordion. After the show he had to rehearse with another band the same night. He said he plays 100 shows a year, and spends a good four or five hours a day playing music.
"I was a farmer, I retired, and this kept me going," Seiberg said. "I'm just enjoying life at an old age."
Kroell still plays the same classic Slingerland drum set he had when he played in a rock 'n' roll band as a teenager in the 1960s. When he was younger he played professionally, touring across the country for a week or two at a time. He estimates he has played with 40 bands over the years.
"It used to be every Friday, Saturday, and Sunday for the whole year at ballrooms," Kroell said. "We went out to Washington State, Arizona, and Texas all the way down and back. We'd stay in hotels, get up late in the morning, have a steak and a beer and then be on our way to the next one."
He met Schweim at a show in Elysian drumming for Chuck Thiel and the Jolly Ramblers, a band he still plays with. Kroell's wife was talking with Schweim when he mentioned they needed a drummer, so she introduced him to Kroell.
"Our drummer here, he's played with every band in southern Minnesota," Schweim said. "He's a fabulous drummer; we're so lucky to have him."
Along with senior living facilities, they also play community events like North Mankato Fun Days. The largest audience the band played in front of was at Sibley Park with thousands of people in attendance, but Schweim said the greatest reward is when their music connects to someone personally.
"We played not long ago and one fellow just cried his eyes out, and I thought, boy we must be bad," Schweim said. "My wife went out to talk to him afterwards. He and his wife, this was their favorite song that they grew up with. It brought back so many memories, and his wife is gone now, he just couldn't help but break down and he said, 'I just love this song.' He was crying from happiness."
Schweim said that is the greatest reward, and for nearly every concert, someone will approach the band afterward to share how a specific song they played brought back vivid memories of life's happiest events.
"My pay for playing in this band and for doing this work is to get a smile out of them," Schweim said. "To me that's my greatest pay, to see a smile on their face."