Some theater programs pride themselves on bringing Shakespeare to the modern world.
At Gustavus Adolphus College on the other hand, they like to bring the modern world to Shakespeare.
This week, Gustavus's theater department presents "Measure for Measure." And while it might not be the bard's most well-known play, it certainly contains elements that, in the hands of the right director, can be uber relevant to current events.
The show follows the story of Isabella, a nun whose brother has been sentenced to death by power-hungry government official, Angelo, for a small crime. Angelo says he will let Isabella's brother free if she sleeps with him, which she refuses to do. From there, the plot unfolds into a tangled web of comedy, tricks, and lies.
Most of the characters in the show are performed by traditional actors. But a select few are portrayed by life-sized puppets — a literary device Seham used years ago the first time she directed "Measure for Measure."
The puppets are giant, moving metaphors of manipulation, brought to life by stealthily clothed actors standing behind them. The puppets were created by Twin Cities-based puppeteer Anne Sawyer of Heart of the Beast Puppet and Mask Theatre. (Sawyer's inclusion in the production allowed student actors to learn about puppet building, including sculpting molds for masks and creating mechanisms to make the puppets move.)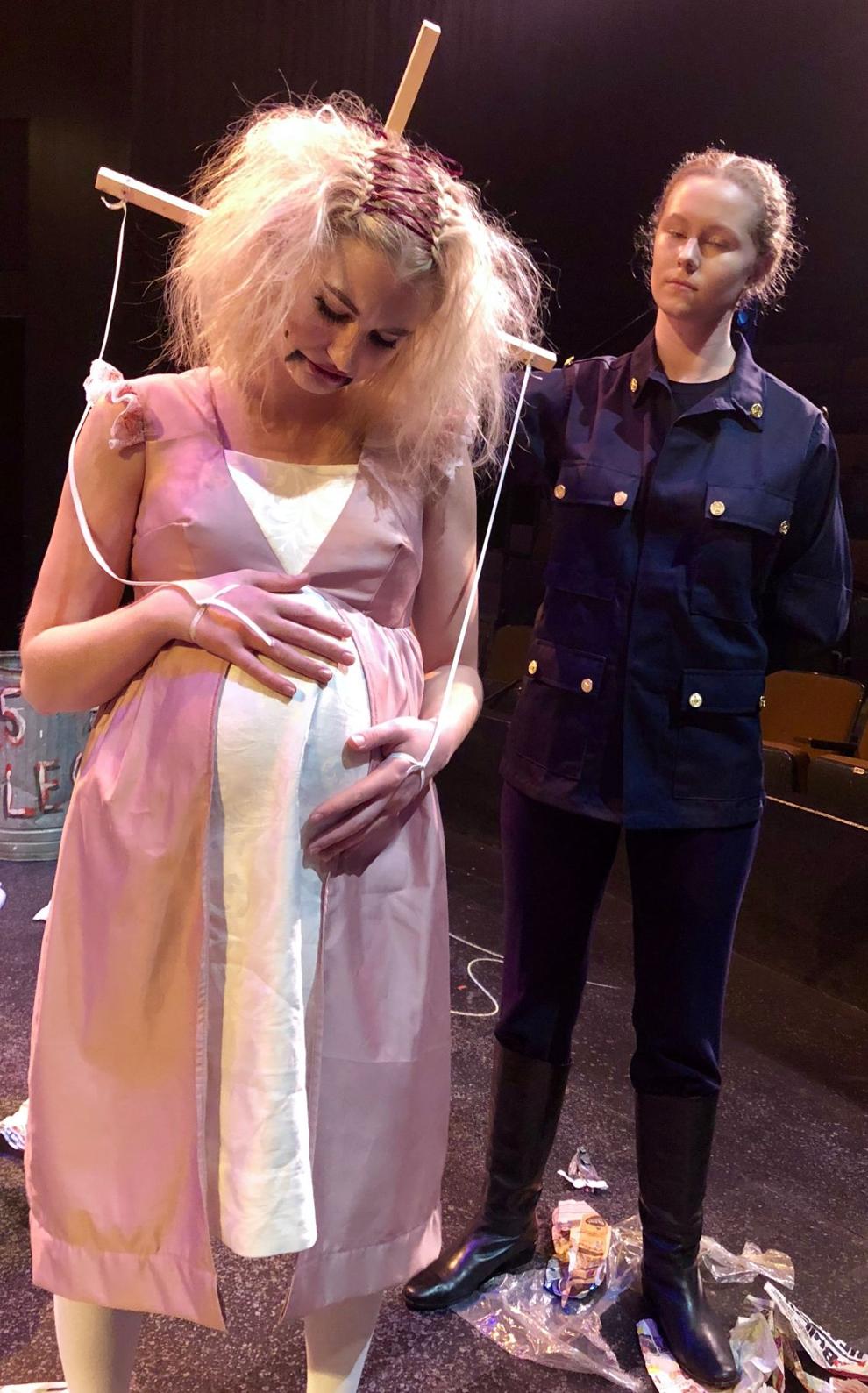 Seham is never afraid to address political controversy. And while "Measure for Measure" isn't overtly political, its themes might remind you of a certain Supreme Court confirmation hearing from a few months back. Seham chooses works that get people thinking.
"You can have fun with 'A Midsummer Night's Dream,'" she said, "but it's not going to have anyone questioning their values when it's over."
One of the themes she hopes audience members pay attention to is how women are listened to and and whether they are taken seriously. In this play, a main female character is thrust into marriage with another main character. After that scene, Shakespeare gives that character no more lines. Was he writing plight off misogynistically? Was he leaving her thoughts out of the script to be intentionally vague?
Some productions leave the character's plight just as Shakespeare wrote it. Others take some liberties. Seham's takes liberties. And the student actors are loving the way this production is shaping up, as well as the strong messages it is sending.
"I feel honored," said Mayra Gurrola, a junior from St. Paul who plays the role of Isabella. "Not only am I doing this for myself, but for all the women in my life who told me their stories and never had justice."
Jayden Luikens, a junior from Savage, plays Angelo. He echoed Gurrola's thoughts.
"It's very important to me that the play convey that message," he said.
Senior Emma Myhre's character, Pompey, is one of the large bunraku puppets. Mhyre controls the head and legs, while another actor controls the hand movement. She said the chance to work with the puppets has been enlightening.
"I can't imagine I would get the experience to do this kind of theatre at any other school," she says. "It's a unique art form. You grow up watching the muppets, but you don't realize how complicated it is to act as a puppet until you try."
From learning how to "breathe" with the puppet to figuring out how to keep the puppet's eyes focused correctly, Seham says it can be a challenging additional element to any production. However, she says it is well worth it, especially given the ability to communicate through puppets in a nonverbal way.
"I think it's making the play more accessible to the audience," she says. "It's making the comedy more present and some of the other themes come through in a heightened way that goes well with the heightened language of Shakespeare."