Nigel T had been performing one of many nights at Red Rocks when he felt something a little off about the stage.
He kept his act up, while recommending the audience disperse so he could jump off the stage, which was near the back of the bar.
"I kept moving my hands," Nigel said, and no one was moving. He thought, screw it. "I ran and jumped over this lady's head. I almost kicked her in the face … but I didn't."
The rapper, who once performed regularly at Red Rocks and now resides in Minneapolis, said that was just one of the many memories he has of the venue. Another time, during a Toys for Tots benefit concert, he decided to ride a 3-foot pink unicorn as he performed … because why not?
And Nigel is fond of those memories, especially after learning about the permanent closure of the popular downtown Mankato club. After all, the liberty and trust the owners had in its musicians to put on a good show made Nigel become a better performer.
For the last two years, Red Rocks prominently featured music, almost becoming another home for music lovers and musicians alike. Everything under the sun took place at the cornerstone bar including metal shows, ska shows, DJ showcases, art shows and hip-hop shows.
The hip-hop showcase, organized by !ntell!gent Des!gn (Robert Kolbe) and Fuzzy (Justin Fasnacht), began at Red Rocks in October 2018.
"It was a great opportunity to do those shows," Kolbe said. "It was kind of the ultimate goal to get into Red Rocks — as far as doing shows — and somehow it magically happened."
Mankato has been a longtime hub where the creatives in town would gather. In the early 2000s, Fasnacht said, there was Choppers as well as the Sugar Room, RedSky Lounge and Moonshiners. 
The What's Up? Lounge also has been a part of the hip-hop community. Fortunately, the Old Town venue has remained open through eras of the Mankato music scene. It has hosted national acts such as rapper Afroman, rock band Motion City Soundtrack and Mankato's own legendary punk group, Libidio Boyz. This Mankato institution has endured the years and continues to put on shows. 
"The What's Up? Lounge — that's always been a staple," Fasnacht said.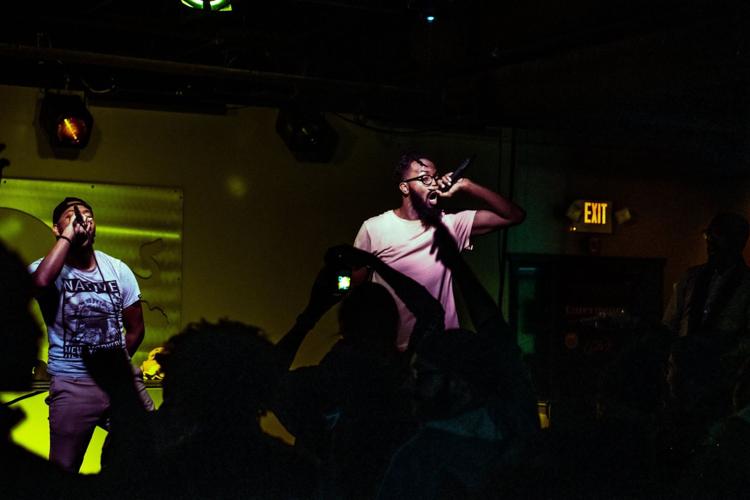 But the eventual shutdown of the other music bars left a gap in some parts of the music scene, such as hip-hop. Finding another venue had always been an organic flow as one shut down. 
In a Facebook post, lamenting the closure of Red Rocks, Fasnacht reminded everyone that it wasn't the end.
"I commented about the venues that have closed and we have always had another opportunity," he said. "Right now, it seems like it's bleak, but something will pop up and come around, and we'll be able to enjoy that new venue."
Some patrons and regulars at Red Rocks, who in the past have enjoyed the music and open mics, can't see past the closure.
Rellium Prime (Jarrell Graves) has been in the hip-hop scene since 2007. He had seen other venues close and new ones accept hip-hop into their space. (By the way, there was a time when venues didn't allow hip-hop shows due to some altercations at a couple of them.)
There was a regular performer at Red Rocks, Graves said, that couldn't have been more than 22 years old. "And she was just talking about how much she misses (performing at Red Rocks), and for her, that's all she knows for the scene." 
Graves had been able to see many artists fizzle away or new artists make it big, but all through different venues. If history tells us anything, there'll be another venue because at the end, it comes down to the support of the hip-hop (and music) community in Mankato.
Red Rocks was a great place to perform, as Kolbe, Fasnacht and Nigel agreed, and it brought the music scene right downtown. It provided more foot traffic and wondering ears. However, the venue itself wasn't the only reason for the hip-hop show success.
"When you put that many artists that I have known for a really long time in the same building, everyone in the same building? Nothing bad can come out of that," Graves said. "Positive reactions each time."
Kolbe adds it wasn't just about the music at Red Rocks. "It was a place that people were comfortable with."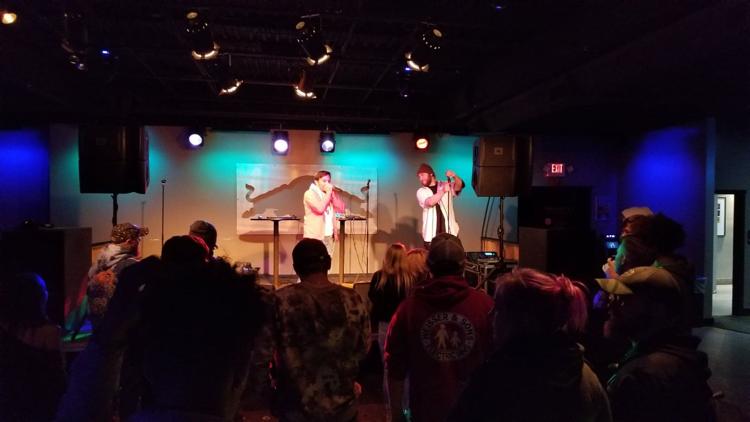 The inclusivity allowed more people to join in on performances, whether they were there for a friend or as a passerby wanting to listen.
For a while Red Rocks was called the Haze, which was more of a dance club, Fasnacht said. There's nothing wrong with that, he said, but once Red Rocks began to have more shows, it became a more comfortable spot for him.
"It was nice to be able to feel and be included in that space," he said. Red Rocks provided another space for him to see friendly faces enjoying a show.
Jacob Bases, who'd been day-shift manager at Red Rocks, said he'd put himself on the schedule each time a hip-hop show would take place.
"It was kind of a central event," Bases said. "I think it was a real benefit to community. … If anything, it was a net positive for everyone."
Ill Poe (Nate George) hadn't performed often at Red Rocks, as he hung up his rapping gig in 2016. He's seldomly performed since then. George, who has been in the scene since the early 2000s, has seen the ebbs and flows of venue closures. Having been an audience member at Red Rocks, he'd noticed the shows were more diverse.
"It wasn't just one friend group but multiple friend groups," he said. "I dug that vibe."
He credits Kolbe and Fasnacht who have curated the show to have a few out-of-towners along with locals.
George believes something will fill the void of a venue closing because the demand for live music continues.
"I think there are a lot of people that are heartbroken that we're watching another venue close, especially one that was so inviting," he said. "But Mankato has always opened its door. I can't imagine there weren't be another venue."
And these things do happen, Kolbe said. "We will find another way to have more shows. As long as people are marketing themselves, it's sure that there's a venue for them to perform as well."
And since the music and arts community in Mankato are tight knit, there'll always be a place to perform.
"A lot of different genres cross paths in friendship," Fasnacht said. "We're all together in this, and it's not just hip-hop that is losing Red Rocks — all the other genres are, too. We'll all work together to find the next venue."
Ultimately, Graves asks, "Where do we go from here?" The year 2020 has posed many challenges, from the George Floyd protests to the COVID-19 pandemic. There's a lot in people's minds right now, he said.
"What I'm doing as an artist, it seems so minuscule right now, but in the bigger picture, I do think that artists help heal the world and figure out the pain," Graves said.