JANESVILLE — After together creating art that has been featured in sculpture tours across the state, two teachers collaborated to create a new class at Janesville-Waldorf-Pemberton High School.
Art teacher Tim James and industrial technology teacher Aidan Demarias brought together art and welding students to make art from recycled metal.
The students' iron representation of rebirth soon will be enjoyed by Mankato pedestrians. Their work was chosen to be in the 2018 CityArt Walking Sculpture Tour.
The students hadn't quite finished their work of art when the semester and the metal sculpting class came to an end. Students are now working after school and during study halls to get their statue ready for its public debut in May.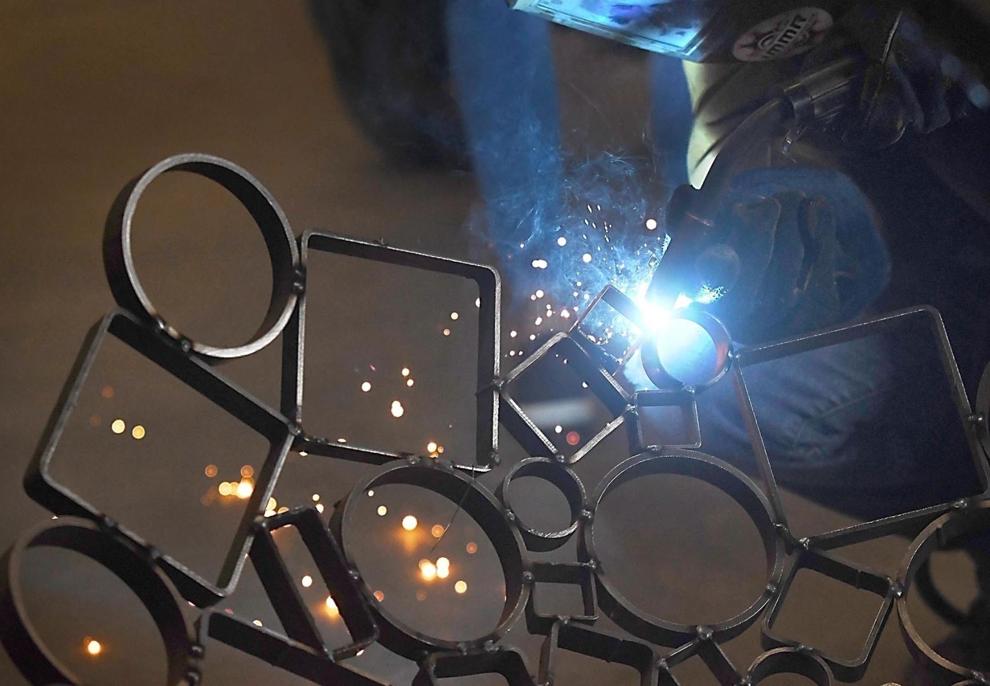 The sculpture depicts a tree and an Earth-like sphere. It symbolizes "a rebirth of life from a cold, dark world," according to the students' artist statement.
Every student in the class had a hand in designing the piece.
"We took components from everybody's ideas and put them all together," said student Kirston Lynch.
After learning how to safely use metal cutting and welding equipment, students are working together to build their sculpture.
Student Ethan Bluhm said it has been a challenge at times to envision how the sculpture would come together while they work on its components.
Most of the iron used in their creation is odds and ends donated by MEI, a Mankato-based elevator manufacturer. A number of community members donated the metal chains that students are wrapping around the tree they built out of metal parts.
The teachers are shepherding the project but said it is largely student led.
"We're here to guide them when they have questions, but it's definitely their deal," Demarias said.
James said he's enjoyed bringing together students interested in art and industrial technology.
"It's pretty cool to see them all working together as a team," he said.
The teachers said they were careful not to get their students' hopes up about winning a spot on Mankato's sculpture tour, which historically has been filled with professional artists. They themselves have been chosen for a number of walks across the region and never have seen a student project featured before.
But the teachers were secretly optimistic their students would defy the odds.
"We had a lot of faith. We knew that we had a really neat thing going," Demarias said.
Along with creating a collaborative sculpture, students in the class were challenged to create two independent works. One or their works could be purely an artistic expression while the other had to be a functional work of art.
Bluhm made animals for both his projects: a goose with outstretched wings for his artistic piece and a dear head with antlers that could be used as a coat rack for his functional piece.
Those independent projects were more challenging, Bluhm said, because he didn't have his classmates' help coming up with designs or making the components he struggled with.
"With the class sculpture we got to build off each other's strengths," he said.