From the street, Union Market — with a gleaming sign greeting passersby — looks like a big empty space.
Lots of polished concrete. Lots of empty white walls. LED lights shining on ... well, nothing.
Don't let that fool you, promoters say.
"What you see out there," says Mona Ceniceros, "is potential."
Ceniceros is one of the small business owners banking on Union Market becoming a very big deal. So far it's only been open one day — Shop Small day in November — but they're hoping to attract enough vendors to coincide with Ceniceros' first yoga classes, set for early January.
Managed by the Coldwell Banker Commercial Fisher Group (CBCFG) — the space is owned by Growth Holdings, LLC — the space looks nothing like it did six months ago. An antique store for years, the space has been fully renovated and is ready for vendors. The clean floors and walls are designed to give vendors the freedom to do whatever they want with their space.
Vendor stalls will be available in either 100 or 200 square feet. Rents will be all inclusive — vendors won't have to worry about cleaning bathrooms, paying for wi-fi or other utilities, etc. But they will have to manage their own business. The building managers will not provide staff, for instance.
"This is not for someone who is unorganized," said Cate DeBates of CBCFG. "This is running your own space, running your own store."
Right now, promoters say, is a great time to jump in.
"We're looking for vendors," said Patti Heitkamp of CBCFG, "retail people that want to come in and start a business."
Union Market's business model of shared spaces is one that is working well in other places around the country.
Case in point: the Mall of America's Fourpost, which opened Nov. 1. Fourpost leases space to local, small-scale retailers who would in no way be able to afford to rent their own storefront inside the mall. Instead of renting a storefront, they rent space inside Fourpost that comes with a stylish cube — four posts — which they can personalize to fit their business/marketing needs. It's carving out a small place among tenants who will share the overhead costs with each other and with Fourpost. Just about every major mall owner is experimenting with similar endeavors.
While the Mall of America has the benefit of built-in foot traffic, Union Market won't have that luxury. They're hoping the growing panache of Mankato's downtown and support of surrounding businesses will funnel people in. They're also hoping the trend toward buying local versus online or big box stores continues its upward momentum.
Also, they've got a built in attention-drawing tenant: the yoga studio.
Sun Moon Yoga was a fixture down the street from Union Market for years. At the corner of Front and Liberty streets, Ceniceros built a yoga empire that taught people to tune into their body's energy, and trained yoga instructors that serve around the region.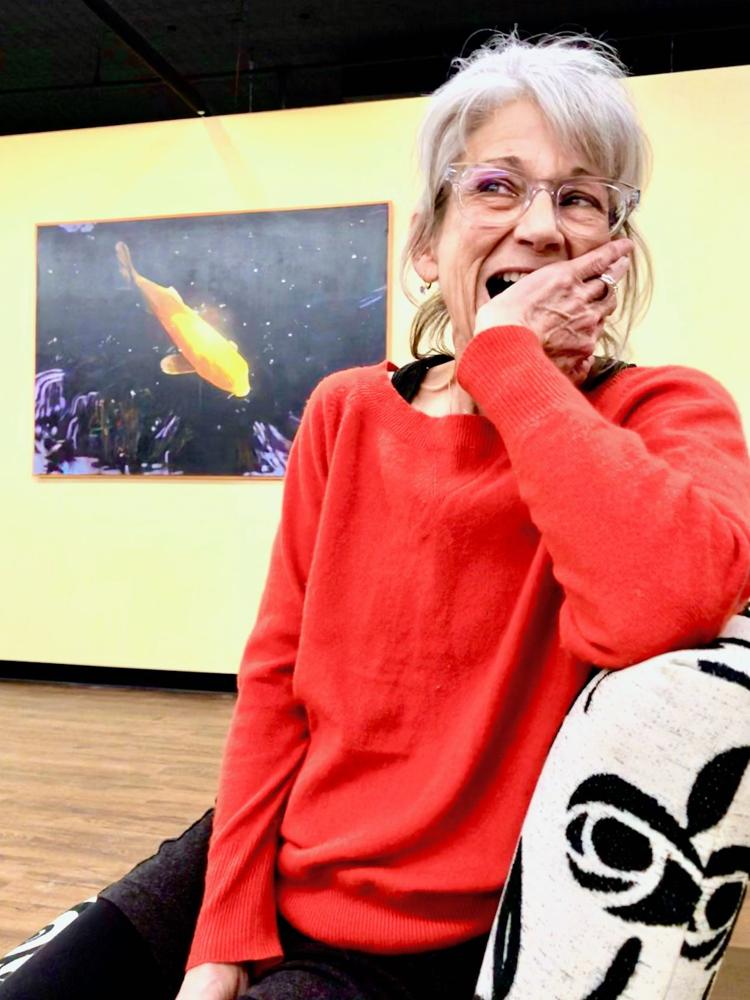 But economic reality brought on a reckoning for Sun Moon.
"In 19 years I had 19 rent increases," Ceniceros said. "The rent has more than tripled since I entered there. I literally was priced out."
She said she looked everywhere for a place to relocate. Then she discussed her plight with the folks at Union Market, and a partnership was born. Sun Moon Yoga occupies the rear of Union Market, and she's taken steps to ensure privacy for yoga students.She's also installed a heating system that will allow her to more easily offer so-called "hot yoga," where the temperature is literally turned up to more than 80 degrees.
She regrets having to give up a space where so many memories were made. But she's thrilled about the possibilities that exist in the new place.
"This space is bigger than my biggest studio," she says. "So, for me, it's a downsize that will make things a lot less stressful for me."
DeBates says that, given the success of Fourpost and other collaborative efforts such as Mogwai (a Mankato business collective that offers shared office space) she and CBCFG are convinced this kind of downtown presence can thrive. And if events such as Maker Fair Minnesota or the GSR Fine Art Festival are any indication, there are enough artisans in the area to fill the place.
It's just a matter of getting them there. They're hoping the idea of having retail space without the risk of mortgages and high overhead costs will be a draw.
For one day, at least, they did have them there. On Shop Small day this year they had nearly a dozen vendors on hand and foot traffic was good. One of the vendors was Lisa Finch of Finch Designs.
"I love the concept and have seen it utilized well in other cities," says Lisa Finch, owner of Finch Designs. "The space is so pretty and the lighting is fabulous. It serves its purpose well as a jumping off point for smaller businesses as they transition from a home-based shop to a brick and mortar location with lower risk."
CBCFG will be the property manager and will handle utilities, cleaning and keeping the wi-fi spry. They'll also handle the overall look of Union Market.
"We'll be curating the space," DeBates said, "so that it's non-competitive and works well for everyone."
Part of their mission is to help small vendors become, if they wish, bigger vendors. Every business has to start small. Union Market, they say, is a good place to start small.