MANKATO — Toward the end of the March 13 dinner theater performance of "Buddy: The Buddy Holly Story" at Kato Ballroom, director Travis Carpenter asked if anyone in the house had seen the rock-and-roll star play during his 1959 Winter Dance Party tour through the Midwest.
Mary Gerber, 73, who was seated at a back table, was one of seven who raised their hands that afternoon. A spotlight briefly shone on her face while a member of Merely Players presented a small token of appreciation from the cast of the musical based on the life of a songwriter-musician who died in a plane crash 57 years ago. She placed the cookbook next to a set of photos her husband had brought along from their home in Walters.
While everyone waited for the show to start, Ervin Gerber went from one row of audience members to the next showing off the 8-by-10s and a scrapbook. They were a big hit with "Buddy" cast members.
"She didn't really want me to bring them, wasn't sure anyone would be interested," said Ervin, who clearly enjoys being married to his hometown sweetheart and the person who is credited with snapping the last known photographs of Buddy Holly.
"It's been my claim to 15 minutes of fame," said Mary, downplaying the stir created at the Kato Ballroom over the black-and-white images.
"I met her (Mary's) husband and I saw the photo album and the pictures she took. It was a really neat way to end four days of such a great production," said Tania Cordes, owner of the entertainment center.
Seven Surf Ballroom photos
Reprints of the images Mary created with her little Kodak camera Feb. 2, 1959, have been published in Rolling Stone and are displayed at a museum in Holly's hometown, but she's never had a career as a photographer.
Mary opted to be a homemaker, and to work at a small town bank and at Naeve Hospital in Albert Lea. She regularly travels to St. Peter, where she cares for a young granddaughter while Mom is at work. During a break at River Rock Cafe, she told the story of how, at age 16, she had played an important role in preserving a piece of American music history.
Her eyes lit up when she recalled the excitement of hearing the news almost six decades ago about a big rock and rock dance across the state line from her hometown.
"Buddy Holly's playin' at the Surf," she said, repeating her older brother's announcement.
When Mary found out the 17-year-old heart throb Ritchie Valens also was performing at the ballroom in Clear Lake, Iowa, she pleaded with her sibling to bring her along.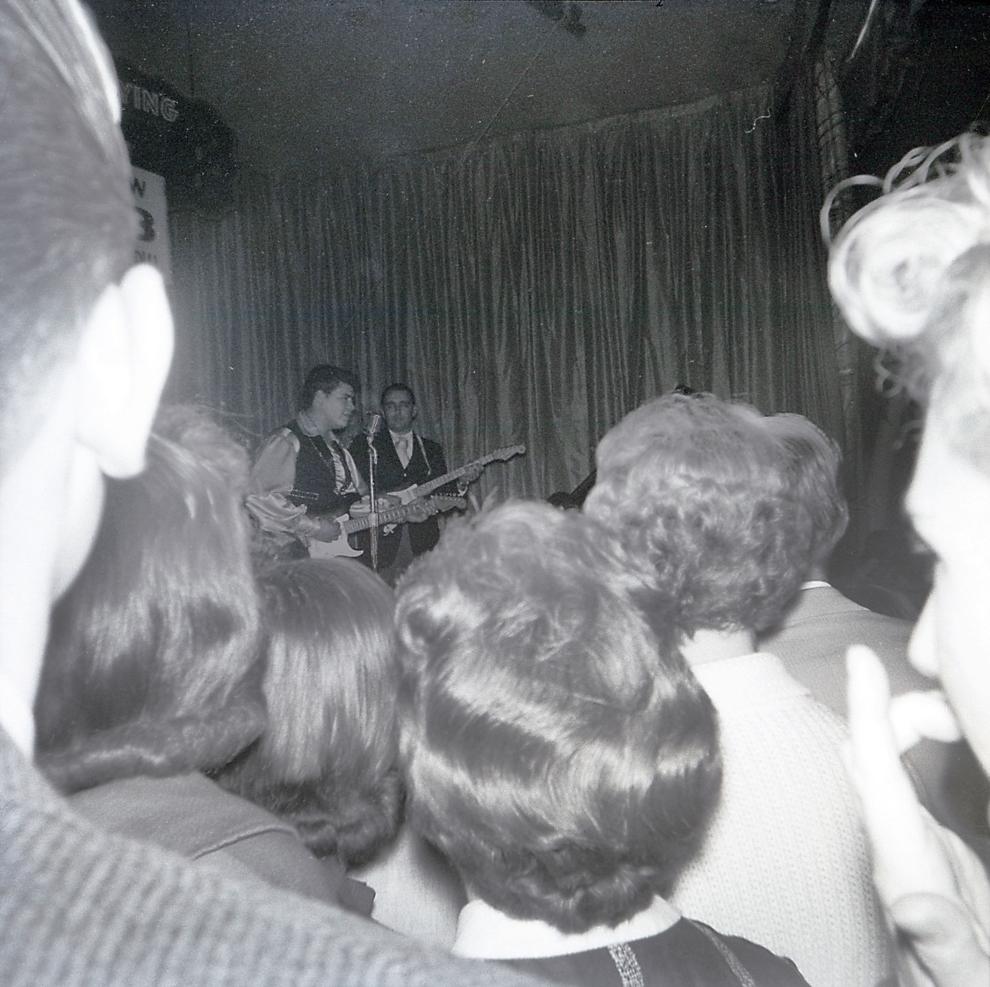 "Then I begged and begged my parents."
Her mom and dad, Earl and Ruth Haukoos, didn't have a problem with rock and roll — they were music lovers. However, the concert was on a Monday evening and outside temperatures were bitterly cold that February. The persuasive 16-year-old eventually was granted permission to attend the teen night concert.
Mary's brother, Richard, stopped on the way to the concert and picked up his date and that girl's younger brother.
Once inside the Surf Ballroom, a reluctant Mary was coaxed by her female companion, who had spotted Dion and Frankie Sardos standing at a counter drinking sodas, to ask the singers to pose for a picture.
Other images captured that night by Mary include shots of Holly and Valens on stage. One picture shows Holly filling in on drums for a sick member of Dion's band, the Belmonts.
'No cameras allowed'
At the end of the show as Mary left the ballroom, she noticed a sign posted near the entrance door — "No Cameras Allowed."
On the drive back to Walters that snowy night, her brother's car went in a ditch. Throughout their long and cold walk home, the young music fans were oblivious to the news about a plane crash near Clear Lake. Mary was in Tuesday choir practice when she found out Holly, Valens and The Big Bopper, along with their pilot, had died shortly after they left for Fargo to prepare for the next dance party concert.
"I was with my cousin. I remember we just started crying."
Mrs. Haukoos had the roll of film from her daughter's camera sent away to be developed. When the prints returned, Mary stashed the negatives away until they were moved to the home of the Gerber newlyweds. The images were misplaced for a time and almost forgotten by the person who took them — she was busy being the mother of three children.
Fifty years went by before she returned to the Surf Ballroom and there were decades between the Day the Music Died (a common phrase used in reference to the Clear Lake tragedy) and the start of a rock and roll project by Sevan Garabedian of Montreal and Jim McCool of Wisconsin.
For several years, the two men have routinely placed newspaper notices in towns that hosted Winter Dance Parties in 1959. The two filmmakers look for people who had held on to mementos that would make good features in a documentary. As the 50th anniversary of the deadly plane crash approached, the two men were aware there were no known images from fans who attended the Clear Lake show.
"We had been looking for photographs taken by anyone on Feb. 2, 1959, at the Surf Ballroom when Mary called in the fall of 2008," McCool said.
It had been difficult at times to determine the concert location of some of the photographs they examined, but when Garabedian heard Mary's description of call letters KRIB in the background of one her images, he knew they were on the right track. That Mason City, Iowa, radio station was a sponsor of the Surf show.
"We ended up making her an offer to purchase the photographs and she accepted," said Garabedian.
Winter Dance Party documentary
They traveled to Walters where they met the Gerbers and found the 49-year-old negatives in excellent condition. Mary's photographs are visual highlights in the duo's soon-to-be released documentary.
The filmmakers work on their Winter Dance Party movie during spare time away from full-time jobs. They are continuing to do interviews with people who attended or played at the concerts and they are still looking for Winter Dance Party memorabilia.
"Mary means a lot to us and she played a key role in giving our documentary the kick start it needed," Garabedian said.
Reproductions of her seven photos are on display at Holly tribute sites in Lubbock and Clear Lake, thanks to efforts by the filmmakers.
They also helped with arrangements for Mary to meet Buddy Holly's widow and Ritchie Valens' sisters during a 50-year anniversary observance in Clear Lake.
"We made sure she got the royal treatment," Garbedian said.
Mary's picture of a smiling Ritchie Valens was gratefully accepted by his family. Until the reunion, the last known photograph of their loved one showed a sick musician whose miserable condition made him look old beyond his teen-age years, Garbedian said.
The woman who has a photo credit in a 2009 edition of Rolling Stone now uses a standard digital camera to record the trips she and Ervin take.
Mary continues to enjoy listening to music and introducing her grandchildren to tunes by Holly, Valens and other rock and rollers from the '50s.
"I've always been a big Elvis fan. My granddaughter really likes to hear 'Little Sister'", Mary said.