ST. PETER — Marty Davis described the small church near the Highway 169/Highway 99 intersection as a fitting location for his grandfather's funeral on Thursday.
Stan Davis, the patriarch of one of the state's most successful business families, died July 27 in Plymouth. He was 100 years old.
"His services at the Episcopal church will be only a block away from where he churned butter," Marty Davis said.
The old St. Peter Creamery address is now used as an international training site for teaching the trade of cutting quartz.
Members of the Davis clan own Davis Family Dairies, the natural stone surface company Cambria, Davisco Foods, St. Peter Culligan, Mackenzie Agency and Cambria Mortgage. They also owned Sun Country Airlines for six years.
Marty, Cambria's president/chief executive officer, along with other family members, compiled the following information about their patriarch:
Stan was born on a farm west of St. Peter shortly after the end of World War I. The son of a seamstress and a farmer-turned-construction laborer, he grew up during The Great Depression.
Soon after he graduated from St. Peter High School in 1936, Stan took a job at the Norseland Creamery, where he was introduced to the craft of butter making. After those skills were honed at the University of Minnesota, he started his career in the dairy business.
In 1943, Stan and his first wife, Gloria, with a little borrowed money from Stan's mother and aunts, purchased a tiny creamery in St. Peter.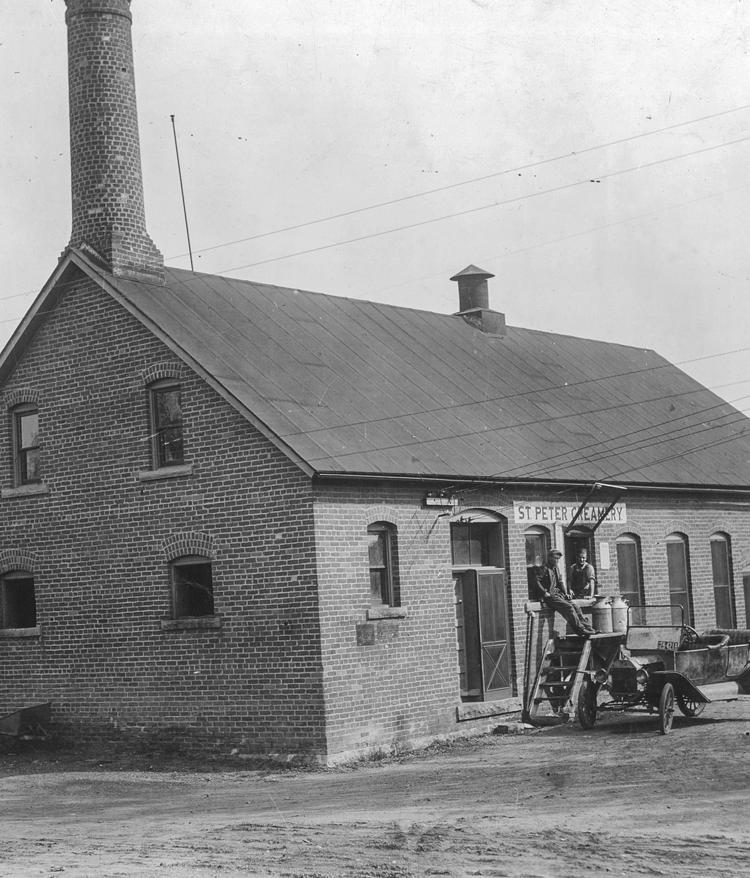 The Davises supplied the U.S. Army with butter during World War II.
Stan's status as a specialized manufacturer and supplier of critical products made him ineligible for the draft. Not being able to serve in the military had always bothered his grandfather, Marty wrote.
The butter creamery expanded to include the production of milk powders and buttermilk ingredients. In the three decades after World War II ended, the Davis family business was instrumental in forging Minnesota's development of various new milk products.
Stan and his family went on to purchase other local creameries, including Bernadotte, Mankato, St. Clair, Pemberton and Waldorf.
Stan was one of the few private dairy operators who competed with the large milk cooperatives. He and his son Mark joined the Cords family of the Le Sueur Creamery in 1969 and together founded Le Sueur Cheese Company in 1972.
As his business success continued, Stan continued to volunteer in his hometown.
The father of five served on St. Peter's School Board from 1955-1959. He also served on the Nicollet County Fair and First National Bank boards.
Dan Honetschlager said although he didn't personally know his fellow lodge brother, he was familiar with Stan Davis' status in Nicollet Lodge 54, St. Peter.
"At the time of his passing, he was our oldest member," said Honetschlager, who is the group's secretary.
Stan also was known for his dedication to completing the organization's goals. "We go through three stages — first degree, second degree and third," Honetschlager said. "Stan Davis went through his really quick. He reached his first April 16, 1940, his second April 30, 1940, and his third May 7, 1940."
Stan retired in 1986, the year the St. Peter Creamery, Le Sueur Cheese Co. and Nicollet Food Products merged to form Davisco Foods International.
Stan may have been driven to succeed but he did not forget to be gracious toward others. When meeting people for the first time, the elder Davis didn't expound on his business achievements, said grandson Ben Davis, of Elko.
When the Davis clan gathered in Nebraska to celebrate Thanksgiving, Stan would be a fun-loving prankster who sang little ditties to his grandkids. His favorite was a four-line song about a small town close to St. Peter.
Ben remembered when he was a student at St. Cloud State, Stan taught his college friends the words to "Kasota Will Shine Tonight."
"Grandpa would light up a room. His personality was so engaging," Ben said.
Stan Davis' funeral is 11 a.m. Thursday at Holy Communion Episcopal Church in St. Peter with visitation 9-11 a.m. before the service.