The face of an assassinated American president keeps showing up mysteriously outside Holly Humeniuk's home.
Walking into the kitchen of the house, tucked in a quiet Mankato neighborhood, you could see why the 68-year-old finally called the local newspaper.
On Humeniuk's dining table are 200 half-dollar coins, neatly arranged into 10 stacks of 20, their dulled gleam standing out against the dark brown wood. John F. Kennedy's face is embossed on each metal disc.
She says she has no idea where they came from.
"I was just adding up my 50-cent pieces and I was laughing because it's $100 even," she said with a short laugh as she opened the door. "Isn't that crazy?"
Her husband, Larry Overbeek, soon walked in and sat down at the table. "How did that happen?" he replied to his wife's repeating the coincidence.
Other coincidences — or, perhaps, indicators of a coordinated plot — add to the intrigue: Humeniuk collected coins for several years as a child. Their home is a half-mile from Kennedy Elementary School, which sits on Kennedy Street. And in the other direction from the house runs a side street called Holly Lane.
The two say they have been dumbfounded since the first coin appeared on their driveway when they moved here from Bemidji three years ago.
A piggy bank with some half dollars had been in the trunk of their vehicle, Humeniuk said. She knew at the time there was no way it could have fallen from the trunk, but still she dismissed the incident.
"That's really weird," she remembers thinking. "I really didn't think about it the first time. I just kinda picked it up — in fact, I didn't even save the first one."
"Really weird" got weirder when a couple of days passed and more coins came. Eventually Humeniuk began tallying the coins. By March 5 of this year, they totaled $70.50 (141 coins). That jumped to $89 (178 coins) by the end of June.
She had been telling herself to call the newspaper when, one day last week, she picked up more 50-cent pieces.
"I've been thinking about it for a year, and news is so hard to handle right now. It's kind of a fun story," she said.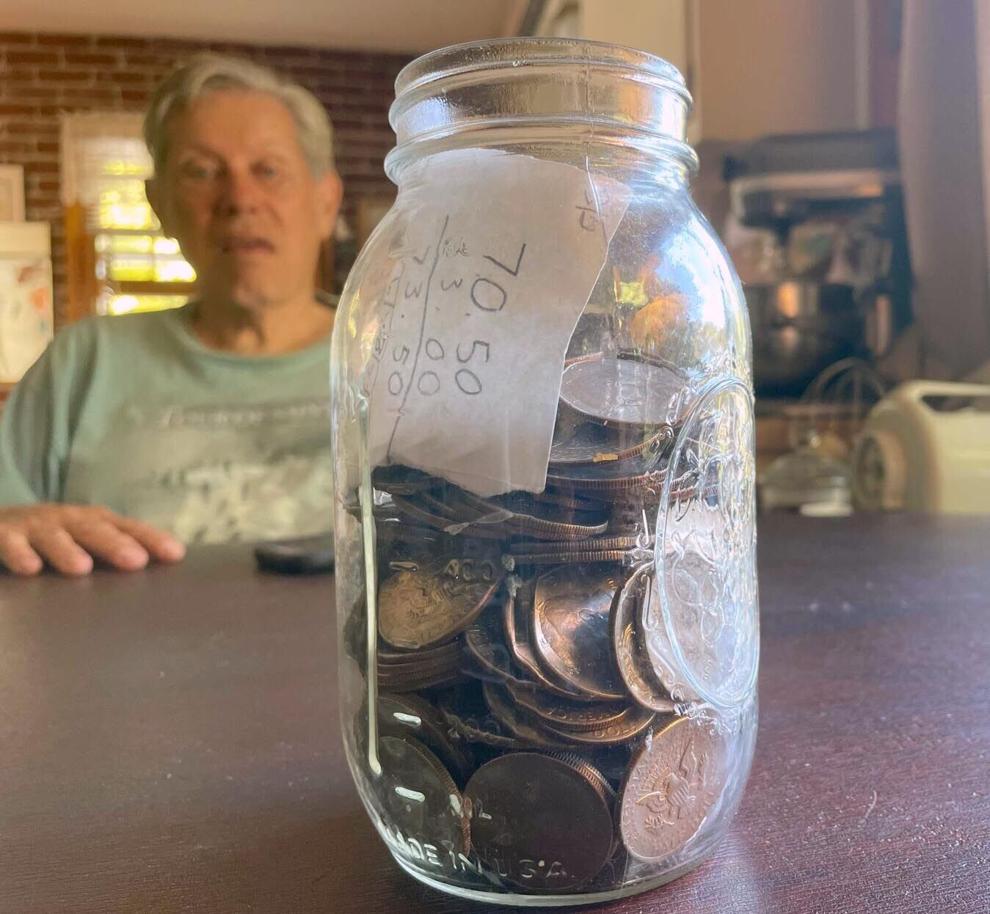 The coins are always left on the same side of the house, parallel to Fair Street, a main neighborhood road. Humeniuk assumes someone is throwing the coins as they go past because they're unpredictably distributed around the yard or driveway, coming to rest at odd angles.
The couple hooked up a webcam in a flower pot but quickly removed it after a fruitless few attempts beset by technical difficulties.
The nearest a coin has ever been is when two were neatly arranged just outside the entryway to the home's patio, which faces the street and is enclosed by a tall white fence.
They have asked neighbors, including 77-year-old Ron Torgerson, to keep watch for them and let them know if any suspicious people linger nearby.
"I haven't seen anybody. I haven't seen anybody put them out," Torgerson said as he stood on his driveway holding a leaf blower. He gave a laugh of disbelief after hearing the couple had amassed $100.
Neighbors, many of whom are older folks who have lived in the area for decades, said they've never heard of a similar phenomenon. Torgerson has lived in his home for 55 years.
Humeniuk has a hunch, however.
"Our only suspicion," she said, excitement in her eyes, "is the couple across the street."
They are an older couple, and the man has trouble walking. So Humeniuk, a former nurse, watches over them.
She brings them baked goods. Her husband will often blow snow off their driveway. Humeniuk figured the older woman has been granting a favor for a favor.
LaDonna Anderson, 83, has lived across the street with her husband for 15 years. A metal ramp leads to their home's doorway, used by Bob Anderson with his walker. She answers the door and, before a full question is put to her, smiles with recognition.
She recounted the recent time when Humeniuk tried to force a confession. Widening her eyes, LaDonna Anderson pointed to them through her purple-rimmed glasses, mimicking her neighbor across the street.
"Oh God," Anderson said, worked up over the memory. She recalls Humeniuk saying, "'Look in my eyes.' She gets right here," she continues, leaning in closer.
"She's been accusing me of it ever since it started. I said, 'Holly, if I had those in my hand, they'd be in my pocket.'"
Although you won't be given a half dollar as change or commonly encounter the coin, dealer Samir Fox-Wahab said someone with 200 half dollars to bestow isn't necessarily a collector.
"There's a lot of people that go to the banks and buy the half dollars, and they just keep them," said the owner of Fw3 Coins in downtown Mankato. "Because normally banks don't have them, so whenever they get them, (the people) just like to have half dollars."
The Kennedy half dollar was first offered to the public in March 1964, just over four months after Lee Harvey Oswald shot and killed President Kennedy during a motorcade in Texas. The release drew lines of customers to bank branches across the nation.
An initial order to strike 90 million was increased to a target of 160 million. An estimated 4.1 billion have been struck since 1964. The U.S. Mint in 2002 lowered production of the coin to a level that would satisfy collectors.
The more valuable half dollars, Fox-Wahab said as he tore an index card and scrawled a timeline, are the ones minted in 1964 or from 1965 to 1970.
Over a half century later, it isn't historical reverence that drives the value. It's the market price of silver.
Producing a couple of neat stacks from his glass display case, Fox-Wahab said JFK half dollars made in 1964 are 90% silver and sell for $7 to $10. Fifty-cent coins made through 1970 are 40% silver and sell for $2 to $3 each.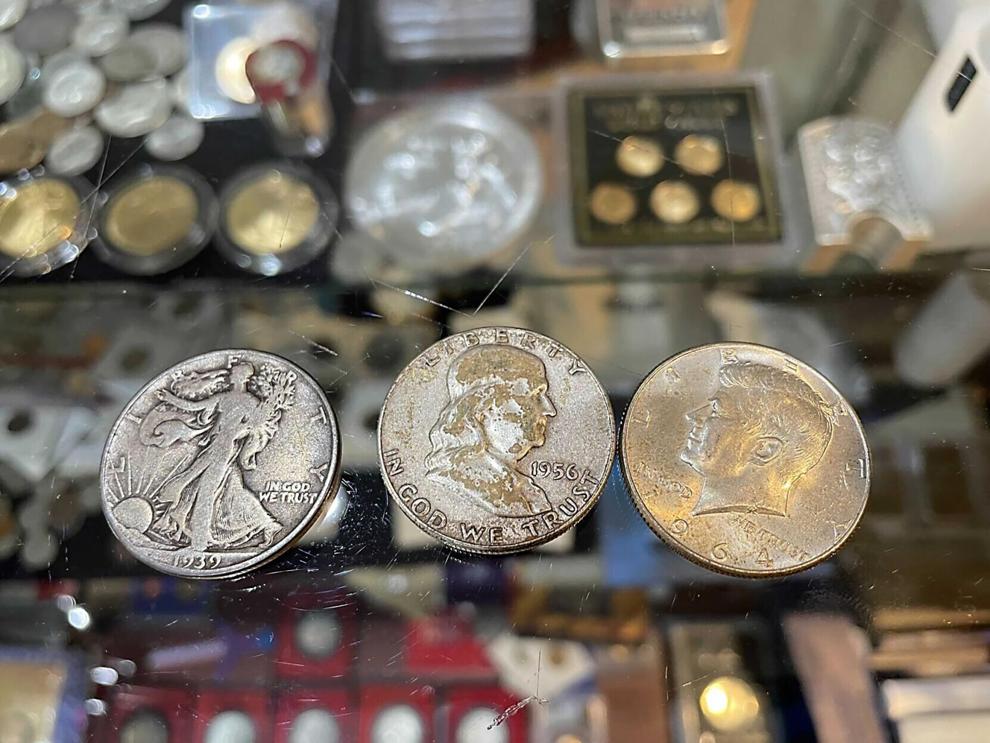 Humeniuk's most potentially valuable coin has no silver but is from 1976, a commemorative edition that marked the nation's 200th anniversary. That half dollar depicts Independence Hall with "200 Years of Freedom" as an inscription, an alternative design by Seth G. Huntington of Minneapolis, who is now 101.
Until she appreciated the possible significance of the half dollars' association with JFK last week, LaDonna Anderson hadn't been worried about the strange happenings across her street.
After she returned to her dishwasher, however, she began to connect the coins with the former president's slaying.
Walking barefoot down her sidewalk and waving down a reporter, Anderson shared her moment of revelation.
"Oh my God, is this a threat?" she wondered. She had called Humeniuk and shared her fear.
"You are either a phenomenal liar or I don't know who's doing it," Humeniuk said to Anderson, crossing the street in her socks. "I said to Larry, now this is getting weird because she sounded really honest about being spooked."
Humeniuk was disappointed. Her most promising theory suddenly seemed ruined.
"How do these people do this without being seen? This is a very tight neighborhood, by the way … We know everybody here, everybody knows us," she said. "If there was a strange person or if something was going on, how is everybody missing it?"
There are, however, two people who could be doing it without attracting suspicion from Humeniuk and Overbeek.
The homeowners could be planting the coin themselves, neighbor Chris Hughes noted.
Hughes lives in a yellow house down the road with his wife, Rhonda. They vehemently deny leaving the coins and, during three decades in the neighborhood, have no knowledge of who it could be.
Despite playing in a band with and generally loving the couple down the street, Chris Hughes rules out no suspects.
"I don't know," he said through his screen door, a smirk spreading, "I sometimes wonder whether it's Holly and Larry just planting them there and making a story."
"But she wouldn't call The Free Press to come …," Rhonda said.
"Well," Chris said, "you never know."
What would Humeniuk say to a reader who questioned whether her story is a farce?
She and her husband were too busy moving from Bemidji to worry about hatching a plot that would yield a story in three years, she said during a phone call the next day.
"We're honest Christian people and I'm generally not an attention seeker."
In fact, Overbeek had said the day before that he initially didn't want his wife to publicize the mystery coins. He was hesitant to intervene in the ordeal until it had exhausted itself and no more coins were delivered. At that point he would donate the money to charity.
A published story might spoil the mystery or, worse, reveal something unsettling.
"I didn't want her to call because I didn't want people messing with it or anything," he said. He paused for a moment, adding, "Could turn into something weird, you know."
If you have any information about this mysterious matter or have also been receiving half dollars from an unknown source, email reporter Jordan Smith at jsmith@mankatofreepress.com.