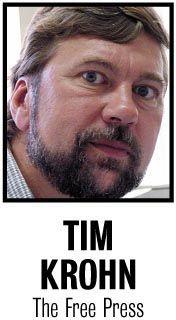 A story about developer Mike Drummer's dramatic plans to transform the former Shopko building in Mankato drew lots of attention and comments on The Free Press Facebook page.
People are excited about a new restaurant, entertainment venues, event center and small ice rink. But what surprised me was the number of people who said they wish a roller skating rink, rather than ice rink, would be brought to Mankato.
There is a special nostalgia for roller rinks, particularly for those of a certain age in the Mankato area.
While few are left in the state, roller rinks were a common entertainment option from the 1960s to the '90s. There were rinks in Le Sueur, Gaylord and a very popular one in New Ulm called Izzy Dory's Rollerdome. You can even find a memories page created by fans of Izzy Dory's on Facebook.
But for many of us, Skatin' World in Mankato was the place to go. Opening in 1975 it was a newer version of many of the existing rinks that were inside old wooden buildings that featured maple floors. Skatin' World, in what is now Pet Expo near River Hills Mall, featured glow lights in the urethane-coated concrete floor.
Tom Yenish, who owns Pet Expo and other businesses, ran the rink from 1975 to 1995. His dad had built the rink and Tom loved the place. It turned out his dad soon had regrets, however.
"He said the music's too loud and he didn't like dealing with a bunch of kids. He had a buyer lined up, but I said I wanted to run it so he sold it to me on a contract for deed."
When the rink opened, the Madison Avenue hilltop area was a frontier of farm fields. "The only things up there beside us was Goldfines, the Warehouse Market and the Char House."
Yenish enjoyed the rink and managed to keep the kids who flocked there generally under control. "It was a clean place and we didn't have a lot of problems." But Yenish said he eventually burned out on it, and being a dog lover, he converted it to Pet Expo.
Still, Yenish said he thinks a roller rink could be a viable business today, but it'd have to be a multi-use complex developed by someone with deep pockets.
He said some of the creative entertainment options out there, like trampolines and inflatables, could be melded with a rink to make it successful. "Those are fairly high in liability. But with the right leadership, I think a roller rink and related entertainment could work.
"You'd need a multi-function facility, but you might have to put $10 million into it. And labor has changed. Kids don't want to work on weekends so much anymore."
Yenish said he has always heard from locals with fond memories of Skatin' World. "There's a lot of nostalgia. People say 'I met my husband there, I met my wife there.'"
Yenish managed to revive those memories for a few dozen people last year during a remodeling of Pet Expo. The store remained open during the renovation and a lot of the shelves were removed so the urethane could be removed from the floor. "All these people were saying saying, 'What's the chance I could come up and skate here one night for old time's sake?'"
He thought it was a fine idea and set a date. Someone said they'd bring a sound system and word spread.
A police officer called Yenish and said they'd seen on social media that he was planning a skating event and wanted to know what was planned.
"I said I just invited some friends to come up and skate. I said I don't know if it'll be 10 or 250 people. He said, if it's 250 it might be a problem."
After talking, the officer realized Yenish had no big, unauthorized party planned, but he was curious about one thing.
"He said what's the deal? Why would people want to skate at a pet store? I asked him when he was born, and he said '96. I said, OK, you don't know the history behind this place."
About 40 people showed up for a sentimental skate around the former rink. Yenish donned his skates, too.
It was a night to relive a youthful period for those involved, but Yenish admits the rose-colored memories ran headlong into the realities of time and age.
"I'm one of the better skaters in town because I owned the place. But I have to tell you, my first 1,000 feet was pretty ugly because I haven't done it in 30 years. You had a bunch of people who remembered Skatin' World, but they hadn't skated in 30 years and it wasn't so easy."
Tim Krohn can be contacted at tkrohn@mankatofreepress.com or 507-344-6383.