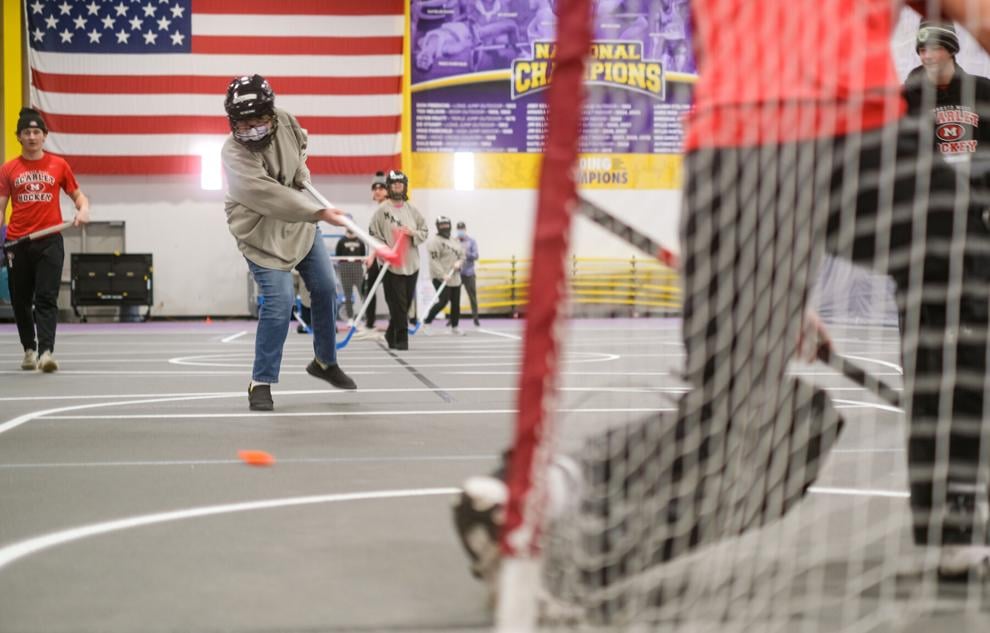 MANKATO — The bleachers in the spacious Myers Field House were packed Sunday with dozens of high schoolers from the Mankato East and West hockey teams, gathered to watch and play with their adapted-floor-hockey peers.
But in the early moments of the opening girl's game, the boys spectating sat rather quietly.
Noticing it was a bit awkward, the coordinator of Minnesota State University's Developmental Adapted Physical Education program, Sue Tarr, issued a reminder: "Hey, cheering is allowed, by the way. Cheering is encouraged," she joked with boys from both high schools.
A few hoots and hollers were issued in return. The low rumble of conversation continued.
Then 16-year-old Cordelia Emory, a sophomore at Mankato East with a cognitive disability, fired the puck past the goalie and into the net. The crowd didn't need instructions.
Applause and cheers erupted. Several students stood to shout encouragement. Wearing No. 16, Cordelia was on her way to scoring multiple goals.
"To me it's amazing. Amazing support for their classmates," Tarr said of the crowd of students. Before the match she had arranged college students in her program to stand near the court and cheer if the audience was subdued. Their cheers were drowned out.
Though she said she knows nothing about hockey, Tarr organized the improptu, hour-long exhibition match on Sunday. With a week of Hockey Day Minnesota events happening across the street in Blakeslee Stadium, she pushed to organize a game that included students with disabilities.
"Hockey is for everyone. Hockey just doesn't happen on the ice across the street," she told the crowd before the game started. "Hockey is for everyone, and we should be showcasing that in the state of Minnesota because Minnesota is all about hockey."
The need feels more pronounced because the state boasts the nation's longest-running adapted athletic league, she said. Though the Minnesota State High School League has sponsored adapted floor hockey since 1992, this winter is the first time a co-ed team of students from East and West has formed.
Tarr worries about sounding overly critical. Nonetheless, she wishes Hockey Day organizers had taken the cue from local schools and included students from the adapted team.
"If I wouldn't have pushed, this never would have happened," she said. "People with disabilities are always an afterthought — seem to be always an afterthought."
Her work to alter that mindset showed in several of her students who came as volunteer cheerleaders and referees.
Many are studying to earn a minor in Developmental Assisted Physical Education, or DAPE. Mary Owens, a senior, said they learn about the varying levels of physical and cognitive disabilities as well as how to accommodate them in a physical education setting.
Whether it's adapting equipment or adjusting rules, senior David Holm added, future educators are taught to promote equity.
The ethos says each student deserves a fair chance, Holm said. The limitations imposed by certain settings or sports create a need for altered versions.
Students are also entitled by federal law to receive physical education services — specially adjusted, if necessary.
In July, the university became the first in the state to earn approval of a degree that combines physical education and Developmental Assisted Physical Education.
"Encouraging my students to come and partake hopefully will get them motivated to do similar things in their community when they get a job," Tarr said. "For me, that's how I wanna end my career. I wanna know that they're gonna go out and put kids with disabilities on an even level."
On Sunday, only four players on the adapted team attended because the rest were out with COVID-19 or because of health protocols. Tarr said as long as one player showed up, the underlying meaning of the event felt too important for a cancellation. Players from the high school hockey teams filled in the gaps.
Cordelia's experience with adapted sports began when she joined the bowling team in middle school, said her mother, Megan Dell. She became the girls state champion in her first year.
Adapted bowling events are largely solitary, with players competing independently and electronically logging their scores, said adapted hockey coach Dylan Boettcher. He admires hockey for its abundance of social interaction with teammates, coaches and opponents.
"I think the greatest thing about hockey … is that sense of family. And it's an easy sport to really jell and bond," said Boettcher, a paraprofessional at Roosevelt Elementary.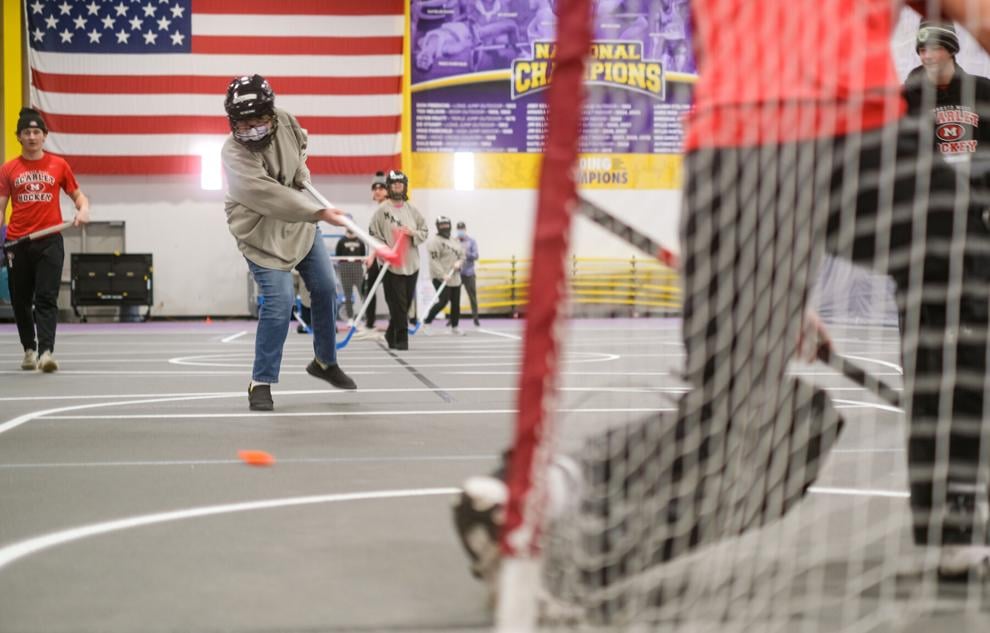 Most of the 12 players on the roster have become teammates and companions for everything they do, Dell said. A parent of Cordelia's teammate Hailie Johnson introduced himself to Dell on Sunday, mentioning that Hailie frequently talks about her daughter at home.
Hailie, a 14-year-old freshman at East, wanted to join the team when she saw that several of her friends were participating, said her father, Lance Johnson. Both parents wondered if she would be exhausted by the program but relented and let her join.
Now she talks with excitement ahead of each competition, Johnson said.
"The big part for us," said Boettcher, the coach, "has been a sense of belonging and something (they) can be proud of at school."