It was New Year's Day and Susan Arntz was 32 days into her new job as the successor to longtime Mankato City Manager Pat Hentges.
Arntz was at the family cabin north of Brainerd for the holiday weekend. She, her husband Jonathan, and their three daughters had already been skating on the lake that morning, had done some snowshoeing in the afternoon and decided to do one more pre-supper skate.
"My right foot caught on something on the lake and slipped," Arntz said.
She was hoping for just a bad sprain as her family unlaced her right skate, helped her up and watched as she tried to put some weight on the leg. Arntz felt the ankle shift and knew immediately it wasn't a sprain.
On the drive to the ER, she was already thinking about her responsibilities 200 miles to the south.
"I said to my husband, 'Oh my gosh, it has to be my right foot. I won't be able to drive to work. How are we going to make this work?'"
Arntz remembers her husband of 24 years reeling her in.
"He said, 'Why don't you think about one thing at a time. We'll figure this out.' I'm so lucky to have him."
Jonathan, though, wasn't surprised his wife was quickly sorting out the implications of the mishap.
"She was already planning and working through the contingencies and how to deal with things. ... She's not a person who stews. She's a person who acts."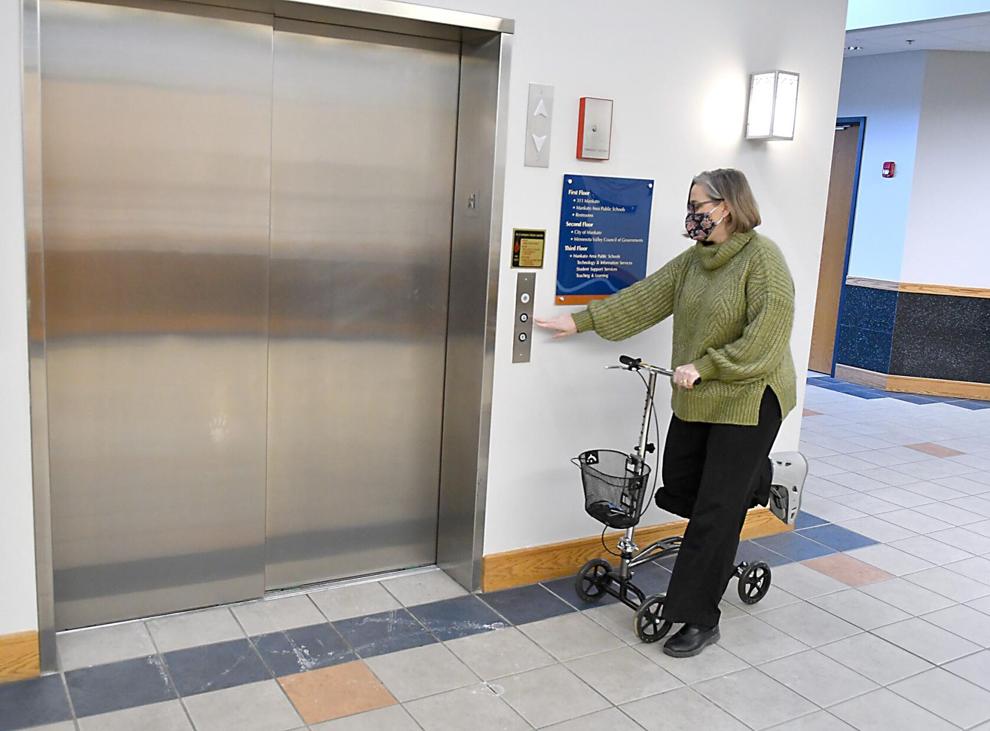 And Arntz, who hit the ground running on her first day in Mankato on Nov. 30, has continued rolling along for the past seven weeks.
"She's a long-term Girl Scout, she's a troop leader, and Girl Scouts are a network. She just puts out the call to the other moms. 'We have some extra crutches, and we have this and that,'" Jonathan said of the reaction.
After all, the Girl Scouts' motto is "Be prepared."
So Jonathan, or a friend or their middle daughter, drives Arntz to work from their Waconia home at the beginning of the week and gets her home after she spends a couple of nights scootering from City Hall to a nearby hotel. She works from home other days. With so many meetings being done by Zoom anyway, the limited mobility isn't quite the issue it would be in non-pandemic times.
"It's just another problem to solve," Jonathan said.
And it's a chance to demonstrate a self-deprecating sense of humor. In breaking the news of the broken leg, Arntz told people there was some consolation: "There's no risk of me leaving the city manager job for the Winter Olympics."
A Minnesotan
City administrator in Waconia for 20 years, Arntz was one of three finalists to replace Hentges, along with the city administrators in Vermillion, South Dakota, and Wasco, California. They picked the Minnesotan.
Arntz grew up on the Pine River in Crosslake north of Brainerd. As a youngster, her mom would drop Arntz and siblings off at a swimming beach on the river with some tractor-tire inner tubes.
"Our mode of transportation was to tube home. It took about 45 minutes."
The Pine is a popular tubing river, and collecting cans from the river bottom and shoreline was a childhood chore. Eventually they put up a box and a sign on the riverbank, inviting tubers to leave their empties there.
"I guess my interest in water quality started early," Arntz said.
In a sign of future employment leanings, Arntz's first job at the age of 15 was working for the U.S. Army Corps of Engineers, registering visitors at the Corps campground near the Crosslake dam and making sure the campers were following the rules.
As a Pequot Lakes High School freshman, she was already thinking about being in charge of the Army Corps — and every other part of the federal government.
"I took a civics class with a teacher, Mr. Cook. He really pushed us as kids to dream a little bit."
Her dream, complete with a campaign slogan, was a presidential run at the age of 47. Had it come to pass, voters would have had an alternative to Biden-Harris and Trump-Pence last November.
Arntz was going to run at the top of a new alternative to the Republicans and the Democrats — the Reality Party.
"My slogan was going to be: "2020: A Clear Vision."
The agenda was "a fair shake for all," along with quality housing, education and increased availability of college scholarships.
By her sophomore year, she was becoming more interested in state government after participating in Project 120, which allowed 120 high school students to spend a week inside the Minnesota Capitol in the midst of the legislative session. Arntz met legislative and executive branch leaders, including then-State Auditor Mark Dayton, and her public-service career path was solidified.
Looking local
Arntz graduated from Augsburg College in three years, adding evening classes, weekend classes and a summer session to get her degree a year early.
"It was largely financial," she said of the motivation to go fast.
When she finished high school, it was made clear by her mom and stepfather that they wouldn't be able to finance her college expenses. She was offered the alternative opportunity to stay in Crosslake, paying rent by helping at her father's excavation company.
"Shake rock and pay rent, or I could go to college and pay for it myself," she said. "I chose Door No. 2."
Majoring in political science, Arntz scored an internship with then-Hennepin County Commissioner Peter McLaughlin, busing to the county Government Center in downtown Minneapolis during gaps in her class schedule. Later came an internship with the city of Shoreview.
"It just truly felt like home," she said of local government. "You get to work with people who are passionate about their community."
Her degree was in political science with a metro/urban studies focus, along with minors in religion and sociology. Arntz's original plan was to earn a second major in German — she'd learned the language in high school and lived in Germany as a foreign exchange student. An adviser talked her out of further studies in German, suggesting it would be of little use in city management.
Turns out, however, that the adviser wasn't entirely correct. Shortly after being hired as city administrator of Waconia, a crusty old supervisor from an adjacent township was expressing his skepticism to a Waconia City Council member about the young woman who had been put in charge of the southwestern Twin Cities exurban community.
"What did you hire this 28-year-old kid for," the township supervisor said, going on and on — in German — about his doubts.
Arntz understood every word.
"If you give me some time, I think you'll see I'm a quick study," Arntz responded, going on and on — in German — about why she deserved to be given a fair chance.
"I think his dentures almost fell out," she said of the slack-jawed expression that resulted.
But the encounter led to a respectful relationship that served Waconia and the township well: "After that, he and I had a lot of conversations that would start in English, slide into German, move back to English ... ."
Advance scouting
Her tenure in Waconia was successful, continuing for 20 years. It was fulfilling enough that Arntz said she would have been comfortable finishing her career there. The allure she'd felt toward federal and state government as a youngster had long faded as the political partisanship grew.
"I have yet to see a partisan road or a partisan sewer. I get to work with people who believe all sorts of things, but those things aren't what we're dealing with. ... I don't have to start with, 'What party are you from?'"
Although Arntz, who holds a master's degree in public administration from Hamline University, explored a couple of career moves within municipal government in recent years, it wasn't until Hentges talked to her about the impending opening in Mankato that she became seriously intrigued.
Hentges talked of all the work that had been done in promoting equity, high-performance organizational structures, strategic planning and more.
"From afar, I'd watched the investment in the community in terms of quality of life," she said.
But she had no intention of taking Hentges' word for it. Multiple times during the monthslong candidate search for Hentges' replacement, Arntz quietly drove to Mankato as a "secret shopper."
"I kind of checked to see if the things Pat had told me were really true."
Arntz dialed the city's 311 information/complaint line to gauge the responsiveness of city staff. She went to local stores and restaurants, buying air filters, car parts, meat, hardware and meals, always asking questions as if she were a new resident of the city.
What she was trying to figure out was if the community seemed friendly, if the downtown had a sense of vibrancy, if people were happy to talk about their municipality and their schools and the local amenities, if there was a sense of pride.
"And it was abundant," she said.
So was the homework Arntz did in studying Mankato's budget, strategic plans and operations prior to her interview with the City Council, said Mayor Najwa Massad.
"She nailed it. She knew more about Mankato than it seemed we did," Massad said, pointing in particular to one part of the interview where the finalists were asked to pretend they were giving a presentation to the Chamber of Commerce on the city's upcoming budget proposal. "It felt like she had been in Mankato all her life and had been working as city manager all her life."
Nearly 90 days in, Arntz continues to impress the mayor.
There's been action — Massad credits Arntz, for instance, with having an integral role in the creation of the new Mayo COVID-19 vaccination center in a city-owned building on Stadium Road. And there's been lots of homework.
"She looks at things fully. She doesn't make up her mind right away. She looks for information from different sources before she makes up her mind," said Massad, who also complimented Arntz's tendency to describe successes in terms of what "we" accomplished. "... I'm so pleased with the choice we made."
Second impressions
Arntz said she's equally pleased with the choice she made.
"I haven't encountered any unpleasant surprises. From an operations standpoint, there are some things I think I can help the organization improve or update," she said, adding that any major initiatives will wait until she has a deeper understanding of the city.
The new coach, however, says she already loves her team.
"I've worked a lot of places where people get along. But the staff in Mankato really care about each other in a way that I've never seen before," she said. "That has probably been the most unexpected surprise."
If history is any indication, Arntz could be around for a while. Hentges served for 24 years. Prior to that, Bill Bassett held the post for 28 years.
"Assuming that this becomes a long-lasting marriage, so to speak," Arntz, 48, said she is very interested in finishing her career in Mankato — providing the two decades-plus of service of her predecessors even if it pushes her a bit past the traditional retirement age.
"I like hard work. ... And I don't like to be bored."
Energetic relaxation
Arntz concedes it can be a struggle for her to kick back and do nothing.
"That's the one skill I don't have. I work very hard at relaxing. It's just hard. I think everybody who knows me would say that."
For instance, there's the cooking dinner thing.
"I'm a pretty passionate cook. I'm a from-scratch cook and baker. I like to be challenged by recipes."
With that in mind, starting when the girls were young, Arntz would have them toss a toy dart at a laminated map of the world. Wherever it landed, that would be the cuisine they'd sample that evening. The daughters would alternate between one of two tasks: helping cook the meal or doing research on "the country they were eating" that night and sharing it while they dined.
"We kind of talked about it as 'Traveling the world one meal at a time,'" she said. "There are a number of countries we haven't eaten yet."
Traditional traveling has been a hobby as well, even when Jonathan's previous job — he works in IT as a data storage engineer — made it impossible for him to join them.
When the girls were 16, 12 and 8, Arntz took them to Arizona: "We went and hiked down into the Grand Canyon and back out."
And to Europe, where they spent time with the German family that hosted Arntz as a foreign exchange student.
And on a camping trip in the Black Hills: "It was just me and the girls."
"She makes time for the important things in life," Jonathan said. "She's still doing that even though she's having to move around on crutches right now."
The Arntz clan isn't likely to make the move from Waconia to Mankato anytime soon, even though eldest daughter, Ellen, who is a senior at Iowa State University, routinely sends real estate listings to her parents when she spots a home she likes.
Second daughter, Anna, is a high school senior, so it makes sense to let her graduate from her current school. Youngest daughter, Kjera, will finish middle school in the spring of 2022, which Arntz figures is probably the best time to transition to a new school.
Even if Mankatoans won't have the Arntz family as neighbors for another 16 months or so, Jonathan predicts they will know his wife much sooner — as soon as time and an ebbing of pandemic restrictions allow.
"She's kind of a force of nature," he said.
If Arntz ends up having the long tenure of her predecessors, her definition of a successful run — equity, thriving businesses and colleges, strong neighborhoods and abundant affordable housing — isn't that different than the platform she imagined during her childhood dream of a presidential campaign. But she said the key indicator of success will be the connections that are made.
"I'd be very proud to think that we were a government that worked with the residents and the businesses, didn't just work for them," she said.