Recommendations for changes to Highway 169 through Mankato will be made by the end of this year, potentially transforming one of the busiest and most complex roadways in the region while fixing anticipated gridlock at some intersections.
As much as $59 million in repairs and upgrades are budgeted for the next seven years along the highway through Mankato, North Mankato and South Bend Township.
The Highway 169 Corridor Study will lay out the options for that work. Possibilities include a cloverleaf interchange with Highway 14, the closing of some intersections, safer crossings for pedestrians and more.
"The Minnesota Department of Transportation has millions of dollars of investment programmed for bridge, pavement and other needs over the next 10 years," according to a video invitation asking area residents and Highway 169 drivers to share their priorities and opinions. "Recommendations from this study will inform how these investments can best serve local communities and regional transportation needs."
The corridor study is the latest of several conducted in recent years by the Mankato-North Mankato Area Planning Organization that have explored redesign alternatives for Riverfront Drive, Belgrade Avenue, Commerce Drive, Warren Street and Highway 22. The Highway 169 corridor might be the most complicated because of the numerous competing, sometimes conflicting, priorities among the highway's users.
Some drivers are passing through and might prefer the elimination of intersections — and the accompanying delays at red lights. That includes truckers as Highway 169 has the fifth highest freight volume of any route in Minnesota, trailing only Interstate 94, I-90, I-35 and Highway 52.
Business owners along the highway, by contrast, don't want access for potential customers reduced in any way. Bikers and walkers using trails adjacent to 169 would prefer new connections and better ways to cross the four-lane, which averages more than 32,000 vehicles each day. And many others may simply want a quick, safe route to jobs, schools, homes and parks.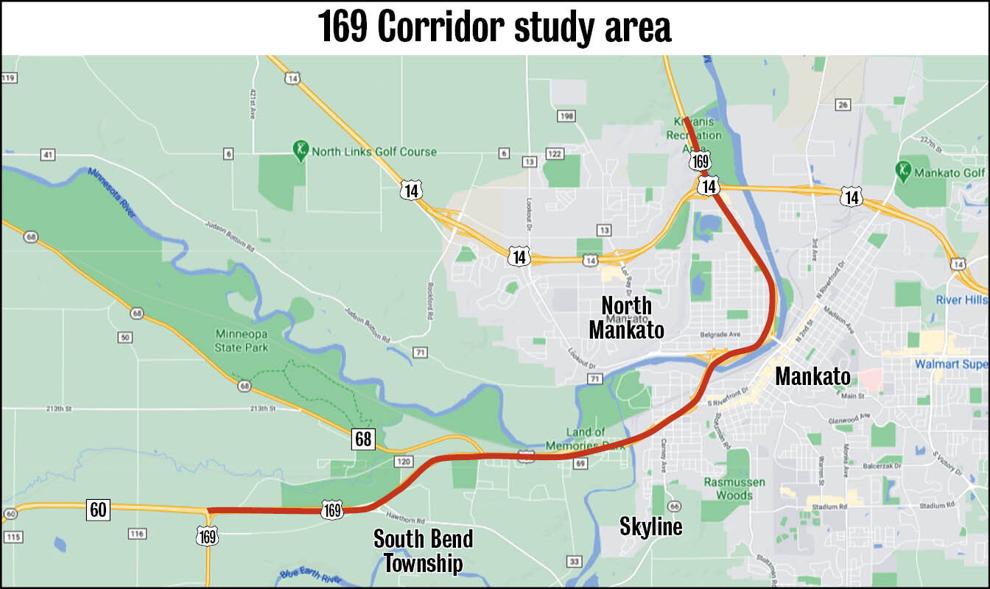 The next step in the study is gathering public opinion.
An online meeting is scheduled for 5:30-7:30 p.m. Thursday. A virtual open house is also accessible through Jan. 28 where people can take a survey and drop notes on a map of the corridor to identify problems or offer suggestions. People can find links, register for Thursday's meeting, watch the video and look at documents at hwy169corridorstudy.com.
After public opinion is gathered, various improvements will be developed through July by MAPO — working with engineering consultants Bolton and Menk — with recommendations being finalized following additional public comment in the late summer and fall.
Doing nothing beyond new pavement and bridge repairs doesn't appear to be a viable option. The corridor, which experienced four fatal crashes in the past five years, has higher-than-average crash rates in some segments, and certain intersections are particularly crash-prone — led by the Lind Street intersection (near McDonalds, Hardees and other businesses just south of Highway 14.) The crash-rate there is three times the statewide average.
MnDOT officials are pushing to close that intersection, but city leaders in Mankato and North Mankato have disagreed in the past on where a new, safer intersection should be located to serve businesses and other properties in the area.
Several intersections are experiencing performance problems, at least for some turning movement, during heavy traffic times. That's predicted to only get worse, based on an analysis by Bolton and Menk. With the Mankato-North Mankato population projected to grow to 73,000 by 2045, lengthy backups and excessive delays are expected by 2040 at Lake Street (at the Kiwanis Recreation Area), Webster Avenue, the eastbound Highway 14 exit ramp to Highway 169, the southbound Highway 169 ramps connecting to Belgrade Avenue, the ramps at Riverfront Drive, the intersections with County Road 69 (Hawley Street) and at County Road 33 in the LeHillier area, and at the Highway 169/Highway 60 split four miles west of Mankato.
Without changes, by the year 2040 the afternoon rush hour will create delays of as much as 15 minutes for vehicles attempting to turn left from the eastbound Highway 14 exit ramp to northbound Highway 169, according to the analysis. Left-turning drivers during the afternoon peak, waiting for a gap in traffic, could find themselves sitting for more than 20 minutes at Highway 169-County Road 33 and at the 169/60 split.
MnDOT plans to spend as much as $9.5 million in 2025 for rehabilitation work on the Veterans Memorial Bridge in 2025 and $36.8 million to $49.8 million on Highway 169 in between the north edge of Mankato and Riverfront Drive in 2027. Another $100 million is contemplated in 10-15 years to repair or rebuild Highway 14 bridges over Highway 169, over the Minnesota River and over the Union Pacific rail corridor. It's that second project when a cloverleaf interchange might be constructed at the junction of 169 and 14.