Visitors getting their first glimpse of the new Bomgaars store in Mankato were duly impressed.
Paul and Nancy Knakmuhs, of New Ulm, were finding things they were looking for and checking out the massive farm and ranch supply store that fills the 117,000 square feet of space at the intersection of Highways 14 and 22. The site was formerly home to Gander Mountain and Gordmans.
"I think the farmers will like this. They have a lot of stuff," Nancy said. "And they're very helpful."
Her husband could attest to the customer service. "I found all of the stuff I wanted. I need some compressed air now and half the store is out looking for it."
Nancy was impressed with the large toy selection. "They have a great toy section, a lot of unique things. They have the nesting dolls — I collect them."
Tom Goebel, who farms south of Mankato, was soaking in each aisle of inventory. "It's overwhelming, it's really nice."
He said the store seemed well laid out and large hanging signs make it easy to spot the area you want to go to.
Eduardo Ek said Bomgaars will be a hit with guys. "I think they have a lot of stuff guys need. They have stuff in stock that other places don't have. I looked all over for a leaf blower and couldn't find one and they have a bunch of them and the prices seem right on."
Store Manager Shaun Houston was greeting customers and working with the staff, who were also being assisted by some employees of other Bomgaars stores.
He said the Sioux City-based company has taken a plunge with the Mankato store, which is the largest in the family-owned business.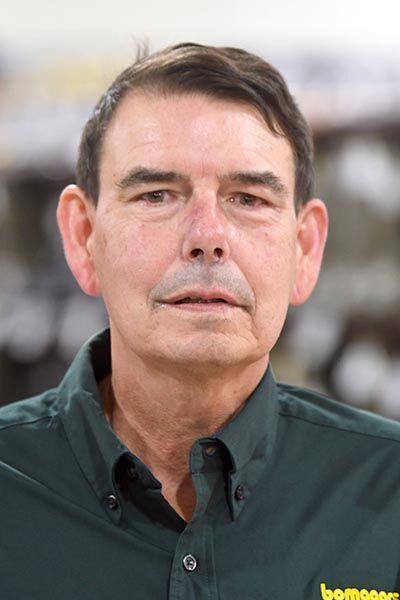 "This is our flagship and all eyes are on how we do," said Houston, who has 30 years experience in retail and has been in Mankato since 2006.
Bomgaars, which has 101 stores in in Minnesota, Iowa, Nebraska, South Dakota, Colorado, Idaho, Wyoming and Kansas, has traditionally focused on serving smaller communities, including Waseca, Fairmont, Blue Earth and Albert Lea.
"The owners really want to see this store succeed," Houston said of owners Roger and Jane Bomgaars. "They were here this morning talking to all the employees."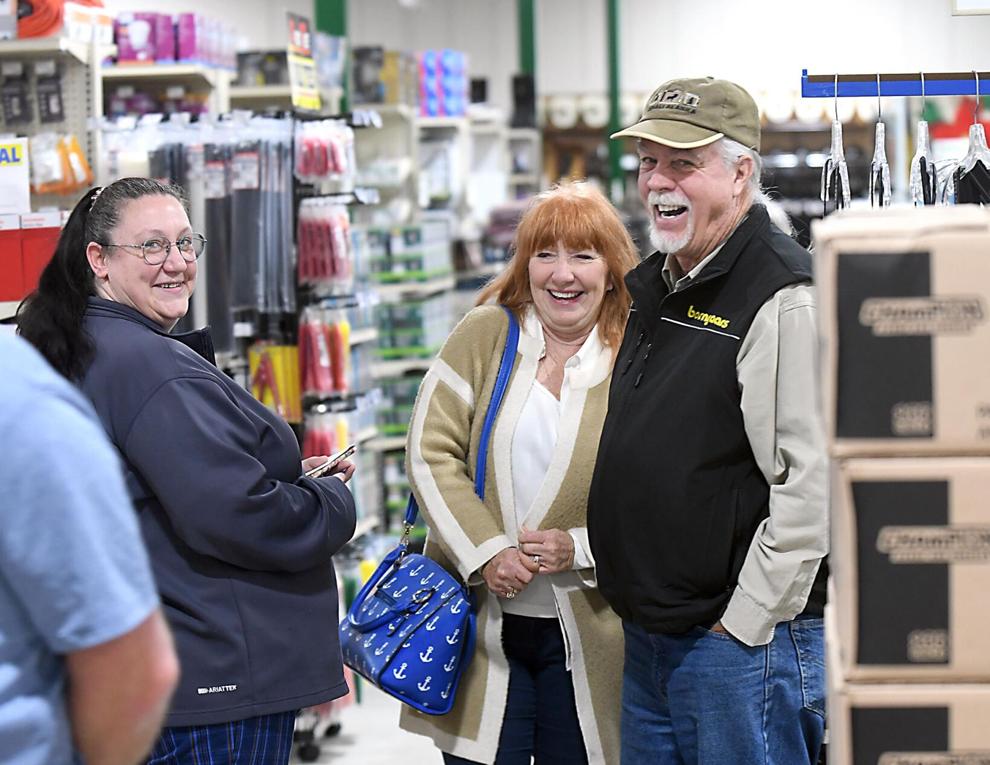 Houston said he was able to hire a full staff even though many businesses have had difficulty finding employees.
"I've been working hard to recruit and get people with the right background and experience. We've been choosey. This organization is highly rated as an employer of choice. We're a small family business and treat people that way."
Roger Bomgaars' grandfather, Bill Bomgaars, started a general store in Middleburg, Iowa, in the early 1900s and built it into Bomgaars.
The company has expanded rapidly in the past two decades, going from 15 locations in 2000 to more than 100 now. They expanded rapidly after they took over several former ALCO stores a few years ago. They have about 2,700 employees.
Quality, choice
Houston said Bomgaars focuses on carrying high quality brands and lots of choices.
"Workwear is one of our primary businesses. I don't think you'll find anyone in town with this amount of clothing, especially workwear."
Clothing brands include Wrangler, Carhartt, Under Armour, Columbia, Dickies, Ariat and Noble Outfitters. "Quality products is what differentiates us," Houston said.
Major departments include lawn and garden, nursery, footwear and clothing, farm, animal feed, pet, automotive, electrical, plumbing, hardware, housewares, sporting goods and toys.
In lawn and garden, brands include Stihl, Husqvarna, Echo, Troy-Bilt, Honda, Bonide, Scotts, Ortho and DeWalt zero-turn mowers. "We've given a lot of space to Husqvarna and Stihl."
The store also has aisles of DeWalt tools. "We have a big, full-line selection of DeWalt. You won't see this much selection anywhere else," Houston said.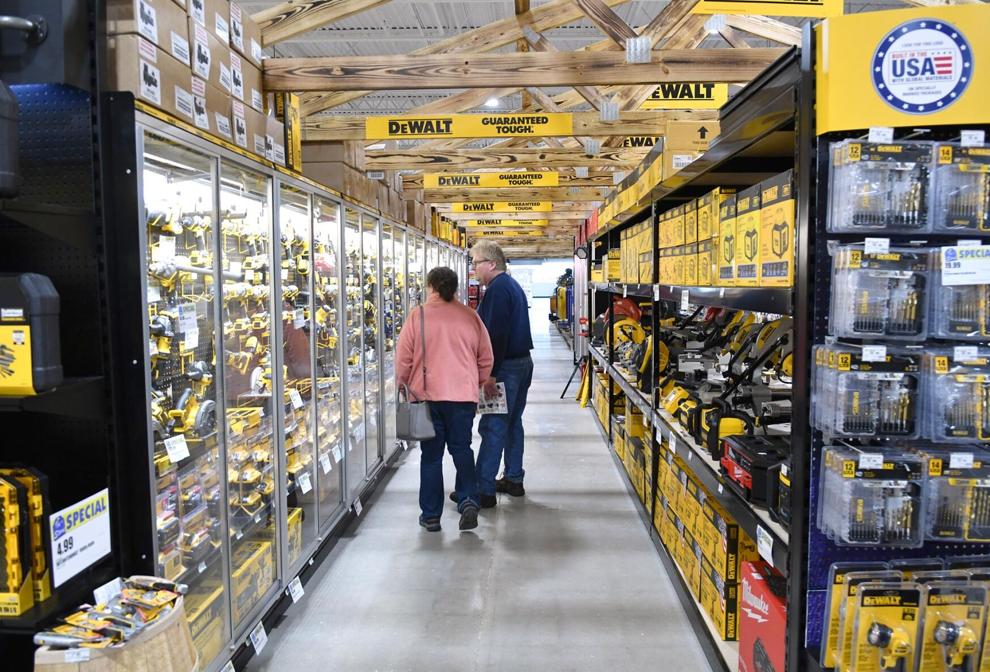 While retail stores have faced some delays and shortages in getting inventory, the new Bomgaars is fully stocked.
"We've been planning this a long time and made sure we have the inventory," Houston said.
He pointed to a large selection of pellet stoves and a full case of ammunition, items in high demand and in short supply at many stores.
"We have a good relationship with our vendors," Houston said. "They treat us well and we treat them well."
The store will begin a grand opening period on Dec. 2, where $50,000 in prizes will be given away.