Amid her wedding preparations in early May, Christina Anderson received a diagnosis that could've put her big day in jeopardy.
The Blue Earth native, 24, had been having dizzy spells for about a year. Extreme vertigo coupled with vomiting eventually forced her into an emergency room near where she now lives in South Dakota.
A CAT scan revealed a mass on her brain, prompting her father, Michael, to rush her home to southern Minnesota so she wouldn't have to wait for an MRI. The scan confirmed a golf-ball sized brain tumor behind her right ear, resulting in an eight-hour surgery at Mayo Clinic Health System in Mankato on May 7.
With a tumor so big in a body part so vital and sensitive, the margin of error during surgery was thin. All went well, however, allowing Christina to walk down the aisle today in Fairmont having largely recovered from her grave health scare.
She said she feels blessed to marry fiance Brandon Jensen, knowing he and both their families stood by her in the hospital.
"I had an unbelievable amount of visitors and flowers and cards," she said. "When I got out of surgery, someone stayed at the hospital with me 24/7. I was never left alone."
Brain strain
Christina's tumor was a hemangioblastoma, a benign noncancerous collection of cells most commonly occurring in the central nervous system. While it's slow growing, it would increasingly exert pressure on the brain if left alone.
Dr. Manish Sharma, Christina's neurosurgeon at Mayo in Mankato, said the symptoms she was experiencing were caused by this compression.
"In a close compartment like the skull, there's no space for the brain to escape," he said.
A tumor of that size — 2 inches in diameter — in the lower brain risks compromising the brain stem, responsible for respiration, swallowing and consciousness among other functions. Sharma said it's how tumors end up killing people.
"When the vital center of the brain responsible for respiration gets compressed, coma and death can occur," he said.
Immediate removal of the tumor wasn't a debate. Christina's symptoms were so severe by the time she came in that not opting for surgery was an eventual death sentence.
Her family knew the stakes. Sharma made clear the complicated procedure was absolutely necessary, and any brain surgery comes with risks.
"It's an awful tumor and we can't guarantee anything," Christina's mother, Marilyn, remembers being told. "He was not going to let us go into it blind."
Christina immediately received steroids after coming to Mankato to reduce inflammation. Every bit of extra room to work with during surgery helps, Sharma said, because "any issues or problems in that area can have pretty catastrophic consequences."
Marilyn said it was a time of despair and anxiety for the family as they waited for the eight-hour surgery to finish. It echoed back to when Christina was four and needed kidney surgery, spending months at the Children's Hospital in St. Paul.
"When we found out she had a brain tumor it was so sudden," she said. "It was 11 o'clock at night and all we could think about is our daughter was going to die."
The wedding was mostly a distant thought by this point, but Christina was adamant throughout about not wanting her hair chopped off. The medical team worked with her to shave a portion, taking precautions to avoid infections.
Even the successful surgery left Christina with a long recovery ahead of her wedding date. She temporarily lost vision in one eye, hearing loss in one ear and couldn't walk as she could before.
From the outset, she was determined not to use a walker at the wedding. Self-described as "stubborn," she kept hiding the walker from her parents so she'd learn to walk on her own faster.
"There was a lot of frustration when I first got out of surgery, because I couldn't do the things I needed to do," Christina said.
A nurse by profession in Watertown, South Dakota, she's not used to being the one receiving care. It was a tough adjustment to let medical staff and her loved ones help her.
"I know it's their job and they chose the profession, but I felt like such an inconvenience because I knew what it's like to help other people," she said
Marilyn said her daughter refused to let anyone feel bad for her. That determination, along with her smile, got the tight-knit family through the last few months. Along with her parents, two brothers and Jensen's family, Christina's family has fostered children for 24 years.
"She had just such a fabulous outlook," Marilyn said. "She smiled during the entire thing."
Big day
Christina and Brandon met when she ran into him while ice skating in Fairmont in December 2013. Their mutual friends nicknamed her "Tippy" that night for her poor skating skills, but being wobbly on skates brought them together.
They've dated since, making a life together in South Dakota. Christina remembers Jensen sleeping in a small chair in her hospital room, refusing to leave her side.
Since then Christina has gotten to have the traditional bridal experience, picking out a dress, having a bachelorette party and holding the groom's dinner Friday. Her friends gave her a helmet as a joke at the bachelorette party with the words "please stand by" on one side and "my brain is experiencing technical difficulties" on the other.
She found out Tuesday she'll get to return to work after her honeymoon, a cruise to the Bahamas. Her life can return to normal, apart from annual scans to monitor for tumors for the foreseeable future.
And although it was once in question, the wedding in Fairmont and the reception in Blue Earth will go on as planned today. She can sip champagne and dance, even choosing glammed-out Crocs rather than heels to make the most important walk of her life easier.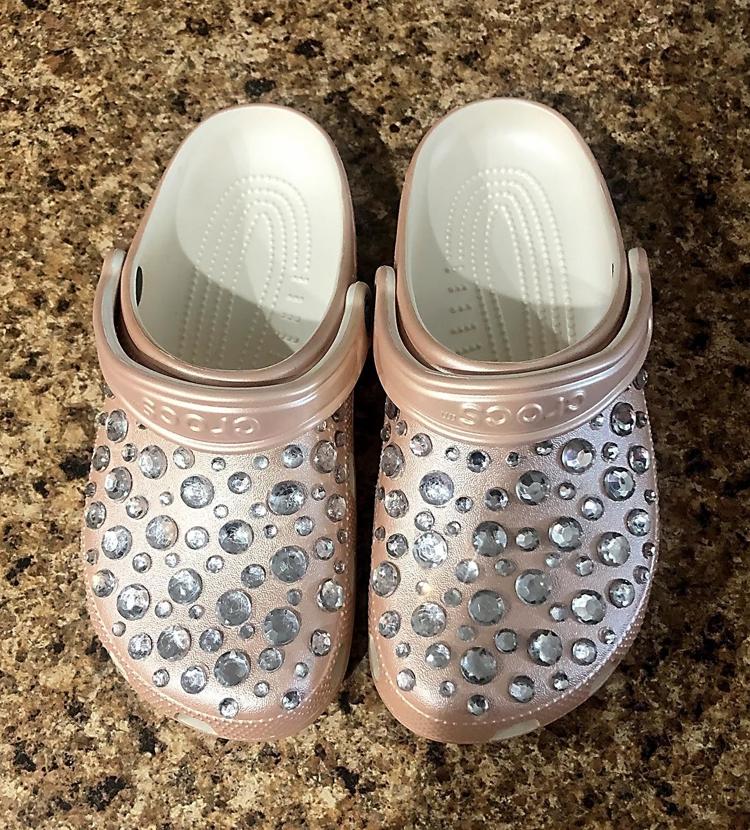 Marilyn said she expects to be in tears when she sees her "miracle child" go down the aisle.
"This is what every mother dreams of for her daughter," she said. "Knowing all the hoops and loops she's gone through and jumped over, she's my hero."
Christina said nothing, not even a life-threatening brain tumor, was going to ruin her and her groom's big day.
"The walker really wasn't an option for me," she said. "I was going to (go down the aisle) whether I crawled down or not."{em style="font-family: Verdana, Arial, Helvetica, sans-serif; line-height: 16px;"}Follow Brian Arola @BrianArola{/em}