NORTH MANKATO — Until they were diagnosed with COVID-19 earlier this month, Tom and Barb Kiffe weren't aware of monoclonal antibody therapy.
The North Mankato couple, both 86 years old, quickly came around on the idea once Mayo Clinic Health System alerted them to it. The quick timing after diagnosis, along with their age and health conditions, qualified them for the treatment, which the U.S. Food and Drug Administration authorized for emergency use in November.
The treatment has shown promise in preventing mild COVID cases from turning more severe, with the Kiffes being examples.
Both received infusions days apart due to her diagnosis coming a little later than his. He had a fever, a sore throat and described feeling "listless" beforehand, while she avoided any noticeable symptoms.
His mild symptoms were about as bad as their COVID experience got, with neither needing to be hospitalized despite being at high risk for complications. As they near their 64th anniversary together in February, they said they're feeling good again and wouldn't hesitate to try the new treatment again.
"They say it can change day by day," Tom said of COVID symptoms. "So we thought as long as we're clear maybe this would stop it from getting any worse."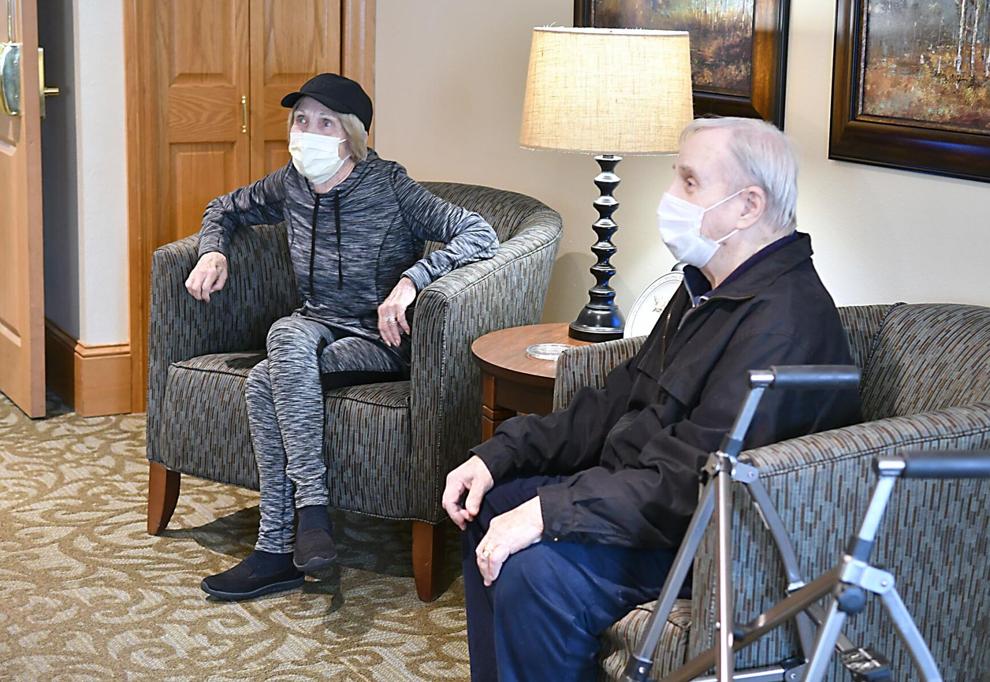 He didn't even have to leave their residence at Oak Terrace Assisted Living to receive his treatment. Mayo Clinic Health System has a new mobile unit going around to long-term care facilities in the region to provide the treatment to residents with COVID.
Bringing the therapy directly to patients has been an amazing experience, said Dr. Sara Hanson, a family medicine physician at Mayo Clinic Health System in Mankato.
"It's incredible to have therapies that we can offer to people that are really actually making a difference," she said. "Seeing positive results in our patients in our region has been so rewarding."
The mobile unit has visited five facilities in the region so far, ranging from Gibbon up in Sibley County to St. Peter to Mankato. Health workers cared for as many as seven patients in a day and as few as one, said Tracy Culbertson, the health system's nurse manager for the COVID infusion center and mobile unit.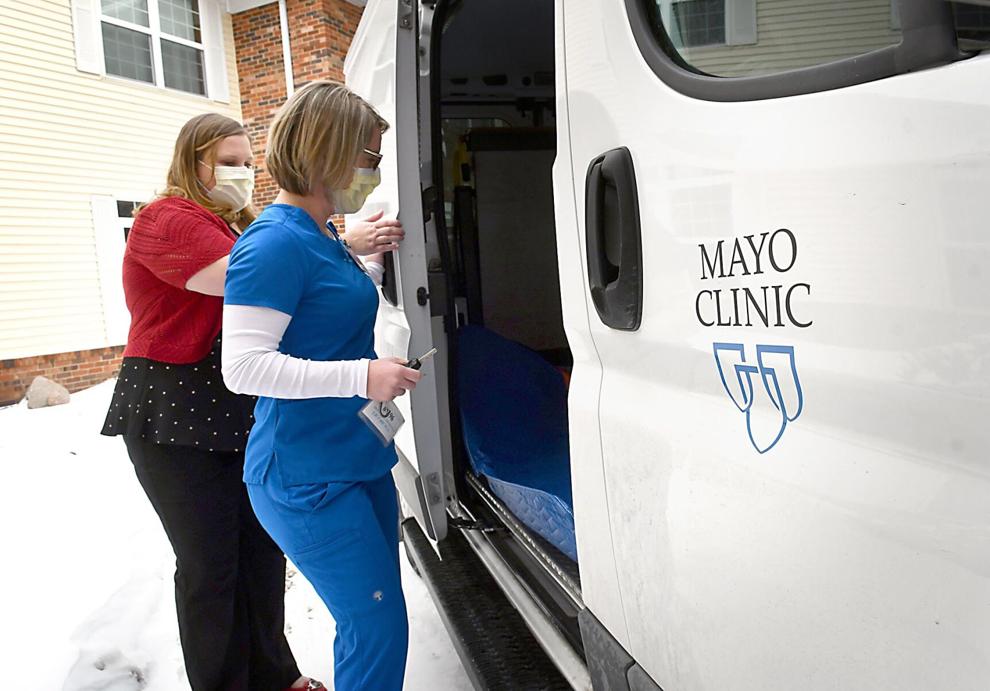 The infusion treatment lasts about an hour followed by another hour of monitoring to make sure patients don't have any adverse reactions. Apart from sleepiness for Tom afterward, the Kiffes said it went smoothly for them.
The treatment infuses patients with laboratory-made proteins that serve as antibodies before the body is able to develop its own antibodies. It creates an immune response sooner, said Dr. Raymund Razonable, Mayo Clinic in Rochester's vice chair of infectious diseases.
"The reason for this is to prevent the virus from causing more infection of cells and prevent those high-risk patients from progressing to a severe illness that would lead to hospitalizations as well as even death," he said.
The key is to start the treatment quickly once symptoms arise. Within 10 days from the onset is all right, but Razonable said ideally patients receive it sooner.
"Our experience tells us we should actually be infusing within two to three days," he said.
Tom received his treatment about four days post-diagnosis, still well within the 10-day window. Barb's turnaround was quicker, and she ended up receiving her treatment at the Mankato hospital's infusion center.
COVID patients who are less likely to develop a rapid immune response are eligible for the treatment under the emergency use authorization. The people qualifying for the treatment are usually older than 65, have chronic health conditions such as kidney disease or are undergoing chemotherapy for cancer.
Health systems notify patients if they're eligible for the treatment. In the Kiffes' case, the health system contacted them after Oak Terrace tested them for COVID and found out they were positive.
After two initial smaller studies into the treatment indicated it could help reduce hospitalizations, Razonable said he's been encouraged by the results since Mayo started offering it.
"I am very reassured with our findings," he said. "I would propose that this drug be used more often."
So far, about 120 residents in long-term care facilities received the treatment from the mobile unit in the health system's southwest and southeast Minnesota regions. The Kiffes said they're happy to be among the recipients, and grateful Oak Terrace identified their illnesses as quick as they did.
"I was thrilled," Barb said. "And I'd highly recommend it to anyone."