Despite being a famous man with an enormous fan base, Bud Grant was notably down-to-earth and approachable. Locals who loved watching him drill his players at the Minnesota Vikings' late-summer training camps in Mankato from the late '60s to mid-'80s readily attest to that.
When Grant died Saturday at age 95, he left a legacy that won't be soon forgotten, whether by players, Vikings fans or those who labored behind the scenes to share the stories of a team that has been the joy and bane of Minnesotans' athletic life for over 60 years.
Wortel's words
"The first thing I remember about Grant is that he treated every member of the media the same," said Barry Wortel, KTOE's sports director whose own career stretches back 50 years.
"If it was 'little Barry' from KTOE or someone from ESPN, we got the same treatment — and that really impressed me," Wortel said.
"Well, his good friend Sid Hartman might have gotten a few extra scoops, but he gave everyone good interviews and was nice to all of us if we asked fair questions. He was unassuming."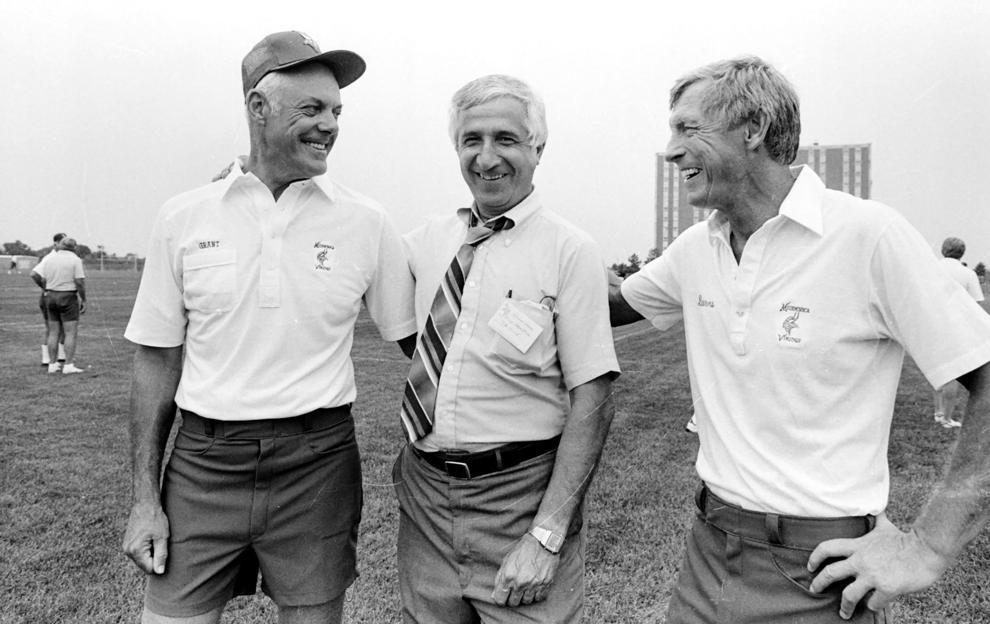 About a decade ago, Wortel had one last meaningful encounter with Grant while broadcasting a Mankato East girls basketball playoff game from Hutchinson.
"I usually like to have a half-time guest to interview so I was scanning the gym for someone — and I turned around and there, one row behind me, was Bud Grant," he said.
"I asked, 'Coach, would you mind talking to me?' He was willing, and it turned out he was there with a Mankato East friend to see the game."
On the date of Elvis Presley's death — Aug. 16, 1977 — Wortel said Grant strayed from the usual at the daily press conference and talked almost exclusively about Presley.
"Yeah, he must have been an Elvis fan because that was the topic of the day."
Wortel will hang up his radio hat on July 1; he says the Vikings, along with local teams, have been a big part of making his career satisfying.
Rueda remembers
Like Wortel, retired Free Press sports editor Jim Rueda had a lengthy career (from the late '70s to 2019) covering the local sports scene.
That included decades of Blakeslee Stadium Vikings training camps, which were especially fun in the days of the Purple People Eaters, like Carl Eller, Alan Page, Doug Sutherland, Ahmad Rashad and — Rueda's favorite quarterback — Fran Tarkenton.
"Tarkenton was actually the reason I came to Mankato," said Rueda, a native of Queens, New York, who long ago adopted Minnesota as his home. "I met a couple of guys in the service who were from Cannon Falls, and they suggested I should attend Mankato State because Fran Tarkenton and the Vikings were there.
"I thought that sounded good."
Rueda recalls Grant as a stoic figure who was consistently frugal with his words.
"When Grant did talk, his players listened because they figured it was important, and I think that's one of the reasons he was a very successful coach," Rueda said.
Instead, Grant's assistant coaches — including his offensive coordinator and eventual successor, Jerry Burns — were the ones darting about the sidelines calling out players in language Rueda never heard emerge from Grant's mouth.
"Burns was the opposite of Grant," Rueda said. "Grant was like a general leading his soldiers into combat, standing tall and erect on the sidelines, in charge of the whole operation but not saying much at all."
Rueda appreciated the end-of-day press conferences in Gage Towers, noting Grant answered any question he ever asked.
Grant, an avid hunter, put on a wild game feed toward the end of each training camp season.
"He'd bring in goose, deer, duck and fish to be served and it was a pretty nice feast," Rueda said.
Cross comments
Those were the days when the media were invited to eat with the Vikings in the Gage cafeteria — something Free Press photographer John Cross said his senior colleague, Bill Altnow, particularly relished.
"If you were a bona fide media rep, you ate up there with them," Cross said. "Now, Bill never missed a meal — and I say that in an endearing way — so he enjoyed that part of it."
Altnow was the primary Vikings photographer during Grant's years at the helm, but Cross knows from Altnow, who died in 2014, that Grant was agreeable to trying and posing for different shots.
"And about five or six years ago there was a 90th birthday party for Don Buchanan (MSU's dean of health and human performance from 1976-89 and a 1993 MSU Athletic Hall of Fame inductee) and Bud attended," Cross said.
"He and Don were good friends, and he sat down and we had a nice chat."
Stevenson shares
North Mankato resident Diana Stevenson holds Grant close for the kind interactions he had with not only her late father, Peter Rutjes, but also her late son, Paul Stevenson.
Rutjes was Blakeslee Field's groundskeeper for about a decade from the mid-'70s to early '80s. Grant generously credited Rutjes for keeping the field in terrific shape for his team.
"Bud always talked to my dad and greeted him by his first name," said Stevenson, mentioning that the groundskeeping gig was the last of several jobs the World War II Pacific Theater veteran held in his lifetime, which ended when he died in 1984 at age 66.
"When Bud complimented dad, it made his head swell and made him feel so good," said Stevenson, emphasizing Grant wasn't too stuck on himself to acknowledge the average Joes around him.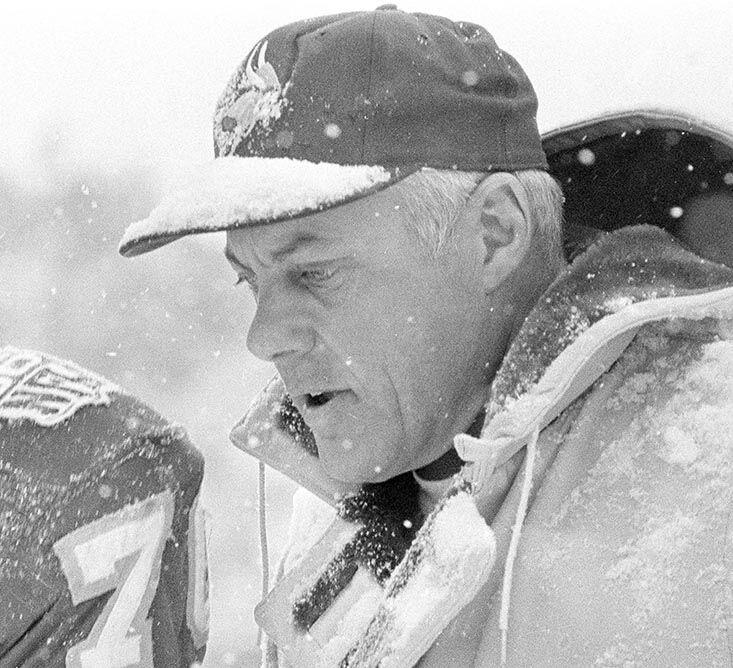 In 1980, when Stevenson's son Paul was 9 years old, his grandpa Rutjes took him to training camp's opening day.
"Bud, I'd like you to meet my grandson," Stevenson recalls her dad reporting of the interchange, which featured a warm greeting and handshake from Grant.
Naturally, the star-struck youth treasured that moment and was a diehard Vikings fan — even after moving to Texas, where he and his wife gathered with other transplanted Vikings devotees at a sports bar for games — until his own untimely death as a result of a rare liver cancer at age 41.
Rutjes' namesake, Stevenson's nephew Peter, ventured to one of Grant's famous garage sales in 2014 and met the legendary coach.
"Peter didn't buy anything," said Stevenson, "but he told me, 'I showed him a picture of Grandpa on my phone and he remembered him.'"
And thus, Grant will be long remembered by all kinds of Minnesotans.