MANKATO — The timing couldn't have been better.
Not only were Minnesota State University's Mavericks hockey team finalists for the Frozen Four championship games in Pittsburgh last week, but two giant bull head sculptures that blow fog through their nostrils with eyes that light up in purple, the team's color, will now greet fans before games.
The sculptures, which were permanently installed in front of the Mayo Clinic Health System Event Center Monday by Minneapolis-based artist Kyle Fokken, are part of a public-private partnership between Twin Rivers Council for the Arts, the city of Mankato and the Mankato Area Foundation — funded by local donors Michelle and David Schooff.
"I graduated from MSU and we are both very passionate Maverick hockey fans," Michelle Schooff said. "Coach (Mike) Hastings has really built the program into something special; a perennial top five team and just the groundswell of fan experience is what we really wanted to capitalize on."
David Schooff said they were inspired while watching a pre-game show on television at the Scotiabank Saddledome in Calgary, Alberta a couple years ago, where the National Hockey League's Calgary Flames play, complete with shooting flames in the plaza outside.
"We saw what the Calgary Flames were doing and thought, why not do something similar for the Mavericks?" Michelle Schooff said.
The couple approached the Mankato Area Foundation last year to get the ball rolling, who in turn reached out to Twin Rivers Council for the Arts to look for an artist, said MAF President Nancy Zallek.
Zallek said Fokken, who has made and installed numerous sculptures for the annual CityArt Walking Sculpture Tour in Mankato over the past decade, immediately came to mind as an ideal artist for the project.
"He has this very tough and industrial feel to his sculptures, which is perfect for what they wanted to accomplish here," said Stacey Straka, who serves on the Twin Rivers Council for the Arts Board of Directors, the organization behind the sculpture tour.
"His sculptures have always been one of the favorites in Mankato," Straka added. "This will join the public art tour for the community, and it's going to be a great addition to the game day experience."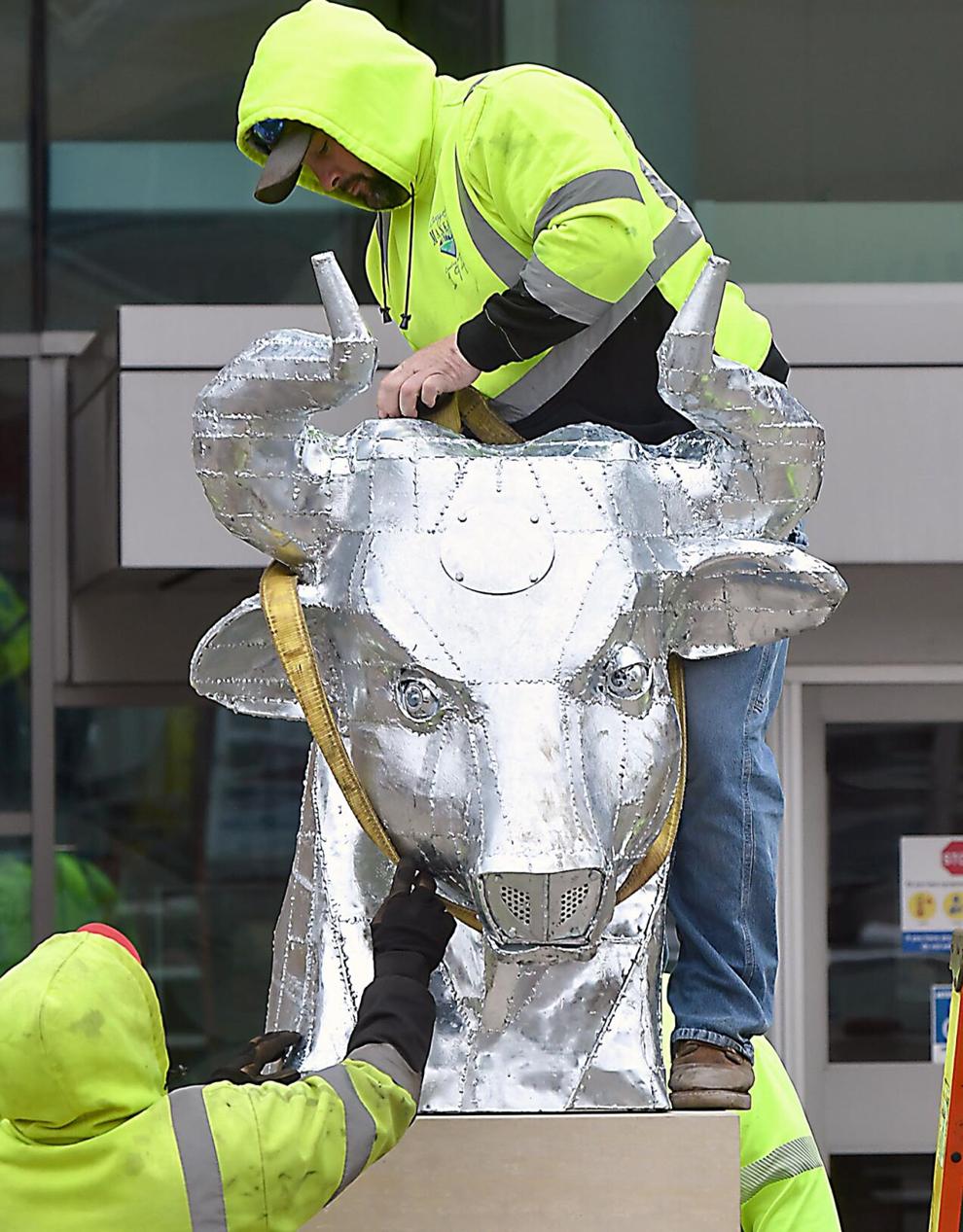 The Schooffs shared their vision with Fokken, who then drew up some initial sketches, made a model out of wood and foam covered in clay before creating a 3-D computer model of the bulls.
"When he came up with the design, we absolutely fell in love with it," Michelle Schooff said. "It's really a testament to his artistic prowess."
When turned on, the eyes come to life with an LED lighting system, and Fokken designed a channel for each nose using a metal tube and secondary hose for fog to travel through the nostrils — using a fog machine that can be detached when not in use.
"Whoever is operating that for the game can pop that in, plug it in, hook up the hose, lock the door, let it fog for however long you want to and take it out again at night," Fokken said.
Michelle Schooff said the two sculptures perfectly represent their passion for both the arts, and support for a Division I hockey team right here in Mankato.
"We really want to make this a place where we can grow the game of hockey," she said. "On game days, with the eyes lighting up in purple and the fog coming out of the snout — families can share that experience with their kids and make this arena a difficult place for competitors to come and play."