MANKATO — The lights and sirens are on only when there is a critical patient, lead paramedic Kathy Lamont told eighth graders as they peeked into her ambulance.
"If we don't have lights and sirens, it doesn't mean we don't have a patient in back," she told the youth visitors to the Mayo Clinic Ambulance headquarters in Mankato.
While everyone else on the road is supposed to pull off to the right side of the road, sometimes those emergency alerts can distract the other drivers and cause accidents or backups. So the paramedics and EMTs use their lights and sirens judiciously.
While Lamont was demonstrating how each piece of equipment on her ambulance is used Tuesday morning, other eighth graders from Prairie Winds Middle School were touring a restaurant, architecture firm, fire station and other Mankato workplaces.
Mankato eighth graders have been touring workplaces for nearly 15 years, getting a taste of the duties of a paramedic, restaurant manager, architect, firefighter and many other jobs.
For the last four years a survey has helped tailor the experience to each student's interests.
The students take a career interest survey, said Kim Mueller, career and college readiness coordinator. The survey results are used to group students with common career prospects. They visit three area businesses, nonprofits or government offices related to their field of interest.
Prairie Winds eighth graders toured on Tuesday. Dakota Meadows eighth graders have the same opportunities Thursday.
The visitors to the Mayo Clinic Ambulance have all shown an interest in health science careers.
There is a shortage of paramedics and EMTs, Lamont told her visitors. In addition to responding to emergencies in an ambulance, they work on helicopters and in hospitals and emergency rooms. Some stay in their position for their entire career while others serve while they are working toward degrees in other occupations, such as nurses and doctors.
The group also got to meet people in those positions and learn about other opportunities in medical fields during visits to the Hanger Clinic (which specializes in orthotics and prosthetics) and the Mankato Clinic.
Meanwhile another group interested in agriculture and natural resources visited DuPont Pioneer plant genetics developer and supplier, Arnold's agricultural equipment dealer and Minneopa State Park.
Student Kendahl Andresen said she is interested in a career either related to health care or agriculture. She has family members who have already told her about their careers in health care, so she was excited to be placed in the agriculture group and get a sampling of what her future might look like if she chooses agriculture.
Kendahl said she was surprised by the variety of positions available at Dupont Pioneer and Arnold's.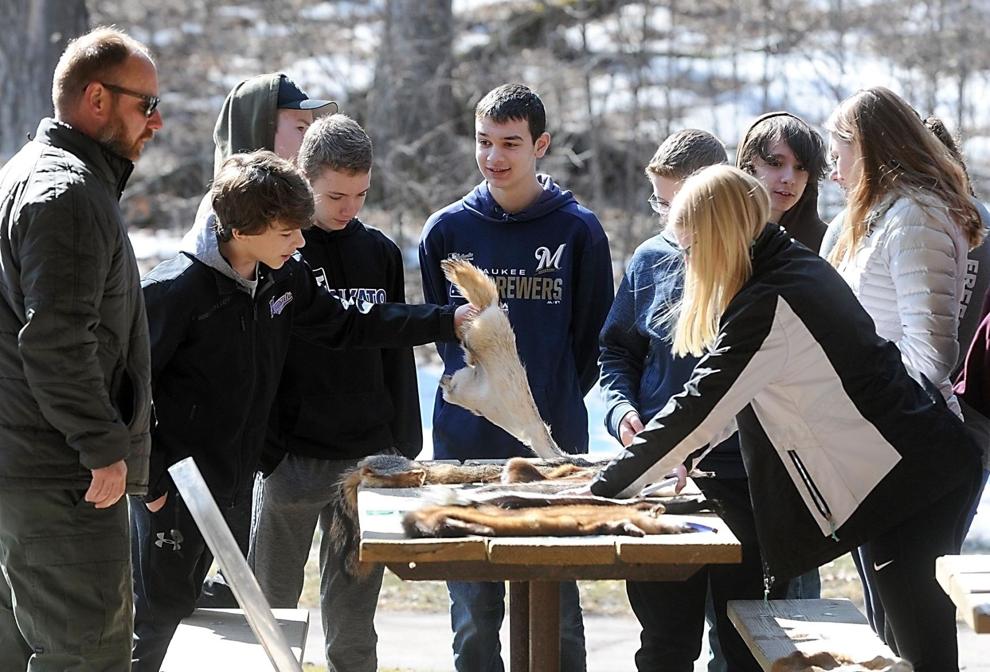 At Minneopa, Assistant Park Manager Todd Dailey showed students some of the ways he and his team protect the park's natural resources.
He dipped a tube into Minneopa Creek and demonstrated how he measures the water's clarity.
"It gives you an idea how runoff affects the creek," he told the visitors.
Pointing to a flood-damaged segment of trail below the falls, Dailey warned that a state park job can sometimes require hard physical labor.
They can't get equipment down to the trail without damaging the landscape, so they will have to bring supplies down the steep stairwell by foot.
"As minimal an impact as possible is what we strive for," he said.