MANKATO — Even in the midst of the most frigid stretch of the winter, the warm and sunny days of road construction are in sight.
And it's going to be a busy and sometimes disruptive season in Mankato with major projects set to break ground in just two months, weather permitting.
A portion of Victory Drive, a major Riverfront Drive/Highway 14 interchange and most of Warren Street are being targeted for work, along with Main Street, eastern Adams Street and more.
"They're big projects," said Michael McCarty, assistant city engineer in Mankato. "They'll definitely make an impact for our residents."
McCarty was talking about the positive impact — safer, smoother, better-flowing streets — when they're completed. But they will have a different kind of impact during construction as drivers run into detours in all parts of Mankato, particularly when all of the projects are underway simultaneously in May and June.
Mankato's construction program in 2021 isn't necessarily uncommonly large. The city projects are on high-visibility streets, however, and Blue Earth County is doing major work on its roads within Mankato city limits. The combination will mean lots of orange barrels and "Road closed" signs.
"To the average driver, yes, we're going to be seeing more construction," he said.
Warren Street
At $5.5 million, the reconstruction and redesign of Warren Street from Front Street to Val Imm Drive is the costliest project on the schedule.
The ambitious project will replace underground utilities, add wider sidewalks and boulevards, install modern traffic signals at Broad and Second streets, and create a more attractive route between downtown and Minnesota State University.
Because the project includes replacing sewer and water systems, which are 40 to 50 years old, virtually the entire construction season will be required. The project is expected to break ground as soon as weather allows and continue until early October.
The repercussions for drivers will be similar to the Cherry Street reconstruction two years ago. Not only will Warren be closed, cross streets such as Second, Broad and Fourth will be blocked for extended periods, too.
Riverfront-Hwy 14 roundabout
While the Warren Street project will close busy intersections near downtown Mankato, an even more disruptive project might be the roundabouts being added at the intersection of Riverfront Drive with the ramps to and from Highway 14.
Led by Blue Earth County, the $2.4 million in improvements are a three-way partnership with Mankato and the Minnesota Department of Transportation.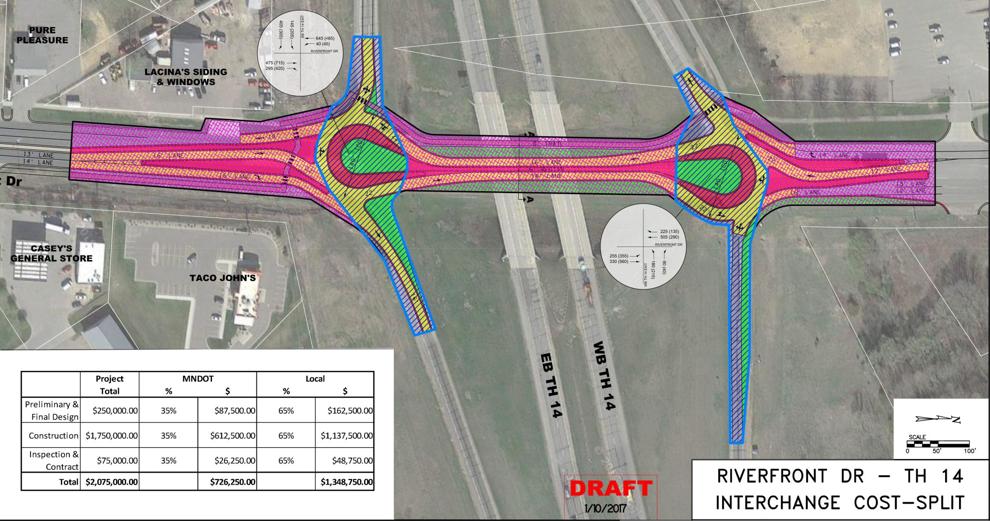 The pair of roundabouts will improve safety and traffic flow at the interchange, particularly the westbound Highway 14 exit ramp to Riverfront Drive. During peak traffic times, significant backups occur on the ramp as drivers struggle to find a gap in Riverfront Drive traffic to make left turns onto Riverfront.
Depending on a driver's destination, detours will involve Third Avenue, Madison Avenue, Victory Drive, Highway 22 and County Road 26.
"That one will have a broader impact because there's not much in terms of detour alternatives," McCarty said.
The project also will improve the trail beneath Highway 14, providing better accessibility for users of the sidewalk along the west side of Riverfront, which connects Mankato to the trailhead of the Sakatah Singing Hills State Trail. And a trail will be added on the east side of Riverfront through the interchange.
That second trail will connect to Tourtellotte Park and its broader neighborhood thanks to a $310,000 city project this summer to eliminate the gap in sidewalks along North Second Street and the western portion of Good Counsel Drive.
Victory Drive
Another county-led project is the $4.3 million reconstruction of Victory Drive from just south of Hoffman Road to Stadium Road.
Along with improving the driving surface, the project will turn the road into an urban street with curb and gutters, street lighting and a new 10-foot trail along the west side of Victory to fill the gap in the existing trail system.
From Balcerzak Drive to the north, Victory will be a four-lane divided roadway, narrowing to three lanes between Balcerzak and Stadium (one lane in each direction with a continuous left-turn lane in the center). The Victory-Balcerzak intersection also will be reconfigured and the traffic signals upgraded to allow for a planned extension of Balcerzak to the east in the future.
Construction is to begin in the spring with completion in November. Traffic will be detoured along Stadium, Pohl and Agency roads.
Adams Street
A project adding a $1.4 million roundabout on Mankato's east side is set to begin April 27 and be completed by the end of June.
Construction of the roundabout at the intersection of Adams Street and County Road 12 will temporarily close the intersection, which is being upgraded in part to serve a large new truck stop planned for just east of the intersection.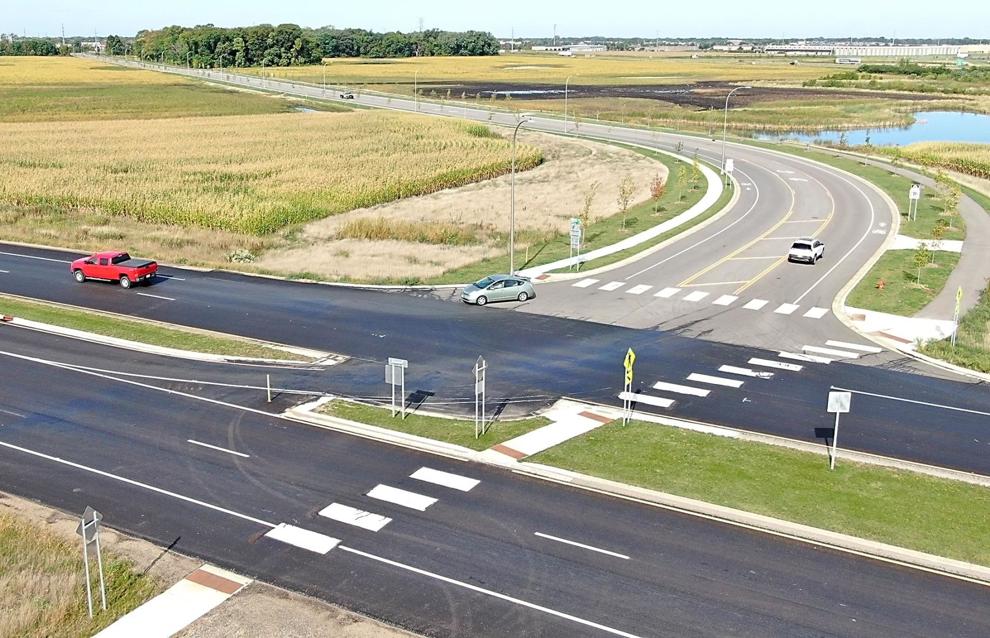 The city-led project is being funded primarily through tax abatement revenue and a state economic development grant. Detours will push traffic to Highway 14 and County Road 17/Madison Avenue.
Because that project is to be completed before July arrives, the community will see at least one detour disappear for the second half of the construction season.
Stoltzman Road
It won't require detours, but drivers along Stoltzman Road will be seeing construction on the west side of the road as Blue Earth County builds a new pedestrian/bike trail this year.
The long-sought 10-foot trail will run from West Pleasant/Blue Earth streets near West High School to the existing trail along Stoltzman Road, which starts near the Vietnam Veterans Memorial and Rasmussen Woods Nature Area and extends nearly to the southern city limits.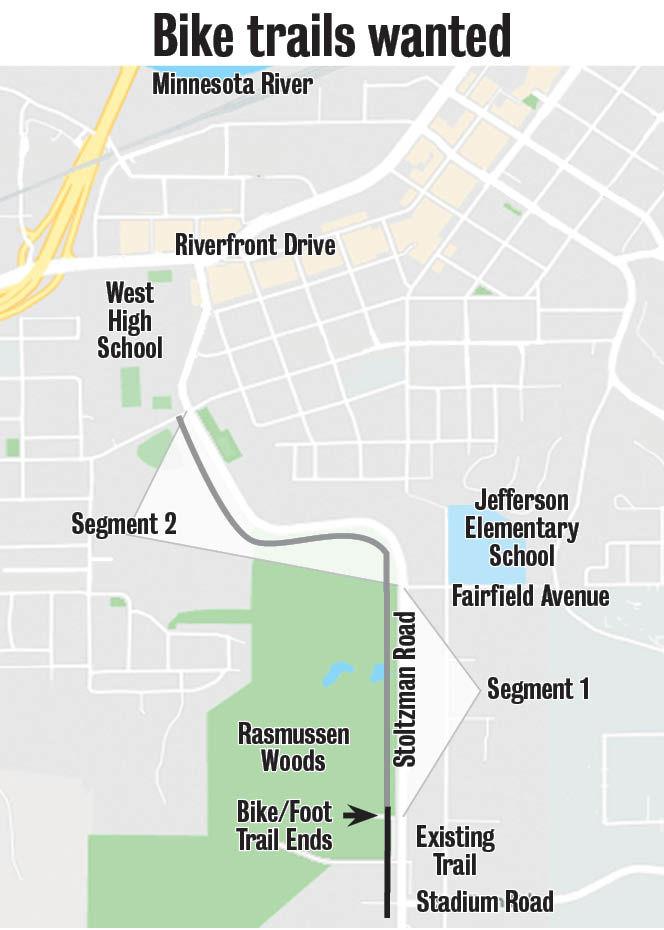 The $766,000 path also will include an enhanced pedestrian crossing of Stoltzman Road at Fairfield Avenue near Jefferson Elementary School. The bulk of the funding was provided by federal and Minnesota Department of Natural Resources grants, with the county and city splitting the remainder.
Main Street and Ledlie Lane
The pavement on the Main Street hill is set to be spiffed up this summer between Fourth Street and Hannah Street.
That portion of Main will need to be closed to traffic during construction, but because the project will involve only resurfacing — not complete reconstruction — the work should be completed in weeks rather than months.
"It should be a couple of weeks, hopefully," McCarty said.
The project is being paired with similar work on Ledlie Lane from Stoltzman Road to Kristy Lane, just past F.A. Buscher Park. Combined, the two resurfacing projects are expected to cost $875,000.
Germania Park, Weaver Street
The second phase of the multi-year effort to improve the residential streets in the Germania Park neighborhood will begin this spring and continue until early October.
More than $2.2 million in improvements to streets and utilities are planned.
A $900,000 reconstruction of Weaver Street, which runs along the north side of Highland Park, is expected to be completed a bit sooner, by early August.