LAKE CRYSTAL — The parts all seem to be in place and running smoothly for the Cruz 'IN Lake Crystal car show.
Hot rods: check. Aftermarket enhancements: definitely check. Music: check, with all the classic hits piped through speakers.
But it was not just residents who funneled into the town of roughly 2,500 on Thursday night. Car aficionados and base-level appreciators alike piled into the main drag, temporarily increasing its population by about 24 percent by the estimates of those who regularly attend Cruz 'IN Lake Crystal.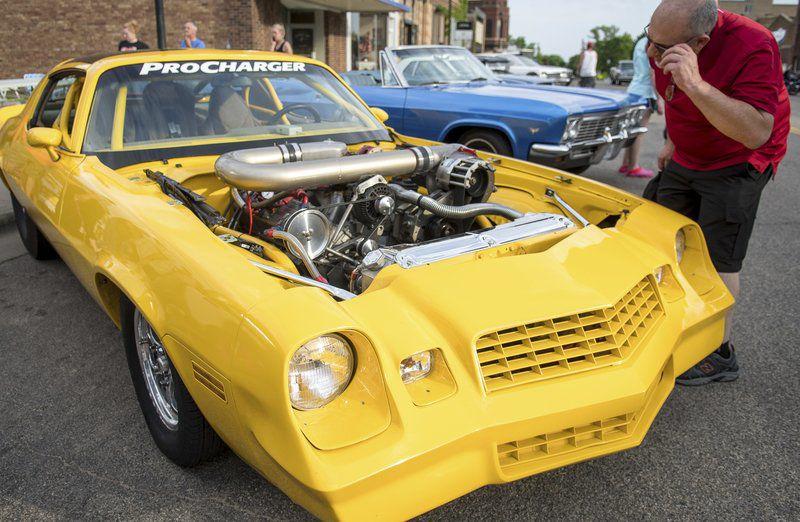 One such duo came all the way from Nicollet, but Lance Severin and Brian Novak were not any two random car guys. They are organizers of Cruz 'IN Lake Crystal's sister event Cruisin on Pine & 99, named for the roadways in Nicollet the event occupies. Like Cruz 'IN Lake Crystal, Cruisin on Pine & 99 was put together by the town's chamber of commerce.
"They're embracing it. We in Nicollet are embracing it," Severin said. "If you have that many people coming into your town, you need to take advantage of it."
And Lake Crystal did just that. With about 200 cars occupying Main Street and the closed West Humphrey Street and others filing into other side streets, the town was hopping.
Guests age 21 and older looking at Shelby Cobras or classic Impalas could do so with a beer in hand. That's because the city police allowed open beer bottles within a few blocks of the event's epicenter, said Judi Reed, director of the Lake Crystal Area Chamber of Commerce.
"It hasn't been a problem," Reed said with a roaring supercharged 1970s Camaro muffling her voice.
Where some came to the show with classic American muscle, Donnie "Bondo" Hiniker showed off his Frankenstein of a Pontiac Grand Prix.
"The center of the hood is a '94 Camaro. A buddy of mine found it in a ditch," Hiniker said. "It beats walking."
Where some added chrome to their wheels, Hiniker attached paper plates. Where others cut away hoods to show off aftermarket air intakes, Hiniker attached a plastic Batman-themed plastic engine.
"It's low-dollar customizing," Hiniker said 15 feet from a polished Camaro SS. "Most of the stripes are just colored duct tape and electrical tape."
Craig Amundson, of North Mankato, the owner of one of only 119 anniversary edition 1999 Pontiac Firebirds, said he appreciates the diversity of the event.
"To each his own," Amundson said. "It may be somebody's dream car and it may be somebody's 'That was the worst car I ever had, and I want nothing to do with it.'"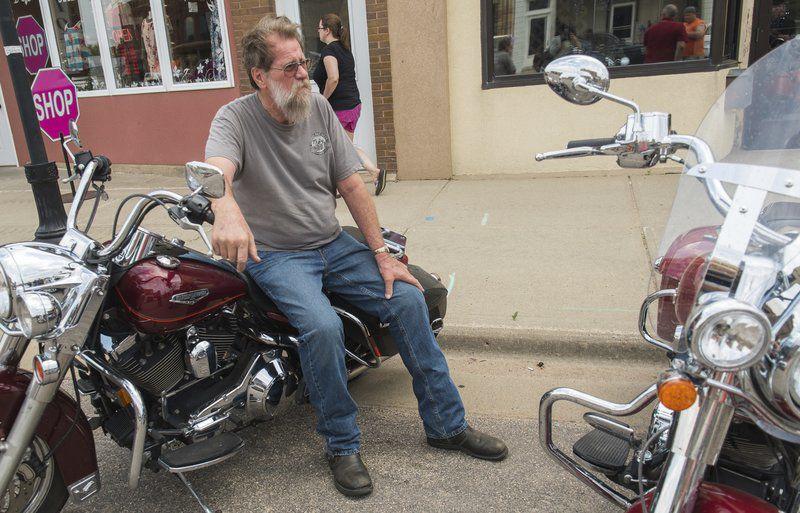 But in the chaos there is order, Amundson said. "It's well run and that's what brings people out."
The format of the sister events in Lake Crystal and Nicollet are virtually identical, according to Severin and Novak, who worked to adopt the car show Bumpers on Belgrade in North Mankato hours after event organizer Larry Hanson decided to take the event elsewhere.
Hanson cited suffocating permit stipulations brought on by disagreements with a few businesses as one of the reason for Bumpers on Belgrade coming to an end.
"Everyone was devastated, not just car people, when (North Mankato) made us leave. They kept dropping the ball," Hanson said. "It was going well."
Some businesses on Belgrade had cited major interruptions to business during show hours. Some residents complained about traffic interruptions.
"We could not come to an agreement," Hanson said.
Businesses in Lake Crystal don't seem to have the same complaints.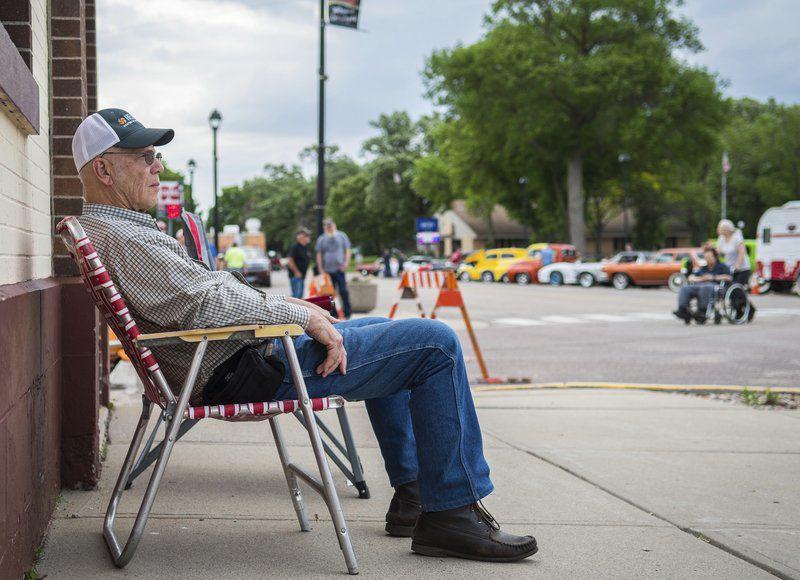 "We're not open on any evening." Nancy Sohler of Grace Thrift Store said. "So, it being that the car show is here, we are open 5 to 9 on the nights that the car show is here."
Julie Reed seems to be convinced as well. "We're just really happy with how all the people have supported our community, and there have been some beautiful wheels here."
On April 17, 2017, Hanson pulled his permit for the event in North Mankato. It was only matter of time before Nicollet's Mayor Fred Froehlich would try to pick up the vacancy and bring Lake Crystal's sister event to his town. The evening Hanson announced he'd be leaving North Mankato seemed a better night than any, Novak said.
"The next evening we had a meeting at the city building in Nicollet after North Mankato fell through," Severin said. "Within 35 or so days the event was running, thanks to all the people who helped out."
Hanson was integral in getting the Nicollet and Lake Crystal events running, lending his tried and true event format to the cities' chambers of commerce. But as soon as the events got off the ground, he took the back seat and now attends the events as just a fan of classic cars.
"I'm there every time, unless I'm out of town," Hanson said. "I don't miss a one."
Cruisin on Pine & 99 will start its second season Thursday and will alternate Thursdays with Lake Crystal until the close of the season Oct. 4.
Until then, Hiniker will maintain his affinity for mixing and matching all things automotive.
"I told (a friend whose van was rear-ended) to cut it off right behind the front doors and weld a double axle car trailer on the back of it," Hiniker said. "Two weeks later, he was hauling cars and making wide left-hand turns."