MANKATO — If any Mankato MoonDogs collide with opposing players on the basepaths this season, their athletic trainer will have baseline tests to compare concussion symptoms against.
Team trainer Kiersten Schmidt of Mayo Clinic Health System in Mankato performed preseason exams on each player for the first time in the days and hours ahead of Tuesday's season opener.
Concussions are less common in baseball than football, but having the baseline results on hand can help with treatment.
Schmidt, entering her fifth season as MoonDogs trainer, said heightened awareness of concussions in sports inspired her to bolster the team's protocol.
"It was something I was thinking about and thought it was important we do this," she said. "When we have a little bit better background on the athlete, we can truly assess where they're at with their concussions and we're not playing a guessing game when they can return."
The MoonDogs are comprised of college baseball players from across the country. As team trainer, Schmidt said one of her responsibilities is keeping the players healthy until they return to their college teams.
"The athletic trainers back at the schools are trusting me to keep them safe," she said. "Without the baseline concussion test, I'm not really doing my job."
The tests measure players' baseline brain function, from concentration to memory. Contrasted against results when a player is reporting concussion symptoms, the baselines help the trainer determine when a player is ready to return to the field.
MoonDogs players sustained two concussions during Schmidt's four previous seasons as trainer. Brain injuries may not happen often, but any errant pitch, collision or line drive could cause one.
General Manager Austin Link said sports injuries can happen anytime, so having a protocol in place ensures the team is ready to respond. The Northwoods League the MoonDogs play in doesn't have a mandated protocol, so the MoonDogs worked with Mayo in Mankato's new orthopedic and sports medicine team to put their own in place.
"We think being able to have that information all throughout the season is super important because head injuries are definitely not something you want to mess with," he said.
Former Minnesota Twin Joe Mauer was one of the more prominent baseball players to sustain a concussion, with symptoms lingering for years afterward. As a catcher at the time, he played one of the positions at highest risk for concussions, according to a 2018 study in the Open Access Journal of Sports Medicine.
The study looked at 112 Major League Baseball players who were placed on the injured list with concussions over an 11-year period. The most common causes of concussions were being struck by foul tips or foul balls, collisions with field walls or fellow players and being hit by a pitch.
Pitchers were the other position players most at risk for concussions. Jimmy Larson, a Minnesota State University pitcher suiting up for the MoonDogs, said he appreciated how seriously the team was taking concussion testing.
"It makes me feel better trainers are there looking out for you," he said. "So if you do get concussed, you're not out there causing more harm to yourself."
Although he hasn't had a concussion before, he had two brain tumors removed a couple of years ago. He's also seen his brother experience concussions.
Schmidt, based on past seasons, expects to deal with more soreness and strain than concussions this season. She'll be more busy than usual, as she's also lined up to be the trainer for the Aussie Peppers women's pro fastpitch softball team once they debut in North Mankato.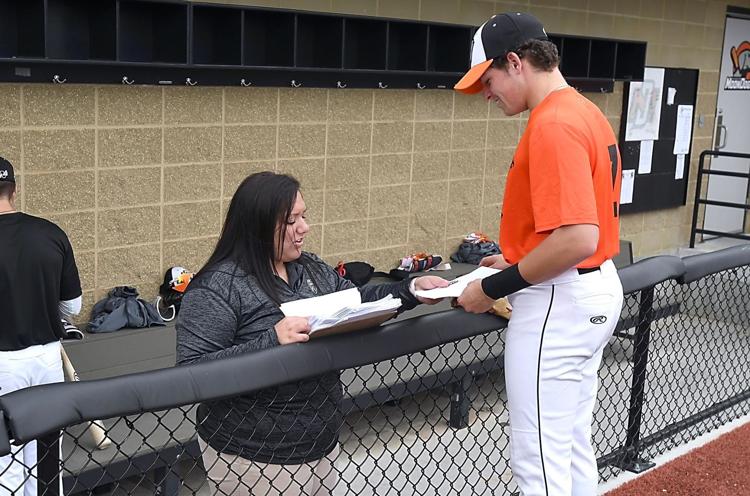 From the dugout ahead of the MoonDogs' opener, she said she always hopes for injury-free seasons. But should any head injuries happen, there's now a protocol for it.
"We wanted to kind of lead the league in trying to have something in place and have that standard," she said.