KASOTA — It may still be more than three months away, but for local organizers of Hockey Day Minnesota, it's starting to feel like crunch time.
"We've been working on this for more than a year and a half," said Mankato Hockey Day Minnesota event co-chair Michelle Schooff at a kickoff celebration Tuesday at Chankaska Creek Winery.
"It's exactly 100 days away tonight and, traditionally, that's when the Wild officially begins preparations for the event. Tickets went on sale today, merchandise went on sale today, things are starting to move rapidly."
More than 350 people attended the Chankaska Creek event, most of them sponsors of the festivities. The program featured former MSU and Wild player Ryan Carter, Minnesota Wild president Matt Majka, representatives from Bally Sports North and Mankato co-chair David Wittenberg.
"Minnesota Hockey Day is just a really cool event," Wittenberg said. "We are honored to be the city that hosts it this year."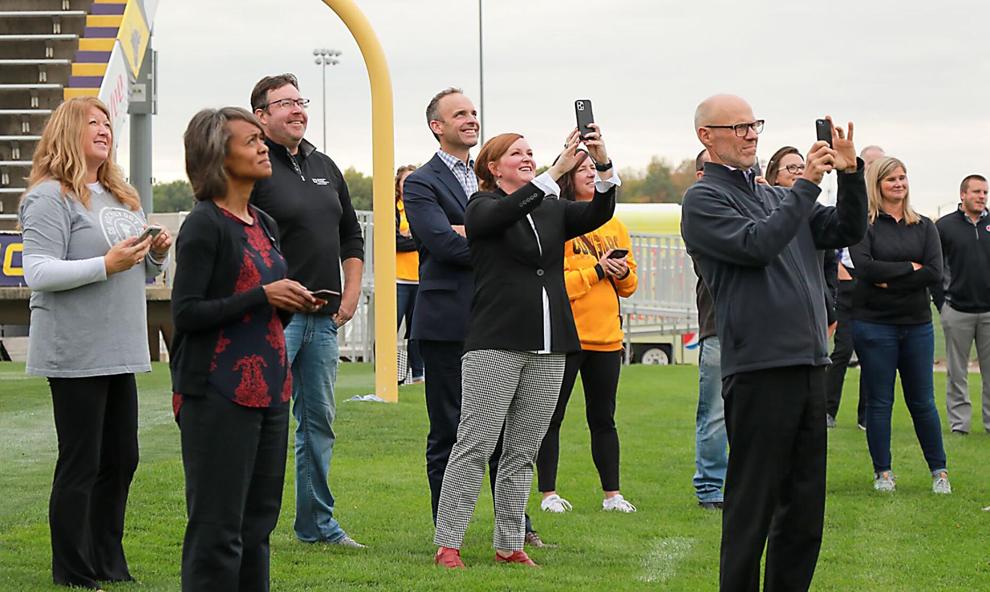 Mankato was in line to host the event last year but the event was canceled because of COVID-19. Schooff said the efforts of Carter and the Wild's Wayne Petersen, who is also a Minnesota State grad, helped ensure the area didn't lose the event.
"They came down and did a site visit and were really promoting Mankato to the Wild," said Schooff, who describes herself as a "crazy hockey fan."
This will be the 16th Hockey Day Minnesota. The five-day event begins Wednesday, Jan. 19, with festivities happening through Sunday, Jan. 23. The event will include Bally Sports North's telecasts of a few games on Saturday, Jan. 22, from MSU's Blakeslee Field.
Mankato's hockey day will include a game on the Blakeslee Field rink between the Mankato East and West girls; a southern Minnesota celebrity game; an MSU women vs. St. Thomas game; a Wounded Warrior game; an East-West boys matchup; an MSU alumni game; and the MSU men vs. St. Thomas game.
The Wild will host the Chicago Blackhawks at Xcel Energy Center on Saturday night, Jan. 21.
Carter, who is now an analyst for the Minnesota Wild on Bally Sports North, said he's looking forward to the event.
"I was involved as a player with the Wild but this will really be the first time I get to see the amateur side of it," he said. "I was told more than 450 kids will be playing on that sheet of ice at Blakeslee that week. That's just amazing."
Like many people, Carter is curious how an ice rink will be erected inside Blakeslee Stadium, but he has been assured it will happen. Schooff said a professional outfit out of Alexandria has been hired to oversee the construction of the rink.
"I know it's going to be a first-class rink," she said. "It has to be because they're going to play a Division 1 hockey game on it."
For more detailed information on Minnesota Hockey Day in Mankato, go to wild.com/HockeyDay.