NEW ULM — Glenda and Dave Worth were married at a hospital not knowing if it would be their last day together.
Dave has terminal cancer and the Fairfax couple decided to tie the knot at the New Ulm Medical Center on Thursday.
Dave has since stabilized and is back home now in between returns to the hospital for more tests.
Friend Amber Melby is collecting donations to help the Worths make the most of the time they have left together. Melby, who works with Glenda, has raised more than $11,000 in less than a week.
"It's really overwhelming for us," Glenda said. "We're not ones to ask for help."
The funds will relieve the financial pressure of uncovered medical bills and lost wages. Knowing that so many people are rooting for them also is giving them strength, Glenda said.
"We're just grateful for everything everybody has done," Glenda said Monday morning as Dave was undergoing a bone scan.
Dave, 52, and Glenda 41, formerly known as Glenda Sampson, met online five years ago. Dave was then in remission from kidney cancer after having one of his kidneys removed. The cancer returned three years ago and Dave has since endured five types of treatment.
Glenda and Melby work together at South View Living Center in Gibbon. Glenda helps care for the senior residents and does cleaning and anything else needed to keep the facility running smoothly.
"In my 25 years of nursing, I have met few caregivers like her," Melby said. "While Glenda has been his primary caregiver at home, she has never missed a day of work, shows up with a smile every day and never complains. She is the first to offer support when someone needs it or donate to someone in need."
Dave worked as an agronomist at the Central Region Cooperative before his health required him to take leave this spring. When his health allows, he still takes calls from farmers and provides pro bono advice.
The couple had talked a few times about marriage. But with both Dave as well as Glenda's sister fighting cancer, they had not found the perfect time to take the plunge.
Dave surprised Glenda with a sunset proposal during a trip to a cabin earlier this month.
Just days later, Glenda rushed her new new fiancé to the New Ulm Medical Center with multiple life-threatening complications.
They'd run out of time to wait for the perfect time. They got married in the hospital chapel while their loved ones watched online.
"I never expected to get married in a hospital," Glenda said. "It just all happened so fast."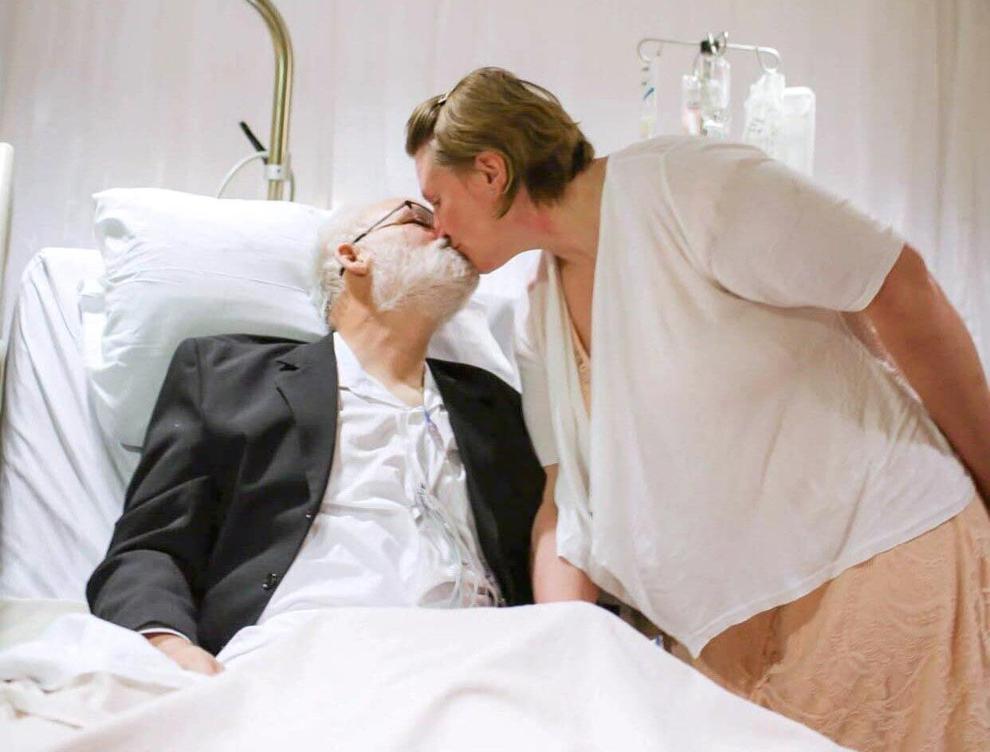 Glenda didn't even have time to put on makeup and wore an outfit a relative had picked out for her.
Dave, who was wheeled to the chapel in his hospital bed, wasn't wearing pants. A suit coat and dress shirt were brought to put over his hospital gown.
While it wasn't the wedding she had imagined, Glenda said it still was magical.
Family, friends, hospital staff and even a few strangers helped make the impromptu celebration happen.
"I am just in awe of what they could pull together in a few hours for them — the wedding service, the Zoom call, a photographer, a cake — all those little things that made their day special, and in the middle of a pandemic," Melby said.
Dave survived the complications that threatened his life last week, but it's unclear now how much time he has left. They are awaiting test results to determine how far the cancer has spread and what treatment options remain.
The only certainty now, Glenda said, is that "Dave is a fighter."
"We're living in the moment," she said.
"We're taking it day by day."