Steve and Pam Kibble moved into a luxury apartment in Bridge Plaza about a year ago, with it being a temporary home until their recently completed townhome was finished.
"We loved it. It was super convenient. The apartment was very homey and nice," Steve Kibble said of the new building at the foot of the Veterans Memorial Bridge in Mankato.
"My wife liked that it was secure, with underground, heated parking and multi-security levels getting into the apartment."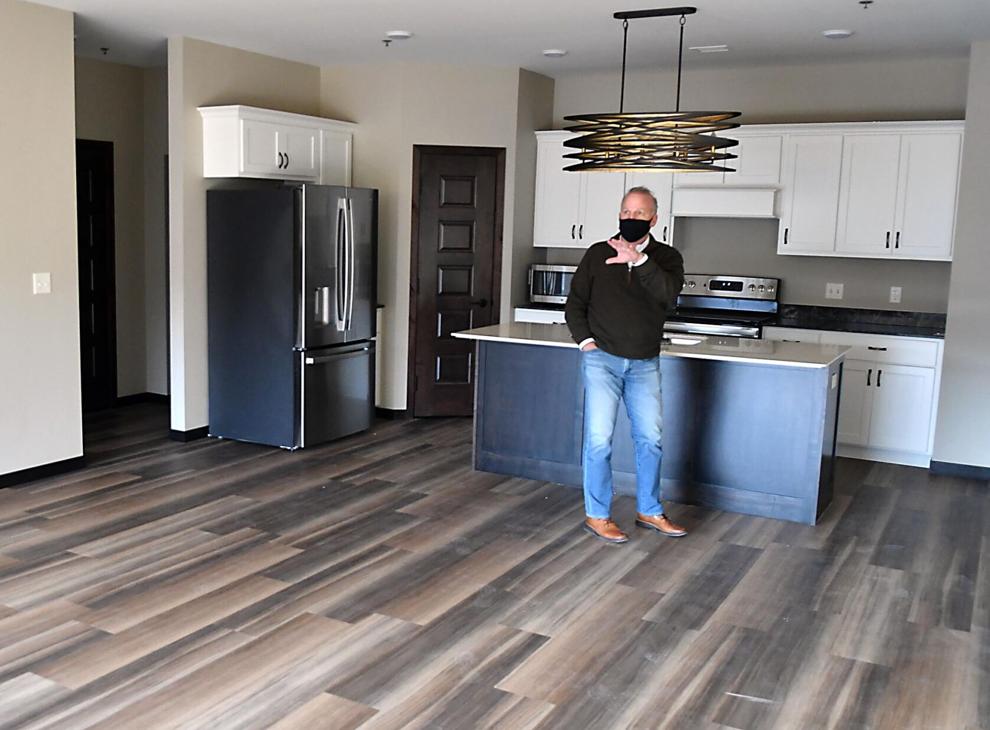 He said their only regret was their timing.
"We moved in during COVID so we couldn't enjoy a lot of the downtown amenities until recently. But it was nice to be able to walk to most of the bars and restaurants in the area."
The Mankato area has joined a national trend of more people renting, an increase in new downtown and urban core apartments and a growing number of luxury apartments.
One of the biggest luxury complexes is M2 Lofts, located behind Hilltop Florist, along with Pond View Heights Apartments located behind Madison East Center.
A series of luxury apartment complexes have gone up in recent years in Pond View Heights, located around Kearney Pond.
The one- and two-bedroom units rent for $1,300-$1,700.
Bridge Plaza has six high-end units atop a building otherwise dedicated to office space. One of the early higher-end complexes was the Marigold in North Mankato, with commercial space on the first floor and apartments on the second.
Downtown, on South Front Street, the Block 518 complex built by Tailwind Group has commercial space on the first floor and up-scale apartments on the upper four floors.
On a national level, renting shot up in popularity in the past decade.
Since 2010, the number of renters increased two times faster than the number of homeowners, signaling a considerable shift in the American lifestyle, according to data analyzed by RentCafe.
Rentership rates expanded across the board — from young families to seniors, from city cores to suburbs, as many Americans have shifted away from homeownership.
Developers responded to the demand with a construction boom unseen since the 1980s, which included a growing number of high-end units.
Mankato businessman and developer Tony Frentz, who along with Rob Else built the Eide Bailly office tower downtown, said demand seems to be there for upper-end apartments.
"It's indicative of what we want to happen, having young professionals live downtown and seniors who maybe sold a business or something moving downtown."
"There is demand today, but I'm not sure how long it will last."
A mix of residents
M2 Lofts, located near the hospital and behind Hilltop Florist, opened in 2016 with 89 units of one-, two- and three-bedroom units that rent from $1,300 to $2,500 a month.
Kathy Van Tol, of Van Tol Properties, said they've been well received.
"We've been extremely lucky and they are done well. It's centrally located so it's easy to go downtown or to the River Hills Mall area.
"People like the community feel, the atmosphere, the quietness. All the amenities we offer," she said.
The Lofts have a community room, onsite management and a guest unit that can be rented if someone has visitors.
Optional services include underground climate controlled parking, vacation services, storage rental space and dry cleaning drop-off and pick-up.
She said tenants are a mix of young professionals and retirees.
"The key for people looking for urban living is they can lock and go. They don't have to worry about all the other things homeownership involves. Home ownership is great, but there are times in life when you are more on the go, or winter down south or travel a lot for work," Van Tol said.
"It seems like the trend is changing from single-family to multi-family."
She said she's not sure what the saturation point is for more urban living apartments. "We're lucky. Mankato keeps growing."
Construction costs
Mike Brennan's recently completed Bridge Plaza building is largely commercial space, but has six luxury apartments on the fifth floor.
"Downtown living is probably the next frontier of our urban renaissance — both Class A and mid-range units," he said.
His apartment units filled up within six months and everyone has renewed their lease, except for one couple who were living there temporarily while waiting for their townhome to be finished.
"We have a waiting list," Brennan said.
"People want this. The challenge is the cost of construction versus a reasonable rent. When someone wants a nice upper-end apartment they're also going to want indoor parking and that adds even more to rent," he said.
"But I'm a big believer in it. It's going to keep drawing people, especially empty nesters. We have some young professionals, in their 30s and 40s without kids, we have empty nesters and retirees. It's a wide variety," Brennan said.
"I hope other developers are spurred to do upper-end apartments. It's not a tapped-out market by any means."
Brennan was the general contractor for one of the early higher-end apartments when he oversaw construction of the Marigold in North Mankato for Van Moody 15 yeas ago.
"That was a nice building, mixed use. It worked for Van. You don't get as much (rent) per square foot for apartment space as for commercial so it's tougher to build just an upper-end apartment building."
Landmark starting soon
Jon Kietzer, a developer and owner of Century 21 Landmark Realty, sees room for more, particularly high-end rentals.
"Currently, there aren't a lot of high-end apartments in downtown Mankato."
By the end of February, he expects work will begin on a massive renovation of his Landmark building, located on the corner of Main and Second streets.
The $12 million project will feature 33 upscale apartments, Mankato's first micro-distillery and an event center.
"We know high-end apartments work in our community."
The building will feature up to nine one-bedroom apartments that will start at $1,600 a month. About 15 units will be two bedroom, with rent in the mid $2,000s and the rest three-bedroom at about $2,800-$3,000 a month.
He said he's already heard plenty of interest. "I see some (tenants) being young professionals. I've talked to people who work downtown who've inquired about it. And I've talked to people who are retirement age."
The Landmark project is just half of a block-long renovation along Main Street being undertaken by Kietzer.
He is finalizing financing for a major renovation of the next door City Center Hotel, with the project being tied into the Landmark building. He hopes work will start in April or May.
"Mankato needs more good hotel rooms downtown. City Center was very nice but it's not up to its potential now."