MANKATO — Developers are betting big on a persistent preference to live in or move to Mankato, with one proposing the creation of a new eastside subdivision for 156 single-family homes and more than 400 duplex and fourplex units and another submitting plans to add 72 three-story townhouses near the hilltop Hy-Vee.
A declining number of construction-ready vacant lots for home construction is likely the impetus for the latest subdivision being pursued by Mike Drummer of Drummer Land Investments, according to Community Development Director Paul Vogel.
"The supply is starting to go down, so it didn't really surprise us," Vogel said.
And the Adams Street Townhomes, which are to be constructed on five acres of vacant land north of the Hy-Vee and Office Depot buildings, replace a previous proposal for a pair of large apartment buildings. But the townhouses are still expected to be rental units rather than owner-occupied homes, he said.
"Vacancy rates in the rental market are still at levels that make development of additional properties attractive to investors," Vogel said.
The large housing developments come just a year after city officials worried the pandemic-damaged economy could bring a halt to most new investments. Instead, many projects still moved forward in 2020 and the amount of construction has only increased in 2021.
"We're seeing that pent-up demand coming through even though last year was strong," Vogel said. "Basically the flood gates have opened."
Eastern limits
The Drummer development would be Mankato's first east of Blue Earth County Road 12, encompassing 144 acres at the southeast quadrant of Madison Avenue and County Road 12 — nearly on the doorstep of Eagle Lake.
In fact, some lots in the subdivision are barely 2,000 feet from County Road 86, which is the end of the line for Mankato's eastward development under a longstanding agreement with Mankato Township and the city of Eagle Lake.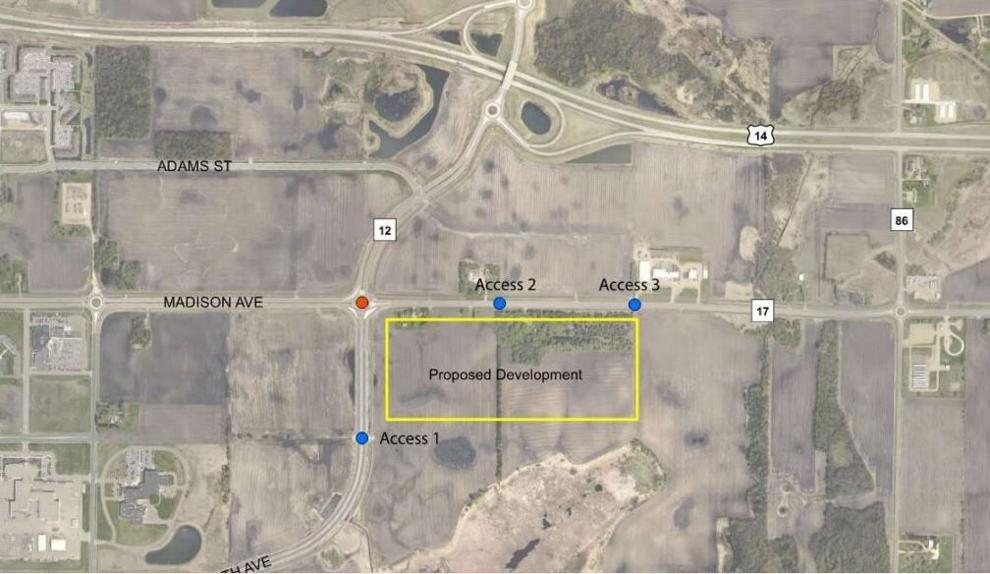 "Anything east of 86, also known as 'the KTOE Road,' would be growth for the city of Eagle Lake," Vogel said. "... It's definitely getting close to that point."
Residents in the new subdivision will find themselves about a 2.5-mile drive from River Hills Mall, which was on the edge of town when it was constructed 30 years ago. If they're looking for a hamburger, they'll be closer to the Eagle's Nest in Eagle Lake than to Applebee's, McDonald's, Dairy Queen and Five Guys — the easternmost restaurants in Mankato.
Although the proposal is leapfrogging some vacant land closer to Mankato, the project is consistent with the east-side development plan created about 15 years ago and with long-range road-construction plans, Vogel said.
The proposed subdivision would have a "highway-commercial" land-use designation on its northeast corner with 85 residential lots to the east in the development's first phase. All but seven lots would be for single-family homes or duplexes with seven reserved for fourplexes or larger multi-family apartment buildings.
Even with the southern portion of the property dominated by wetlands and set aside as a natural area, the subdivision could ultimately grow to 156 single-family homes, 418 multi-family units and 12 acres of park space, according to a traffic study submitted by the developer.
Vogel said Drummer is looking to provide affordable homeownership opportunities in the subdivision, including possibly setting up a community land trust to ensure they remain affordable for subsequent purchasers when the initial owners decide to sell.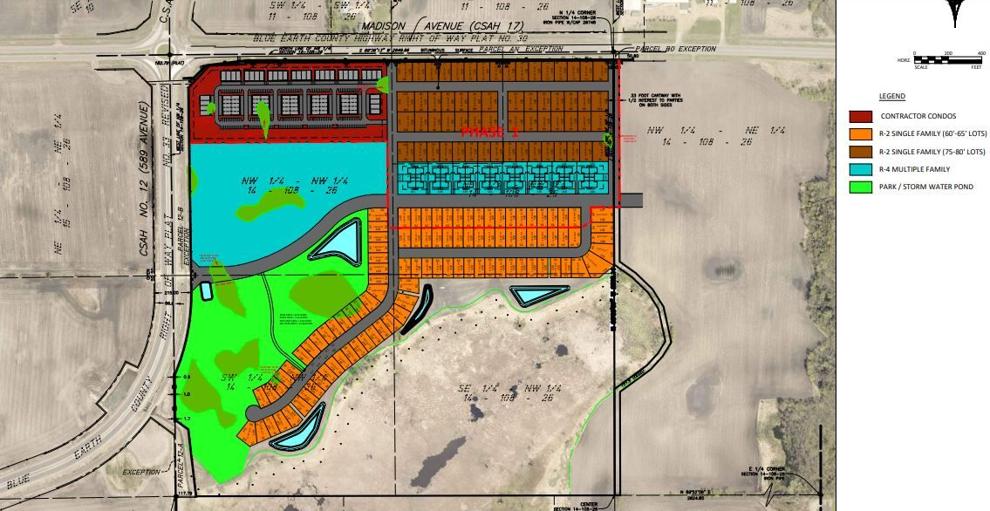 The preliminary approval for the subdivision could come as soon as Aug. 9, setting the stage for a final plat, annexation, rezoning and subdivision agreement that would allow construction to begin.
Drummer already is working with the city's Public Works Department on extending utilities to the site, which eventually would have access points from not just Madison Avenue and County Road 12 but also from an eastward extension of Bassett Drive — a road that now dead-ends a half-mile to the west near the Blue Earth County Justice Center.
Drummer purchased the former Harold and Rosemary Groh farm for $2.2 million in 2017, according to county property records.
Adams Street Townhomes
A piece of land originally expected to develop as retail stores and was later planned as traditional apartment buildings is now set to become a trendy style of townhomes.
The development on the parcel between Highway 14 and Office Depot will include three-level townhouses on the last piece of undeveloped land in the commercial area anchored by Hy-Vee. Vogel said the project could be under construction this year with completion in 2022.
The 72 townhomes will be grouped in five-, seven- or nine-unit buildings. The first floor of each townhouse is designed to have a garage with an entry area and stairs leading to the living spaces, along with a small patio, according to plans provided to the city. The second level of each includes a living room, kitchen, dining room, bathroom and another room labeled as a bedroom. Up another set of stairs is a third floor with a master bedroom and adjoining bathroom, two additional bedrooms and another bathroom.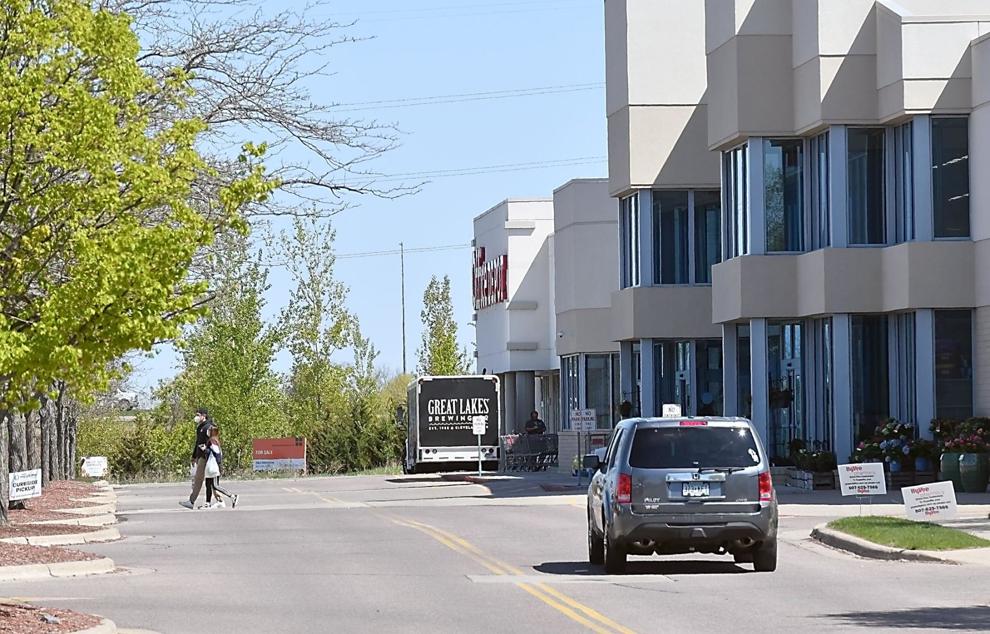 The documents don't indicate the expected rent levels of the units. Similar-style townhouses built four years ago along Sibley Parkway are being advertised at $1,600 a month.
The land around hilltop Hy-Vee was initially envisioned as a retail hub but developers requested, and the city concurred, that it be rezoned for residential use after the traditional brick-and-mortar retail sector faded in the past decade. Following the shift in the land-use plan, nine apartment buildings totaling nearly 500 units have been constructed just to the east along Roosevelt Circle.
The owner of the parcel where the townhomes are to be built is Assett Development Services, which shares a Minnetonka address with The Petrie Group LLC, founded by the late developer Art Petrie.
Other parts of Mankato also are seeing vibrant residential development. Construction was recently completed on a 62-unit apartment building in Pond View Heights on Kearney Pond behind Madison East Center, adding to a grouping of market-rate and affordable housing apartment buildings that already included nearly 300 units.
Another building at the Pond View development is planned for next year, leaving enough vacant land for just one more similar-sized apartment building.
And the most active area for new housing construction in the region is near Prairie Winds Middle School, east side of Highway 22 and west of County Road 12. An ever-growing number of large apartment complexes, rowhouses, senior living facilities, townhomes and single-family homes have opened or are under construction.
Unless the number of people looking to live in Mankato starts falling, Vogel expects to continue seeing buildings rising.
"We're still seeing increased housing demand," he said. "And as that continues, now we're seeing increased development proposals."