MANKATO — Since its founding in 1876 Dotson Iron Castings has survived and grown, including bouncing back from a devastating fire three years ago.
Over its long history there have been only a handful of people who've headed the company. This month Tyson Twait became the newest CEO and president.
"I look forward to helping lead Dotson into the next chapter," Twait said. "I don't have to sing the praises of Dotson. People know it's a good employer and good community partner."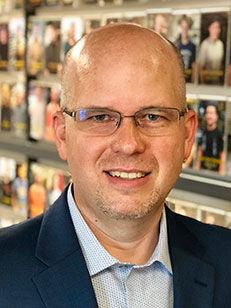 He takes over from Jean Bye, who has been with Dotson for over 45 years and served as CEO since 2010. She is now the executive chair of the board of directors.
Owner Denny Dotson said there have only been four presidents of the company since his grandfather came in 1923, with Twait becoming the fifth.
"It's usually a fairly long tenure," he said of the top position at the company.
Dotson said he believes Twait is well suited to lead growth at the foundry.
"We have a fair amount of new capacity. In the last few years we've upgraded our plant significantly so we're looking to grow considerably, and his background fits well with that."
Twait worked in management positions at major companies, most recently at Ridley/Hubbard in Mankato. When Ridley was purchased by Alltech Twait was offered a relocation to another state but chose to stay in Mankato and was hired by Dotson as chief financial officer in 2018.
A fire in 2017 destroyed a major portion of the roof and much of the equipment in the metal casting foundry in Old Town, next to Riverfront Park. The company rebuilt and expanded, adding new technology.
"Dotson has historically put a lot of technology in for the foundry industry," Twait said. "So we were humming along pretty good into last fall and winter when COVID hit."
While the pandemic has slowed business some, the foundry continues to run three shifts, five days a week and hasn't had any layoff or furloughs of its more than 100 employees.
"It's part of the culture," Twait said, noting the company didn't lay off employees after the fire but found restoration work for them to do as the plant rebuilt and had employees do community volunteer projects.
Dotson added more technology, including a robot, during the rebuild to add efficiency and reduce down time.
Twait said the company is in a good position to respond quickly as customers ramp back up and to add new business.
"The growth is there and ready for the taking. We're starting to grow more in oil and gas and things like bridge parts," he said.
Dotson said the foundry is well diversified, with no single customer making up more than 10% of the company's sales. Work for the agriculture and truck business each make up about one-third of the company's work.
Dotson said he has a strong and young middle management and executive team, ranging in age from their 20s to 40s. "I think we're set. It's really very exciting," Dotson said.
Bye said in a statement that she feels confident leaving the company in Twait's hands.
"I have long said I could not step back until I knew the organization was in great hands. That time is now. I have complete confidence in the team going forward."