MANKATO — Bob Peace loves driving buses, so he was all in when the chance arose to pilot a double-decker at events around the Mankato area.
"Driving bus is kind of fun anyway. Even with my school boys, you get to interact with your passengers," said Peace, who drives for Palmer school bus service in North Mankato.
"With a double-decker it's especially fun. When I open my mouth, my accent sticks out like a sore thumb and people start asking questions," said Peace, who grew up in Britain.
Peace helps out Scott Weilage, who owns the "Do Good Bus," which Weilage uses to help nonprofits, individuals and other groups to have some fun and raise funds.
Weilage, owner of Wealth Centers of America financial advisory group, bought the bus on eBay a few years ago. "It still makes me smile and it brings smiles to everyone who comes in contact with it."
The 1995 vehicle was a former city bus he bought from a private seller in Portland, Oregon, and had converted to a double-decker.
The bus will be at a number of area parades this summer that are now back on as pandemic restrictions have been lifted. And Weilage and Peace hope to spread the word so more people can book the bus.
Peace came to the United States when he was 22, with no intentions of staying. "I was headed to Australia." But the offer of a herdsman job at a dairy near Vernon Center kept him here. He worked there for 22 years before becoming a full-time bus driver, first for a Lake Crystal firm and now with Palmer.
He said driving the bus is like driving any other, except for one thing, "You just have to watch out for the height." The bus is just over 13 feet high, near the maximum vehicle height of 13 feet 6 inches allowed in Minnesota.
Weilage said the bus actually got a lot of use last summer, being something that could be employed outdoors at a time when indoor activities were restricted.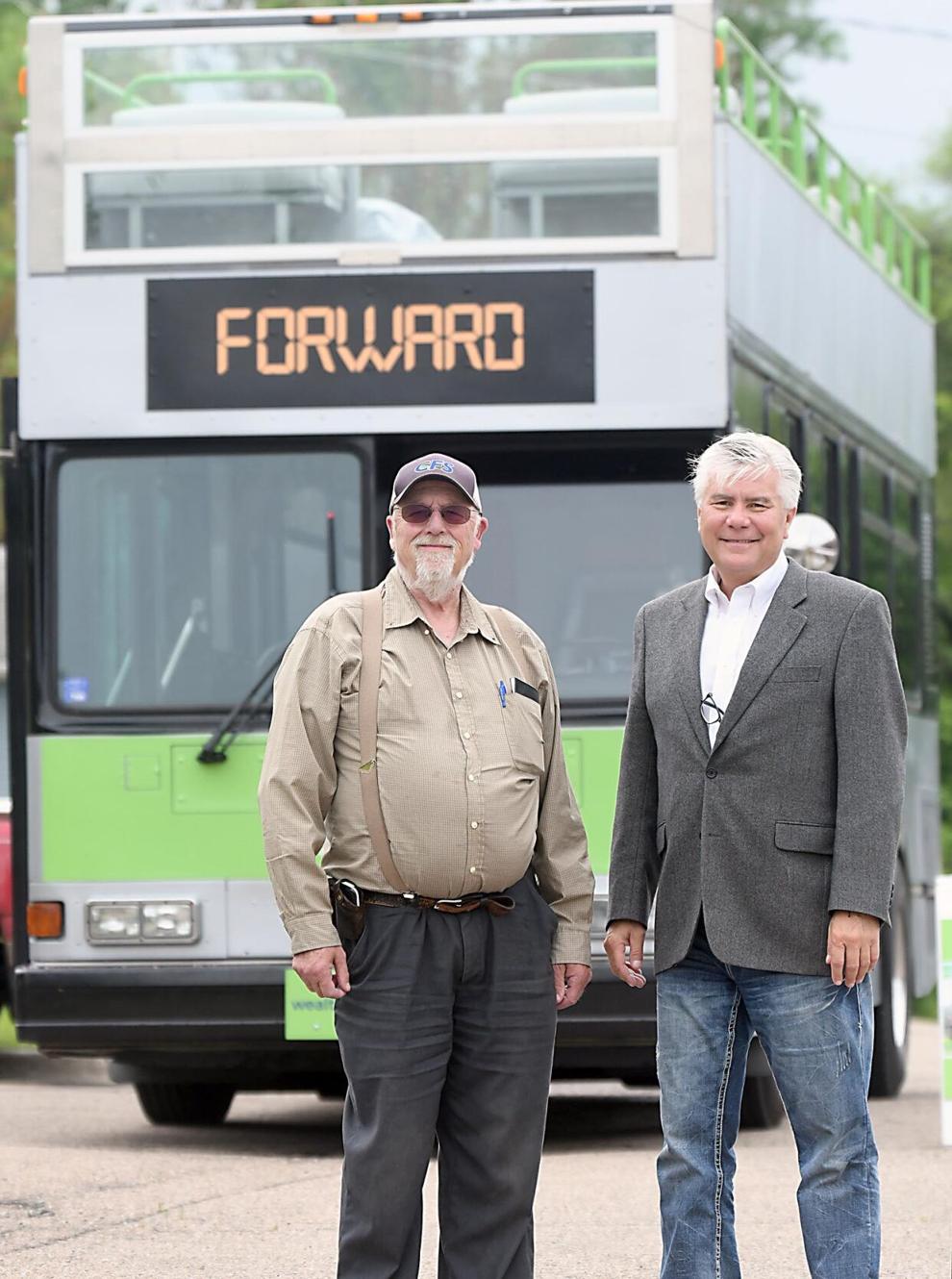 "We made a special effort for communities that were able to have some events. To be able to help out and do what we could," he said.
Weilage used the bus last summer to bring North Mankato city employees to Big Dog's in upper North Mankato to give the restaurant some needed business. "We took them on the Judson Bottom Road, too. It was the first time we'd had the bus there. There were some low branches they had to look out for," he said of the passengers on the open upper deck.
Recently someone used the bus to visit Neisen's Sports Bar in St. Peter and make other stops with friends and family to celebrate his birthday and raising money to donate to CADA, the shelter for domestic abuse victims.
Weilage said they're always looking for more ways to employ the bus. (Go to wealth-centers.com and click on Events.)
Peace said he tries to be available any time the bus needs driving.
"Scott doesn't have a license to drive it. I hope he never gets one. I enjoy driving it."