MANKATO — Drought-induced low water levels are causing problems for boats, recreation and water quality, with state officials warning swimmers to stay out of lakes and streams if the water looks green and slimy and to keep dogs from drinking from them.
Low water is leaving many public boat launches more difficult to use, and more rocks are just under the water on lakes and rivers.
Adam Annis of Mapleton Marine said they've been busier on boat repairs because of low water. "We are seeing more prop damage. They're hitting more rocks."
Craig Beckman, Department of Natural Resources parks and trails district supervisor, said that as water retreats, area boat ramps are more exposed. "The end of our boat ramps are showing up out of the water."
He said people often wonder why the DNR doesn't put more concrete planks out to extend boat ramps, but he said the agency is regulated on what it can do just like anyone else.
The DNR permit for public ramps doesn't allow concrete to go out more than 30 feet from the normal high-water mark. "So it's not as easy as going out and adding more concrete planks. We're not allowed to do it." 
Beckman said "power loading" at public access sites is creating problems. Power loading is when people use the boat motor to load and unload a boat onto and off a trailer. Power loading creates a hole at the end of ramps and shoots gravel and mud back into the lake, creating mounds.
Boat trailers get stuck in the holes, and when boats head out, they can hit the underwater mound and damage their props.
"Power loading at our access sites is a problem all over the state," he said.
"While it's not illegal, it's highly discouraged. It's a favor to your fellow boaters not to do it."
Drought area expands
The latest Drought Monitor map for Minnesota is relatively unchanged this week for the southern half of the state. A severe drought exists in the southwest and just into the west portions of Blue Earth and Nicollet counties. To the east is mostly moderate drought.
But the northern half of the state has gotten considerably worse in the past week. The area of extreme drought grew while most all of the rest of northern Minnesota is in severe drought.
The latest map came out Thursday morning with data compiled through Tuesday.
In the past week, severe drought has expanded from 52% of Minnesota up to 72%.
Extreme drought covers 19% of the state.
Next week's map is certain to look worse. Temperatures in the mid 90s are to persist through at least the middle of next week and there are few chances for rains.
The state's drought task force convened this week for the first time in nearly a decade. The group includes officials from state and federal agencies and tribal governments to coordinate drought response.
From no kayaks to no water
Dain Fisher, owner of Bent River Outfitters, which takes groups on kayaks trips on area rivers, has had to roll with the punches for the second year in a row.
"Last year we had good water but couldn't get any kayaks in," he said of the supply shortage. "Now we have over 100 kayaks and no water." 
Trips have been challenging, he said. "The rivers are impassable. Even the Minnesota is hard to get on and off because the landings are so low and it gets kind of mucky."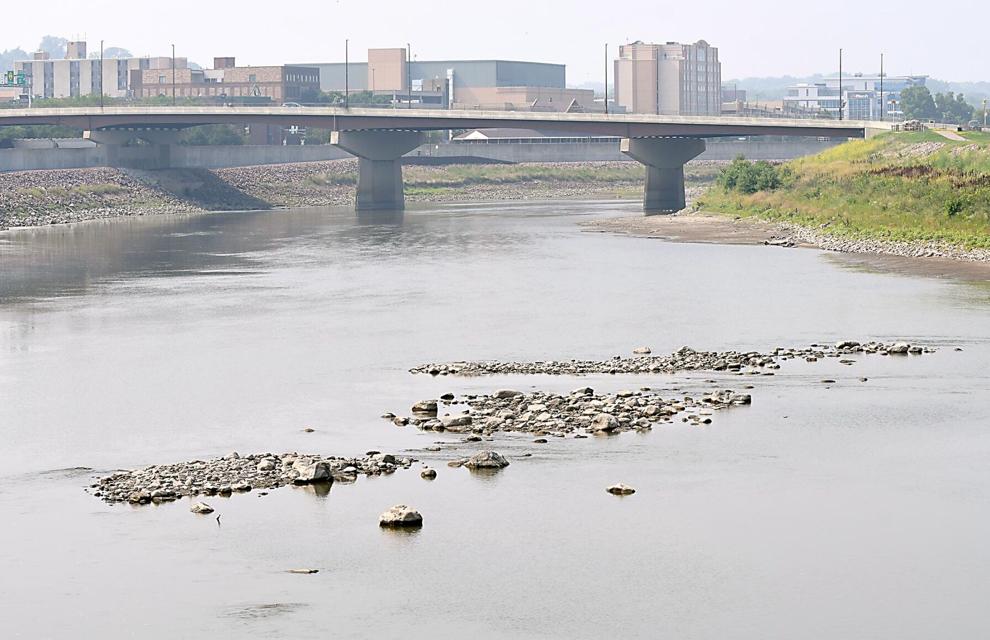 They turned to bringing groups to spring-fed quarries, primarily relying on the former quarry at Red Jacket Valley Park south of Mankato.
"The Red Jacket has a nice sand beach and it's clean and there hasn't been the algae blooms yet. There's islands to explore."
Fisher did bring a group of kids from North Minneapolis down the Blue Earth River this week, starting below the Rapidan Dam. "We had to pull the kids through rapids — they got hung up on rocks. But they had a good time."
Fisher said he's looking at the drought and low river levels as an opportunity to diversify his business.
"We're trying to make the outdoors more accessible even without enough water."
He hired Jake Fee, who is finishing his master's degree in experiential recreation, to lead a variety of classes such as basket weaving and wood carving. 
Fisher is also thinking of adding bike rentals. And this fall he's opening a retail store in Old Town that will carry a variety of outdoor gear.
Blue-green algae
The hot weather has heated up southern Minnesota lakes that contain high levels of phosphorus, spurring algal blooms.
Lee Ganske, watershed unit supervisor for the Minnesota Pollution Control Agency's southwest region, said that so far algae blooms in the Mankato area seem about normal for this time of year.
"The lakes didn't look awful relative to other years, but they certainly are experiencing the peak algae blooms we see at this time of year and the scum that forms as the algae dies and decays and floats to the surface," he said.
"It pains me that it's standard stuff to tell people to stay out of the water if it smells and to keep your pets out."
He said that just because the water is green isn't a sign people need to stay out of it. "We're accustomed here to green water. But when you see that scum on the surface and that blue-green color, those are the conditions to watch for."
The MPCA is advising people to stay out of lakes and streams if the water looks green and slimy, especially with a blue-green tint. The algae could contain a toxic bacteria that can sicken people and kill dogs, livestock and other animals within hours of contact.
"If it looks and smells bad, don't take a chance. We usually tell people: If in doubt, stay out," Pam Anderson, MPCA water quality monitoring manager, said in a press release.
In recent years, the MPCA has received multiple reports of dog deaths where exposure to toxic algae was the likely cause. 
If dogs get in algae-laden water, they should be hosed off immediately to keep them from getting ill from licking their coats. People are advised to take their dogs to a veterinarian immediately if they may have been exposed to blue-green algae.
People who come into contact with toxic blue-green algae can experience skin irritation, nausea, and eye, nose and throat irritation.
Phosphorus, the nutrient that grows algae, remains the top pollutant of concern in Minnesota lakes. In the Mankato area, 82% percent of lakes have levels of phosphorus and algae that are too high to meet the water quality standard for recreation.
Phosphorus gets into lakes and streams from farmland runoff and farm-tile systems, as well as streambank and bluff erosion and urban runoff.