LE CENTER — Ed Lipscomb was newly retired and making plans to spend his first winter of freedom traveling across the southern United States with his wife of 46 years.
On Oct. 16 last year, Lipscomb took a break from trip planning to take his Harley out for a ride through rural Le Sueur County. The 65-year-old Lakeville man went to see the changing fall colors and "enjoy the peace and solitude of the countryside," his wife, Cathie Lipscomb, told a Le Sueur County District Court judge Monday.
When he didn't answer his phone to confirm dinner plans, son Sean Lipscomb said he was filled with a sense of dread. His dad had always had a "sixth sense" and would call him before he could even call for help when, say, his car broke down.
This time Sean knew his father was the one in trouble.
Sean's "worst fears came true" when he learned his father had been killed by a drunken driver.
Kimberly Marie Stangler, 52, drifted into the wrong lane of County Road 3 north of Kilkenny and hit Ed Lipscomb head-on. Stangler had a blood-alcohol concentration of 0.17, according to the criminal complaint.
Stangler pleaded guilty in August to felony criminal vehicular homicide and was sentenced Monday. Judge Mark Vandelist ordered Stangler to spend one year in the Le Sueur County Jail, effective immediately. Each of the following five years she must spend 30 days in jail, beginning on the anniversary of Lipscomb's death.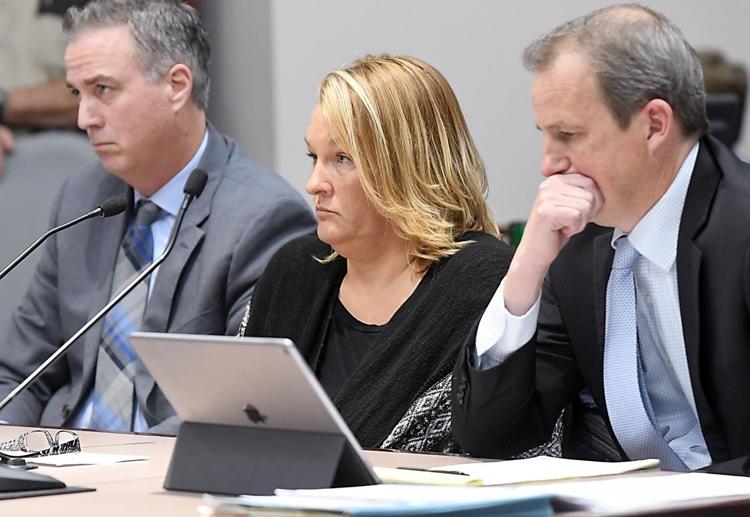 Stangler also was sentenced to 2,250 hours of community service with a requirement those hours must include speaking publicly about the dangers of drunken driving.
Stangler was ordered to pay nearly $28,000 in restitution to Lipscomb's family and must either pay a $10,000 fine or donate the same amount to an organization that combats drunk driving. She'll also spend 10 years on probation with terms including no alcohol or drug consumption.
If she violates any component of the sentence, she could go to prison.
For more than an hour before the sentence was issued, members of Ed's family and a co-worker told stories of a caring and accomplished man who didn't get to enjoy his retirement.
"He had a way of filling the room with laughter and joy," said niece Stacy Lipscomb.
"Your selfish decision took away my ally, my rock and a dad figure," said nephew Jason Matheson. "Your selfishness took away a really good man."
Former colleague Pat Pierce said Ed earned several patents and was instrumental in development of numerous automotive electronic diagnostic tools at Bosch Service Solutions in Owatonna.
Cathie and Sean said they've been dealing with crippling depression, guilt and anxiety since the loss of their husband and father.
"I had to cancel all those plans that he had spent months making," Cathie said of their winter travel intentions. "I was not going to go anywhere without him. I wanted to stay home in my house where no one could hurt me."
Stangler gave a brief statement of apology to the Lipscomb family.
"I want you to know that I am truly sorry for what happened that day," she said. "I just want the family to know that my goal is to spend the rest of my life trying to make amends for what I have done."
The prosecutor and several members of the victim's family argued for the maximum sentence of 57 months in prison.
"We need to take a stand and prevent these horrific tragedies that ruin people's lives forever," Cathie said.
Defense attorney Eric John Olson argued for a stayed prison sentence with probation, noting Strangler had no prior criminal history, complied with all conditions of pretrial release, has shown remorse and regularly attended Alcoholics Anonymous meetings.
In his written request, Olson reported Stangler drank that day to cope after having to tell a friend about her recent divorce.
Olson also noted that nearly half of vehicular homicide sentences levied in Minnesota over the last few years have stayed prison time.
The judge said a middle-of-the-road 48-month prison sentence would be the easiest to impose, but he didn't believe it would be the most just.
"I know you regret your actions " Vandelist told Stangler. "You asked me to give you an opportunity for redemption and I have with this sentence."
By law Vandelist noted he's not allowed to sentence Stangler to both prison and a lengthy probation term. And if he gave her the presumptive four years in prison, she'd likely only actually spend two years in prison.
The judge said his alternative will hold her accountable for a longer period and he hopes the requirement for her to speak publicly will "lead to something positive coming out of this incredibly tragic case."
Olson and members of the Lipscomb family said after the hearing they believed the sentence was fair.
Stangler was already making inquiries about opportunities to share her story as a precaution, Olson said.
Multiple Lipscomb family members said they felt the judge had listened to them and didn't make his decision lightly.
"My family and I couldn't be more pleased with the outcome," Sean said. "It was clear the judge put a lot of thought behind it and was sincere."