MANKATO — After becoming all too familiar with Mankato's tight housing market, Nyakim Dang said moving into Mankato's new Dublin Crossing apartment in September was a relief.
"I was so relieved because I'd just moved out of a different place and circumstances made it hard to find a new place to live with my son," she said.
Dang is one of the newest tenants in the building at 920 Patriot Drive, which includes 50 units available to people earning 60 percent of the area's median income. Rents range from $675 per month for a one-bedroom apartment to $830 per month for a two bedroom apartment. The workforce housing project, owned by affordable housing nonprofit CommonBond Communities, was the first of its kind in Mankato since 2012's Sibley Park Apartments.
Two similar projects proposed in Mankato could receive crucial funding as soon as Thursday.
An open house Tuesday celebrated Dublin Crossing's completion. The event included tours and a short program with remarks by public officials.
CommonBonds Communities CEO Deidre Schmidt said the housing project met a need, as Mankato's strong economic development had outpaced its housing — especially of the affordable variety — development. The result was a low vacancy rate for affordable units.
"It's really about providing people who do good and necessary jobs in Mankato with a place they can afford to live in a good location," she said of Dublin Crossing.
Mankato isn't the only Minnesota city dealing with a housing problem, she noted. She credited local officials for supporting the project, which was financed with federal, county and city assistance.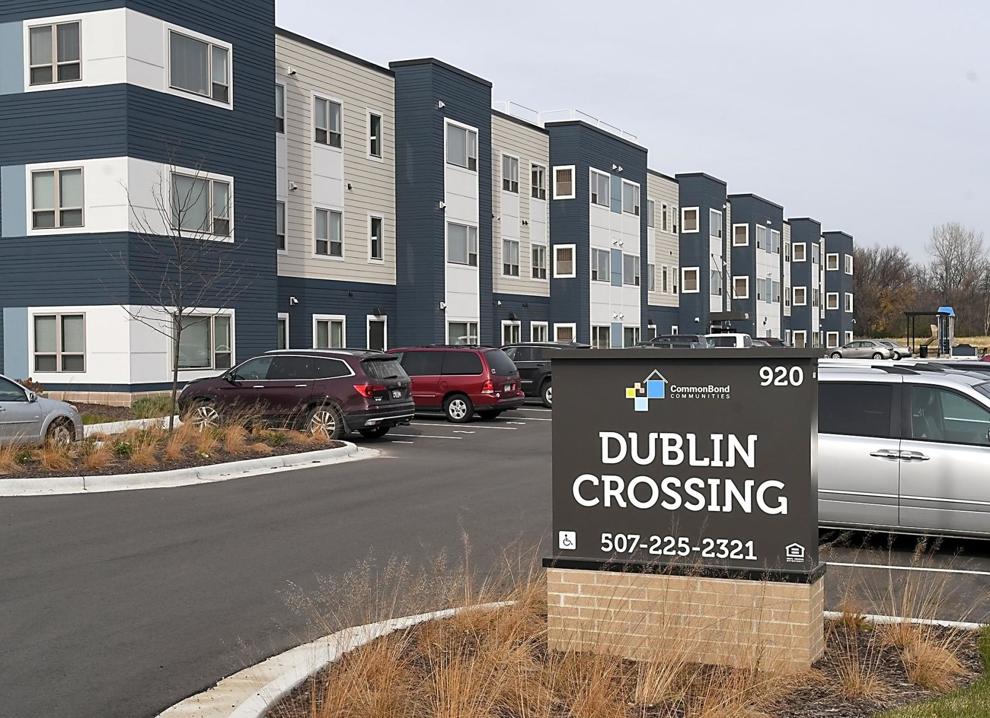 Of Dublin Crossing's 50 units, 12 have one bedroom, 25 have two bedrooms and 13 have three bedrooms. Two-bedroom units are still available, with an expectation to be filled before Thanksgiving, said Justin Eilers, CommonBond Communities senior project manager.
The 50 units also include seven rooms designated specifically for residents who were experiencing long-term homelessness and five more for people with disabilities. CommonBond Communities projects come with support services for the tenants who need them, ranging from employment help to health and wellness classes.
Dublin Crossing's official opening in mid-summer placed it first in a line of expected affordable housing projects coming to Mankato. Construction on Rosa Place, a 60-unit apartment adjacent to Rosa Parks Elementary School, began this summer and is expected to be done in 2019.
The two other Mankato projects awaiting funding approval Thursday are another CommonBond project proposed just east of Dublin Crossing and the Southwest Minnesota Housing Partnership's proposed apartment north of Cub Foods West. The approval process is highly competitive — thanks to the statewide shortage in affordable housing — so it's unclear whether either or both will receive the valuable tax credits.
Dang has seen how much of a difference the addition of workforce housing can have on people's lives. Since moving in, she said she's been thankful for the little things, such as having a hardwood floor instead of carpet when her toddler spills, or the friendly staff member who helped her move her couch into her new home.
Compared to the housing situations she had in the past, the mother said it feels like a weight off her shoulders to have a safe, secure and spacious place to live. 
"Now that I have a son, it's room for him to grow and run around," Dang said.