East High School senior Deondre Tallman prefers a vanilla mocha himself. But he serves up more hot chocolates at his school's new coffee shop.
"Hot chocolate is the most popular," he said as he showed how he makes the drink with two touches to a computer screen.
Tallman and a dozen classmates are learning employment skills in the grant-funded coffee shop that opened in the high school last month.
Longer term, school leaders hope to get more students involved in the coffee business.
Students in the community-based work experience program are the coffee shop's first employees.
The new space allows special education students to get work experience without having to leave the school.
The students are learning skills such as customer service and money management that will serve them in future employment, said Mary Berg, the district's work-based learning coordinator.
Tallman, who also has a job at a grocery store, said the coffee shop is especially helping him better his communication skills.
"It's a nice learning experience," he said.
The student workers earn class credit and soon will begin earning a salary.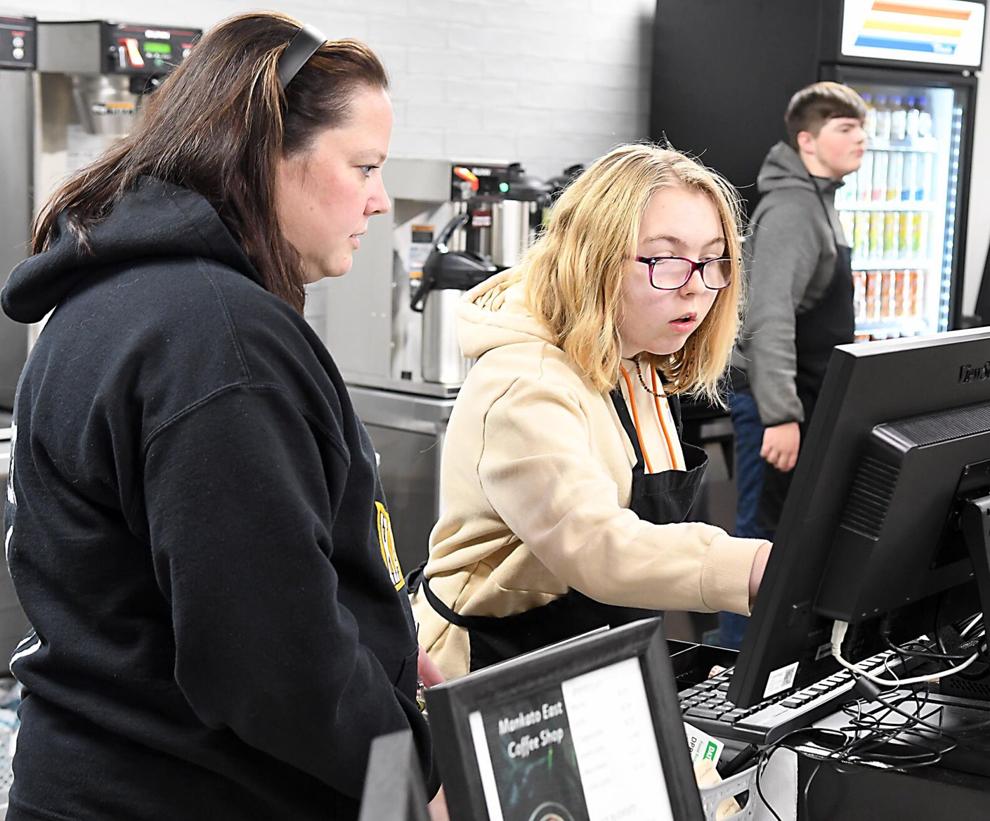 The coffee shop was built thanks to a $200,000 state Future Ready Career and Technical Education grant, said Kim Mueller, the district's career and college readiness coordinator.
Space was set aside when the school was remodeled a few years ago, said Principal Jeff Dahline, but the pandemic pushed back the plans until this fall. Some equipment was slow to arrive, so the new shop could not open until October.
Student workers are still deciding what to name the shop. It's open every morning to students and staff, who can stop in before school, during passing times and during study hall. Students can bring their drink into classrooms.
The most expensive drink costs less than $3. The shop needs only to break even, not generate a profit.
"It's really about the job opportunities for the kids," Dahline said.
For now the shop only sells coffee and other drinks. There's a refrigerated display case from which it eventually will sell breakfast and snack items.
Someday school staff intend to also use the coffee shop for other hands-on learning opportunities, Dahline said.
Possibilities include letting the entrepreneurship class use it for a business venture or having culinary arts classes make treats to sell.