MANKATO — A husband and wife with Mankato ties brought Easter egg hunts right to children's doorsteps over the last few days as a way to raise money for fertility treatments.
The "Egg My Yard" fundraiser had Michael and Miranda Green, along with their parents, acting as Easter bunnies for 57 households in the Mankato area. Parents ordered a certain number of eggs stuffed with candy, which the "bunnies" hid in yards after dark so children could wake up to the surprise in the morning.
Money collected from the fundraiser will go toward the couple's in vitro fertilization treatments.
Although as many as 15% of couples experience it, infertility isn't often openly talked about. The Greens were at first nervous to put themselves out there for the fundraiser, but said the responses make them feel glad they did.
"We are so grateful we took that leap of faith as the people of Mankato and of the surrounding communities have supported us not only financially by hiring us for this service, but also in lifting us up in their prayers and in offering so much encouragement," Miranda said.
IVF can easily cost couples more than $20,000, and multiple cycles of it are often needed. Insurance also usually doesn't cover the costly treatments.
Michael and Miranda had heard of similar fundraisers organized to cover adoption costs and thought it would be a fun way to offset IVF expenses. They live in Montrose west of the Twin Cities, but go to church at Hosanna Lutheran in Mankato — where Michael is from and his parents live.
They were surprised at how many people responded after they posted flyers about the fundraiser on social media. It was nonstop after a slow start, Michael said, with many people sending kind messages.
"There were a lot of positive thoughts in their emails and well wishes, so that was fun to see," he said.
Some of the families who signed up for Easter eggs had gone through IVF before, Miranda noted.
"I hope by putting the info out, there's somebody else out there who would benefit from hearing our story and knowing that they're not alone," she said.
The responses came from families in Mankato, St. Peter, Le Sueur and a handful of other cities in the area. The Greens split up the work with their parents to get to all the houses, distributing more than 3,300 Easter eggs in total.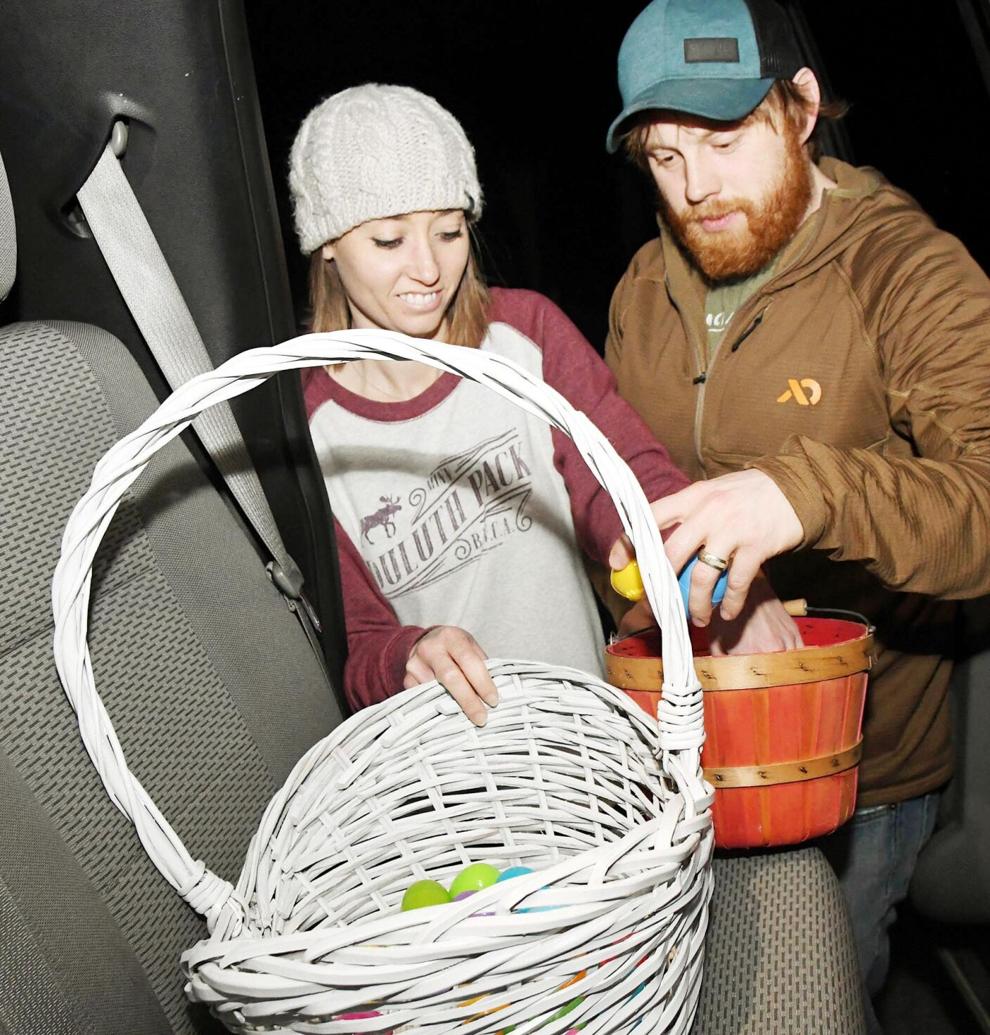 Along with eggs packed with candy, they also offered to include an empty egg upon request. The idea ties into Easter, as families could use it to talk about Jesus' empty tomb after resurrection.
Phyllis Murilla was one of the people who reached out to the Greens. "Grandma Nana," as her family calls her, lives in Texas but has grandchildren in St. Peter and Lake Crystal.
When she came across the fundraiser online, she said it was exactly what she wanted to make Easter special for her grandchildren from afar. She and her husband moved to Texas from Minnesota about 12 years ago, but plan to move back to Minnesota in retirement.
Even if she couldn't be there Saturday, she got to see the photos of the fun in St. Peter first thing in the morning.
"They absolutely loved it," she said. "They were sleeping and had no idea there was anything in the yard last night. It was just like having the Easter Bunny arrive."
It gave her granddaughters in St. Peter, ages 8 and 10, a fun activity during a tough pandemic year when so many other options were limited. Her grandchildren in Lake Crystal will look for their eggs Sunday morning.
Murilla also loved how she could contribute to the couple's good cause.
"That was all the more fun, just to support something like this," she said.
Priced between $30 for 30 eggs and $130 dollars for 150 eggs, the Greens raised enough money to cover their medications — one part of treatment.
Although more will be needed to cover all the costs of IVF, their efforts are hopping along thanks to their creative way of spreading Easter joy.
"Words can't express how truly grateful we are for the outpouring of support," Miranda said.