ST. CLAIR — An invasive insect that kills ash trees has been found for the first time in Blue Earth County.
The forester who confirmed the pest's arrival suggests property owners across the county start thinking about preemptively removing their ash trees. Insecticide treatments also are an option, but they can be costly.
Trees infested with emerald ash borer were discovered in St. Clair last week, according to Randy Schindle, a forester for the Minnesota Department of Natural Resources.
A resident reported a suspected infestation after cutting down a tree. After confirming evidence of the Asian beetle in that tree, Schindle found more infested trees nearby in the city's Memorial Park.
The beetle's larvae feed on ash trees and have killed millions of ash trees in the eastern half of the United States.
Emerald ash borer was first detected in Minnesota in 2009 and since has been confirmed in 26 counties — or 27 if you include Blue Earth, which has not yet been officially added to the state's list of quarantined counties.
With the emerald ash borer already in several area counties, including Brown, Cottonwood, Martin, Steele and Scott counties, Schindle was not surprised to find the pest is also in Blue Earth.
In fact it appears the beetles have already been in St. Clair for a few years, Schindle said, based on the destruction to the trees he found.
The forester who happens to live in St. Clair, said he expects it will only take a few years for emerald ash borers to spread across the county.
The largest cities in the region already have been preparing for the arrival of the invasive insect.
Earlier this month the Mankato City Council held a first review of a draft management plan that includes gradual preemptive removal of ash trees from city property, treatment of the most valuable city-owned trees and amending city ordinances to require property owners to remove infested trees. The report estimates 17% of all the trees in the city are ash, including 2,500 on city property.
The discovery of the insects in St. Clair will not alter Mankato's plan, said Ashley Steevens, the city forester and superintendent of parks. City planners already knew arrival of the pest was inevitable, she said. The draft plan will be presented again to the council for approval April 12.
The city of North Mankato has already begun treating some of its largest ash trees and is removing a few dozen stressed trees each year. North Mankato has more than 1,600 city-owned ash trees along its boulevards.
In both Mankato and North Mankato, ash tree owners who suspect an infestation can request a city expert to come and inspect their trees. Residents in other communities can contact the Minnesota Department of Agriculture's Arrest the Pest division.
Ash tree owners should be on the lookout for holes and missing bark from woodpeckers that eat the emerald ash borer larvae. Underneath the bark the larvae tunnel s-shaped markings.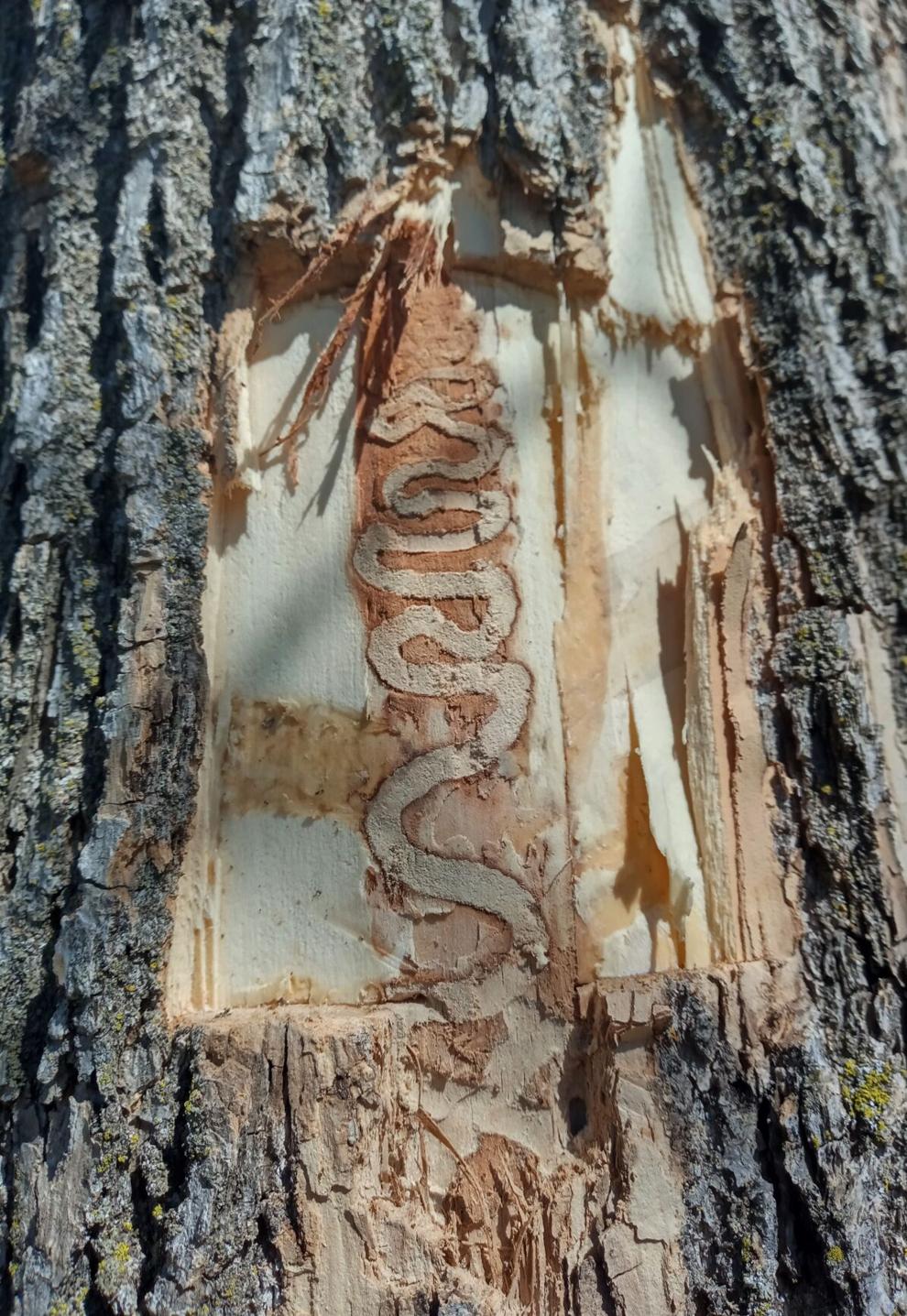 Steevens suggested Mankato residents start considering insecticide treatments for their ash trees. Treatment, which is usually done in the spring, is recommended when emerald ash borer has been detected within a 15-mile radius. The Minnesota Department of Agriculture has an online guide about treatment options.
Those treatments cost around $10 per diameter inch of the tree's trunk and most must be done every year, Schindle said.
A more affordable option might be removal and replacement with a different type of tree. In that option, Schindle recommends property owners remove their ash trees before the pest reaches their neighborhood and tree-removal professionals are inundated with requests.
"If you have an ash tree, you might want to consider getting rid of it now," he said.
It's hard to predict how fast the beetle will spread across Blue Earth County, if it has not already. It naturally spreads about a half mile per year, Steevens said.
But people often cause a much faster spread by transporting infested wood.
To slow the spread, the state places quarantines on counties with known infestations. No parts of ash trees or firewood of any kind can be transported from those counties. Schindle said he expects Blue Earth County will be placed on quarantine in coming days.