The end is in sight for one of every six trees in Mankato.
Ash trees are the second most common species on the boulevards, in the parks and in the yards of Mankato, trailing only maples. And they're under a death sentence because of a colorful Asian beetle called the emerald ash borer.
"There's no more talk of eradication," said Ashley Steevens, Mankato's superintendent of parks and open spaces. "It's a matter of when they reach Mankato."
In 2002, when the pest was first found to have crossed the oceans from Asia, presumably stowaways on wood products or pallets, and was reproducing in southeastern Michigan and southern Ontario, hope remained the beetles could be stopped.
The insects could only travel about a half-mile on their own, making it reasonable to think they could be contained and exterminated. Even if eradication proved impossible, the spread to other states might take decades if the emerald ash borers had to rely solely on their wings.
A rapidly growing infestation
In 2003, EAB was found in isolated locations in Ohio, Maryland and Virginia. The good news was that they were no closer to Minnesota, and the Virginia and Maryland populations of the pests were believed to have been eradicated by 2005.
But the insects proved to be determined hitchhikers, traveling within firewood transported by humans across hundreds of miles. Soon they were in Indiana, Illinois and back in Maryland.
In 2008, they had expanded their range from Virginia to Missouri, from Pennsylvania to Wisconsin.
By May 2009, they'd reached the South St. Anthony Park neighborhood in St. Paul.
"That was a game-changer," Steevens said. "We all realized, 'It's jumped and it's here and we're going to be dealing with it a lot sooner than we expected.'"
A decade later emerald ash borers, or EABs, have spread throughout the Twin Cities metropolitan area and have been found in southeastern Minnesota. They've made homes of virtually every state in the eastern half of the United States and are now expanding west of the Mississippi River as far as Colorado and Texas.
Within Minnesota, EAB has reached Martin and Nobles counties. So the quarantine area, where transporting wood is tightly restricted, is now east, north, south and southwest of the Mankato area.
When the bugs reach Mankato and establish a significant population, it will dramatically change the look of the city, its neighborhoods and its parks and ravines.
"People will notice," said Steevens, who has a degree in forestry and was the city forester before becoming parks superintendent. "They will definitely start to notice."
A 2012 University of Minnesota survey estimated that 17% of the trees in Mankato were ash — 26% of the trees on public property. All of the ash trees, regardless of species, are entirely vulnerable to the inevitable EAB infestation.
The larval stage of the ash borer eats its way through the layer of an ash beneath the bark, damaging the tree's ability to move water and nutrients up from its roots. Left untreated, an infestation will kill the tree in two or three years.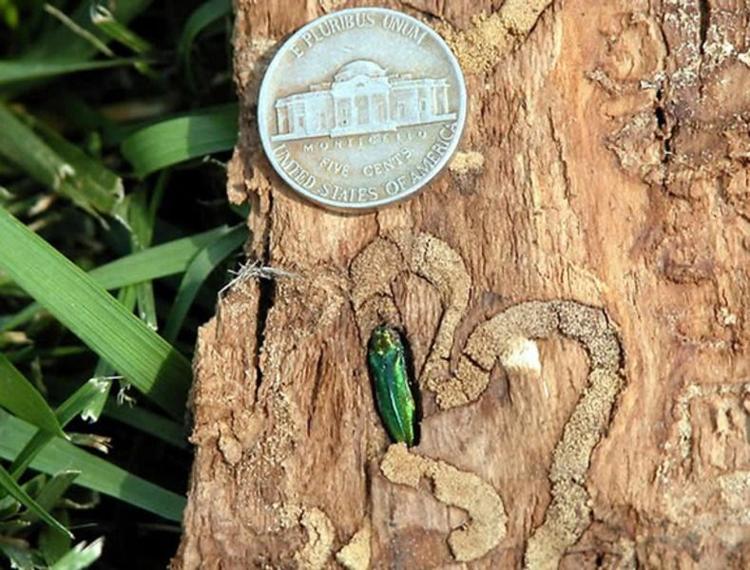 Minnesota has a disproportionately large number of ash trees compared to most states, with an estimated 998 million statewide.
Difficult choices
The largest cities in Minnesota have chosen very different strategies for dealing with EAB. Minneapolis is aggressively marking ash trees in parks and along streets for removal.
"Waiting to remove ash trees until they become infested is not an option because the trees will die in such large numbers that it will be impossible to keep up with removal and replacement," the Minneapolis Parks Department's website explains. "Proactively removing trees before they die reduces the risk of damage and injury caused by limbs falling from dead and dying ash trees."
St. Paul is removing infested trees but has also been treating select healthy trees with insecticide since 2011. The ash trees prioritized for treatment are those along boulevards that are healthy, have plenty of room to grow and have trunk diameters between 10 and 20 inches.
"This multifaceted approach to managing EAB will spread out the cost of management over a longer, more manageable period of time and allow for a more efficient response," according to the St. Paul Parks Department.
North Mankato is mirroring the Minneapolis approach.
The city is cutting down healthy ash trees at a rate of 35 to 50 a year from city boulevards and in parks, according to North Mankato Public Works Director Nate Host.
"We're just proactively removing them throughout town and monitoring the others that are left in place until they get removed," Host said.
The only exceptions are the mature ash trees around the Caswell Park softball complex, where shade is at a premium.
"We have done some treatment to the larger ash trees up at Caswell because there's a fair number up there," he said.
While it might seem strange to residents that healthy ash trees are being cut down even before the arrival of EAB, waiting isn't a prudent choice, Host said.
"We want to avoid a mass removal if possible," he said.
Some cities fell into that situation when a multitude of their ash trees died almost at once after the ash borers reached a critical population.
Steevens saw a presentation on an Indiana town that reacted too slowly to the arrival of EAB.
"They showed pictures of streets that were completely dead," she said.
That's not just an aesthetic issue. Ash trees tend to start dropping limbs — even major limbs — within a year of their death.
"So it's a huge public safety concern," Steevens said.
Failing to systematically treat and/or remove ash trees could also leave a city with a huge financial hit if hundreds of trees need to be removed in a single year. And if the infestation is widespread, it might be difficult to find enough tree-removal crews to do the work even if the finances are in place to pay them.
The Mankato City Council hasn't made a decision yet on its EAB strategy.
"We've been monitoring it," City Manager Pat Hentges said. "We've been doing some selective removals and reforestation."
Whatever the city does with its public ash trees — the 2,491 planted along streets and in regularly maintained portions of municipal parks — the ash borers will devastate the more wild public areas such as ravines and nature parks like Rasmussen Woods. And homeowners will see plenty of dead trees on their property or that of their neighbors.
"The problem is a lot of our private properties and our ravine properties are heavily populated with ash," Hentges said. "I think that's North Mankato's problem as well."
As for those nearly 2,500 public trees, Steevens and her staff are putting together a priority list, along with cost estimates for insecticide treatment and tree removal.
In Davenport, Iowa, the city reached the halfway point this year in its goal to remove the vast majority of the 3,600 trees along city streets, in parks and in municipal golf courses. The process started in 2017, according to a story in the Quad City Times, and the city allocated $100,000 for the effort this year.
Tree-removal costs were as high as $1,000 for larger trees. Average costs for the most effective treatment — trunk injection — approached $30 per tree, but that didn't include labor and equipment costs, according to the Times.
Treatments have to be repeated every two or three years, and the Urban Tree Alliance states that costs can be much higher — as much as $200 per treatment — for large ash trees.
Burnsville obtained a rate of $5.82 for each inch of tree diameter. So a tree that's a foot in diameter at chest height would cost just under $70 per treatment.
Prioritizing which to save
If money were no object, every tree could be injected with insecticide. The chemicals work if applied every two to three years until the tree dies a natural death.
"But it's our opinion as a staff, maybe some trees are worth protecting more than others," Steevens said.
She would recommend preserving the autumn purple ash trees in Mankato's parks.
"They are just gorgeous. If I had limited treatment opportunities, I would probably target those first."
Also at the top of the list would be the ash trees along some blocks of North Broad Street. That neighborhood was once shaded by towering elms before Dutch elm disease wiped them out more than 40 years ago.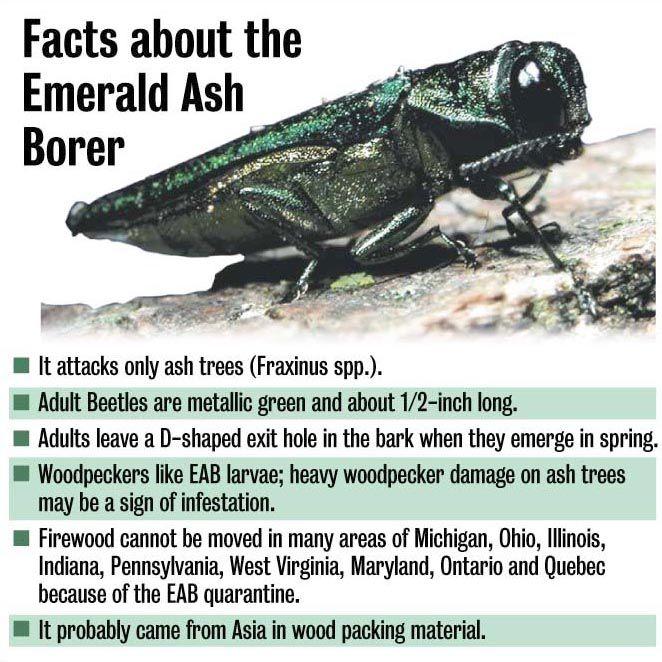 The city sort of learned its lesson with Dutch elm disease, replacing the elms with a variety of species. But it diversified in a general way across the city, still leaving some blocks planted entirely in maple, others entirely in ash — including block-long stretches of North Broad.
"It would be a significant loss to see all of those trees removed from that grand boulevard," Steevens said. "And the sad part is, a lot of those residents have been there long enough that they remember the elm trees. So it would be twice in their lives."
Not every treated tree would be receiving insecticide for decades. Some might be treated for a few years to reduce the number of ash being removed during the worst of the infestation, keeping them healthy until there is time and money available for their removal and replacement.
"What trees are we treating to save?" she asks. "What trees are we treating to stage for future removal? And what trees are we removing now?"
While Steevens and city leaders work to finalize the EAB strategy, she will recommend what the Minnesota Department of Agriculture advises: Begin insecticide treatments only when the pests are within 15 miles.
"Save yourself some money and wait until you really have to do it," she said.
Even if the City Council decides to indefinitely treat a significant number of ash trees in Mankato, they will eventually succumb to storms or old age and will be replaced with a variety of other species.
Unlike the reforestation following Dutch elm disease, tree diversity will be the goal on every block — not just citywide. Despite a few blocks where every elm was replaced with a single species, the city has made significant progress in becoming more immune to widespread devastation from the next tree disease or pest to come along.
"Overall, Mankato has done a very good job of diversifying over the years," Steevens said.