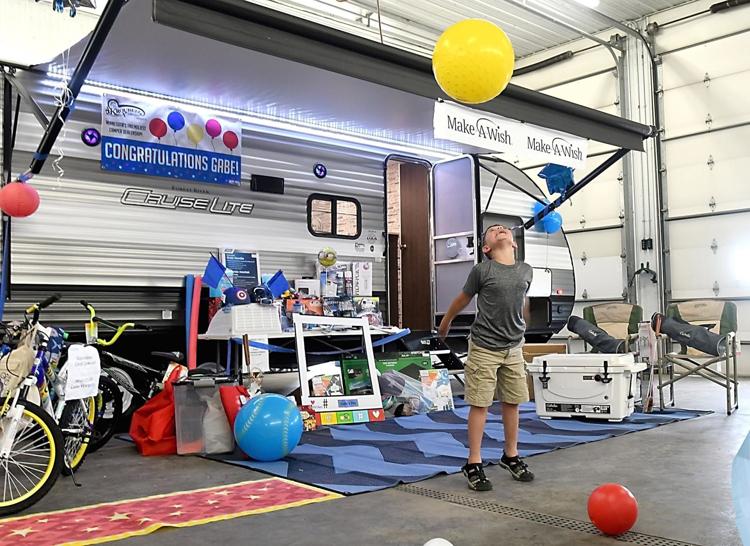 A Le Center family with a sick little boy arrived at a Lake Crystal recreational vehicle dealership planning to take home a new camper.
They also went home with almost all the other gear they'll need to spend nights in the great outdoors.
Gabe Wargelin, 7, and his parents and big brother were surprised with a party and gifts Wednesday thanks to the Make-A-Wish Foundation of America, Kroubetz Lakeside Campers and its employees, and Lake Crystal area businesses and organizations.
Gabe loves hiking, swimming, visiting state parks and just about any other activity he can do outside.
But the Wargelin family's outdoor adventures have to be kept short or Gabe might have a seizure.
Gabe has Dravet syndrome. It's a rare form of epilepsy with prolonged or frequent seizures, or both, and limited treatment options. It starts in infancy and causes developmental delays and other health detriments.
Gabe has been in and out of the hospital so many times his parents, Becky and Jake Wargelin, have lost count. Heat, fatigue or overstimulation are just a few of the triggers that can send Gabe into a seizure that might last up to two hours.
Gabe was been doing better the last few years, leading his parents to decide he's finally healthy enough to receive a wish from the nonprofit that grants wishes to seriously ill children.
Make-A-Wish Foundation volunteers Carol DeKruif, of Madison Lake, and Marge Liebl, of Mankato, met with the Wargelin family to develop wish possibilities.
A trip to Walt Disney World and most other typical wishes weren't feasible with Gabe's limitations.
They decided on a camper because it would give Gabe the opportunity to explore more of the great outdoors.
DeKruif happened to know Kroubetz Lakeside Campers owner Kimberly Kroubetz, who jumped at the chance to grant the Wargelins' wish.
Just a few weeks prior, Kroubetz said she had visited with a dealership owner in another state who had donated a camper to a Make-A-Wish recipient.
After hearing her friend talk about how rewarding the experience was, Kroubetz said she prayed she'd get the same opportunity someday. She didn't expect that someday to come so soon and believes it wasn't just a coincidence.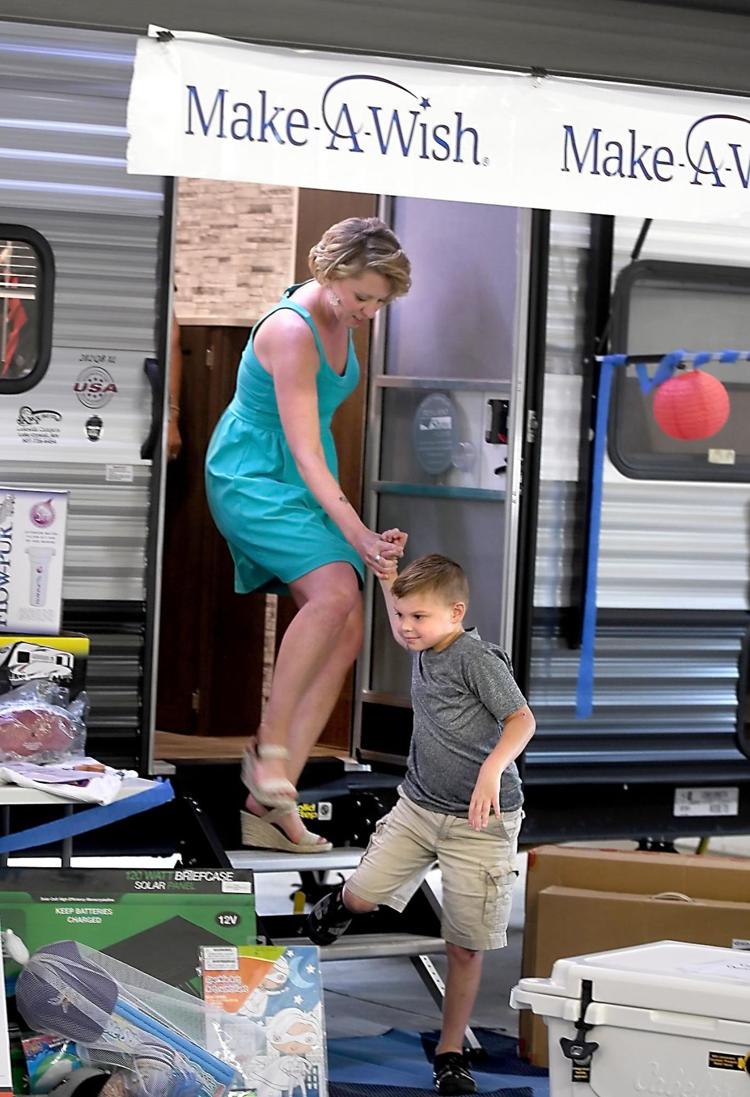 Becky and Jake said the camper Kroubetz chose for them far eclipsed what they imagined. The 35-foot-long trailer has luxuries such as a gas fireplace and queen-size bed.
Kroubetz's staff made the gift even more special. They planned a surprise party for the Wargelins Wednesday and collected additional gifts for the family.
The family now also has a cooler, lantern, bicycles, a state parks admission pass and other camping gear, toys and games, and equipment they'll need to maintain their new camper.
"Our community has just been amazing with the donations they have provided," said Ashley Kroubetz-Linde, the dealership's business manager. "The experience has been nothing short of amazing."
The Wargelins plan to take the camper out for its maiden voyage this weekend. They haven't reserved a campsite yet and are planning to look for one close to home.
"In case we need to phone a friend (for help)," Becky said.
After a few local trial runs, Becky and Jake said they plan to venture to new parts of Minnesota. They hope to spend nearly every remaining summer weekend in their new camper.