Amino Mohamed and Ilyas Ahmed's son arrived a day early and became the first baby born in 2020 at Mayo Clinic Health System in Mankato.
The North Mankato couple had not expected their new son to arrive before Thursday, the due date estimated by their doctor, Ahmed said. The baby arrived shortly after 5 a.m. Wednesday.
Ahmed and his wife, who are from Somalia, were pleasantly surprised when they entered Mohamed's hospital room after the delivery. They found on a table near her bed a large gift basket, a blue helium balloon and a stuffed blue elephant.
The presents honor little Abdurahman Ilyas Mohamud.
Mankato's first baby of the new year weighed 7 pounds, 15 ounces at birth and arrived about four hours after his mom was registered as a patient.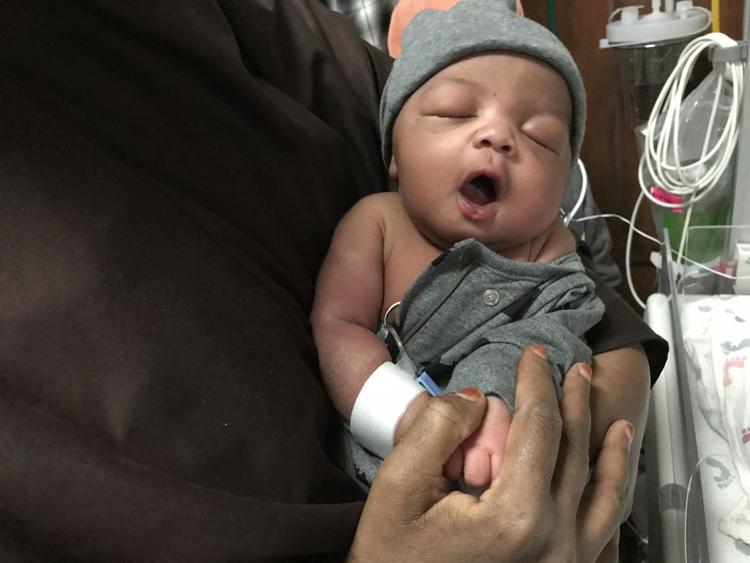 By 5 p.m. Wednesday, close relatives of the couple arrived to see the new addition to their family. A translator was on-hand to assist with interviews regarding the couple's happy occasion.
Abdurahman's older sibling, 5-year-old Sumeya, shyly nodded when asked if she liked being a big sister. She stayed close to her dad throughout the interviews.
"She was born here, too," Ahmed said as he gave his daughter a hug.
He said Abdurahman's birth will be the focus of a party in seven days. The name reveal event is a Somalia cultural tradition.
Registered nurse Rita Seath, who was on duty Wednesday, said every birth should be celebrated as a miracle. She has 30 years experience observing the excitement and joy experienced by families with newborns.
Seath and other nurses generally are assigned to work shifts on every third holiday, so she's spent several New Year's eves and New Year's days on the floor assisting new moms and dads.
"I wouldn't have done this if I didn't find it exciting and challenging. I just considered this celebrating a holiday with my work family," she said.
Seath and a co-worker on duty said about 1,400 births were recorded in 2019 at Mayo Clinic Health System in Mankato.
The most popular names chosen by Mankato area parents in 2019 were Olivia, Harper and Charlotte for girls and Henry, Mason and Oliver for boys, according to Mayo spokeswoman, Amanda Dyslin.
The most popular names for babies born in the United States in 2019 were Sophia, Olivia, Emma and Ava for girls and Liam, Jackson, Noah and Aiden for boys, according to the website BabyCenter.com.