The newest addition to North Mankato's parks and recreation offerings made a big splash Wednesday. Rather, multiple splashes.
The Spring Lake Park Swim Facility opened at 1 p.m. to a line of more than 200 people ready for aquatic fun, the culmination of more than two years' of work by North Mankato officials.
"All spring, everybody's been waiting for this," North Mankato Mayor Mark Dehen said. "To have this opportunity to open this up for the citizens, give them a chance to play with this this summer, it's still going to be a great summer for this."
The outdoor pool cost $3.2 million to renovate, the first major renovation since its construction in 1969.
Gone is the sandy bottom, as well as aging filtration systems and the old changing station. Here to stay is a new entryway with showers and restrooms, a community warming house with concessions, and numerous pool amenities.
The pool now has a PVC plastic bottom, as well as a large accessible entry for residents with all kinds of needs. There are slides for little kids and big kids at heart, a volleyball net complete with adjacent basketball hoops, a rope course, a rock-climbing wall and, perhaps the most popular feature at the park, a 40-foot zip line that the mayor and city staff "tested" before the pool opened.
"I'm looking forward to the children of this community having an asset to come and enjoy," City Administrator John Harrenstein said. "We really tried to make it a place where children of all ages and their families can enjoy."
Many families already have. More than 300 people were at the pool by 2 p.m., with more cycling in and out throughout the day.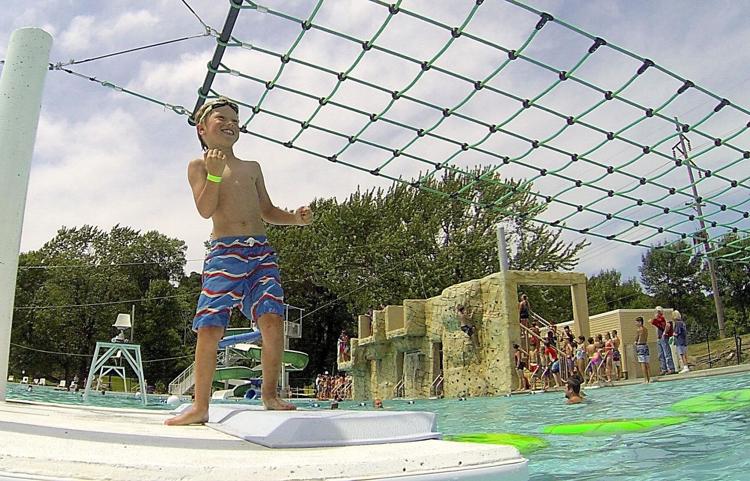 "When they started building it, we were really excited," said Joneesha Fischer, who was at the pool supervising several children and teens. "We said, 'Yes, we don't have to drive to Waseca any more!' And they've got a lot for the babies to do."
Angelee Hayden, 16, and her sister Rashelle, 13, were excited to try all the pool's features, though pool staff does test younger swimmers before allowing them on the zip line or rock wall.
"I don't know what the zip line's like, but I think I'm going to like it," Rashelle said.
Becky Hopp and her 8-year-old daughter, Haley, usually go to the Spring Lake Park pool every day during the summer. They've driven past the pool since it closed last fall to monitor construction, but they didn't expect it to be so nice — though Haley thought the water was cold when she first jumped in.
"We're really excited," Becky Hopp said. "It's been kind of been a hard beginning of the summer not having our pool open."
Brandon Flom was busy playing with his wife and three children at the pool Wednesday. While the Floms don't always get out to the pool, they made sure to visit for the first day of its reopening.
"It's been fun," he said.
Older area residents can remember when the pool first opened in 1969. As Neil Kaus of the Greater Mankato YMCA put it, the Spring Lake Park facility was the finest of its kind in southern Minnesota when it was built. Before that, children swam in Hiniker Pond in Mankato.
"(It's) overwhelming," Kaus said of the pool's reopening. "I'm in awe of what this place is going to be for the residents of North Mankato and the surrounding area."