It isn't only the 18 students in Maggie Hanneman's class at Eagle Lake Elementary who will have their first day of first grade today. Their 22-year-old teacher is also starting with a blank slate.
Hanneman and other first-year educators in Mankato Area Public Schools, along with their students, face a new experience as elementary students return to classrooms. Conferences Hanneman held Wednesday and Thursday, during which she met with parents to discuss educational expectations and children's social needs, tested her confidence.
"Even in my introduction letter to families, I was hesitant to put, 'This is my very first year teaching in an elementary setting,'" Hanneman said Wednesday. "So I ended up saying, 'This is my first year teaching first grade.'"
But the recent Iowa State graduate has years of experience teaching in different formats and a unique background to help steady her.
Near her hometown of Naperville, Illinois, during college breaks, she worked at a day care that employed the Reggio Emilia approach, a play-based philosophy wherein children shape the curriculum with their particular interests. Students in her classroom were intrigued by animals, so she adapted the space into a makeshift zoo. They practiced counting by viewing groups of zebras.
A narrative thread of teaching runs through Hanneman's childhood as well. Her mother has taught preschoolers and elementary students for 22 years.
Hanneman said she always implored her mother to recruit her to set up the classroom in which she taught. When she was only 4, Maggie would arrange a model classroom in the family's basement and read to her younger brother, her mother said.
And because of her experience as a child, she relates to students who are socially anxious or nervous to leave home all day. Their kindergarten experience mixed online and in-person learning for some and kept others completely at home.
Hanneman says bluntly that from preschool to first grade, she didn't talk. "I didn't say a word."
Hanneman said her mother, Lisa, figured it was a fine trait when her daughter's teacher brought the issue up to her at her first conference. It meant Maggie wasn't disruptive during class. But the teacher clarified that the girl had not said a word — to her teacher or any other students in class.
Sitting in Ms. Hanneman's first-grade classroom on Thursday afternoon, however, the new teacher said a couple of children had come in that morning to meet her but spent most of the time hiding. Many are nervous to leave home for a place at which they'll soon spend entire days.
The behavior prompted in Hanneman memories of her own timidity, as well as thoughts of the first grade teacher who brought her out of her shell.
The teacher, Mr. Miller, would make small gestures to show he genuinely cared for her. He tacked small notes on her desk to let her know that she was doing great and would be all right. He greeted her outside the school building each morning to make her feel visible each day.
"(It) is totally normal in first grade to be nervous, especially after not going to normal school for like a whole year," Hanneman said. "It's almost kind of like they're coming back to school as kindergarteners, in a way, because they haven't experienced a normal year."
Social workers are available at area elementary schools to help students cope with mental-health issues they may have developed throughout the pandemic, Hanneman noted. Teachers can refer students who they think are experiencing behavioral or emotional difficulty.
Parents are "trusting you to take care of their kids every day and make sure that they're safe and being taken care of, so I think it's really helpful to be very welcoming and caring and loving," she said.
First grade is described as a time of "important transition" on Eagle Lake's website, where expectations for years K-5 are stated. Students leave behind much of the play of preschool and kindergarten, progressing from "having beginner reading and writing skills to becoming beginning readers and writers."
Reading well by third grade is generally accepted as a crucial milestone. The objective is codified in a Minnesota statute, which calls literacy development the "basis for all academic success."
Travis Olson, the district's director of teaching and learning, acknowledged that many students are behind to begin this year. But instead of attempting to cram a year and a half of material into one year, schools will measure students' success against state grade-level standards and proceed based on where children lag behind.
The approach emphasizes the need for comprehensive monitoring by teachers in addition to assessments that indicate holes in learning, he said.
"We're teaching with the mindset of, 'Yes, these kids have missed out on a lot of instruction,' but that doesn't mean we gotta go back," Hanneman said, "because it would be really hard to catch them up as they continue throughout the grades."
She and other teachers will aim to establish the basics of learning, such as reading comprehension, without backtracking.
To ensure no group of students is in a learning "silo" with an inexperienced or struggling teacher, Olson said, each grade has monthly formal meetings among educators to align learning and behavioral goals. It's a way to bridge gaps between classrooms and monitor the progress of all children.
First-year teachers such as Hanneman are assigned mentors who continue to help them develop into the early years of their career. Local schools also have a partnership with Minnesota State University in which professional development is offered to new teachers, Olson said.
Because Hanneman had to learn the science and craft of teaching while living through a pandemic, however, she expects she has the advantage of adaptability.
As part of her required student-teaching in college, she was teaching kindergarten in a Chicago suburb with many high-needs children. Instead of learning to plan an entire day of teaching, including lunch and recess, she had to pack material into two hours for two different sections of students doing half-days.
"I had to basically just take the gist of every lesson and try to get there pretty quickly," she said. Many of the kids didn't speak fluent English, so "I had to think a lot on my feet and prepare for things last minute a lot."
Her family moved to North Mankato in mid-July, and Eagle Lake Elementary appealed to her because it's a small school in a small community. Principal Jason Grovom said 350 students attend the school in the town of under 3,000.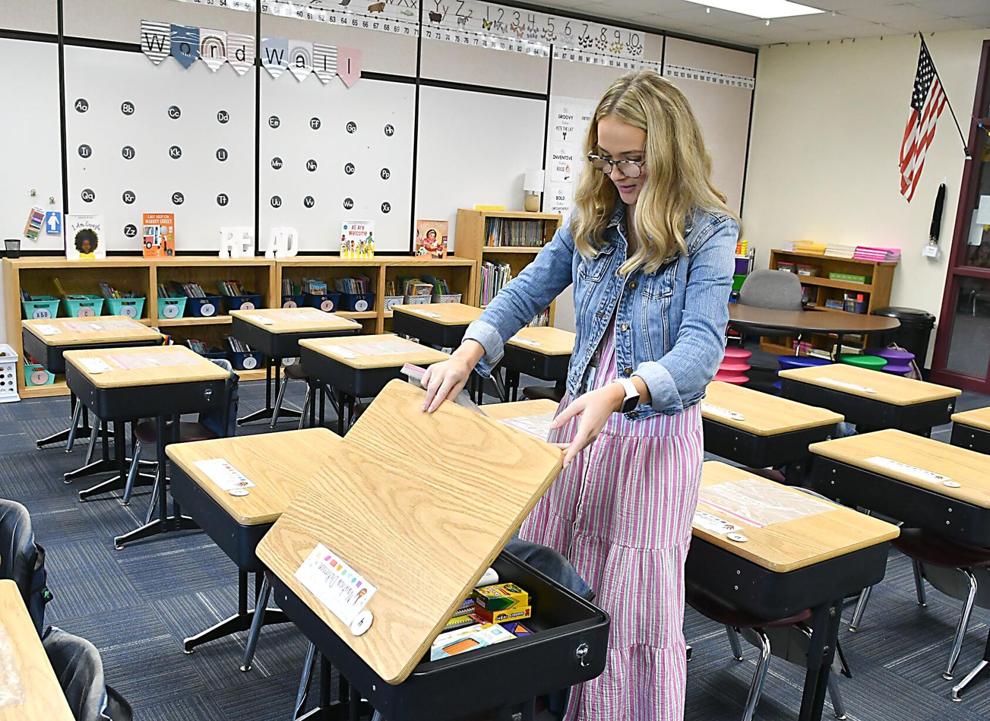 Casting her eyes over the 18 empty desks in her classroom Thursday, Hanneman said she expects an abnormally high portion of students to need special emotional attention because of the pandemic's disruption to schooling. Probably half, she said with a quick laugh.
She sent parents a survey asking how to best create a comfortable learning environment for their kids. Maybe they'll need a quiet space to calm down, or music playing quietly in the background, or time to lie on the floor while reading.
"You're constantly learning, and you're constantly adapting and accommodating and changing to meet the needs of your students," she said.
Grovom said that during the interview process, he saw in Hanneman an abiding love for kids and a view of teaching that centers on the students. Questions that test a person's view on nurturing children are the most important in discerning strong candidates, he said.
For first grade teachers, Hanneman said, the primary goal of the first few weeks is to establish a routine and create a space where kids feel safe and happy.
As students walk by the welcome sign outside her room this morning and Maggie becomes Ms. Hanneman, her work to convey an emotional message will underlie all the subject matter.
"My biggest priority is that I want the kids to know that I love them and I welcome them with open arms," she said. "That has always been at the heart of my teaching."