Jean Ann Hastings always wanted to do a flash mob, so nearly 50 of her friends and family helped her cross it off the bucket list Monday to celebrate the upcoming end of her chemotherapy treatment.
The Elysian woman started chemotherapy, which she prefers to think of as "dance therapy," after being diagnosed with stage 2 breast cancer in February. The news led to outpourings of support through a Facebook group of her wide network of friends called "Breastie Besties."
After telling the group about her bucket list wish — she also hopes to be an extra in a movie someday — dozens planned a flash mob in Rochester in honor of her last scheduled chemo appointment at the Mayo Clinic. The group learned choreography to "Can't Stop the Feeling" by Justin Timberlake on Youtube, posted practice videos on the Facebook page, and brought their dancing shoes to Rochester for their big performance Monday.
Videos of the 48-person flash mob, with Hastings leading the pack, gained traction on social media afterward. Along with the bucket list fulfillment, Hastings said the dance was an example of how much a strong support system helps during cancer treatment.
A flashmob has been on my bucket list, so when I finished chemo (I called it "dance therapy") my friends and family (after months of practicing!) did one with me at The Mayo Clinic in Rochester, MN! Kindness wins! 🤸♂️👯♀️☀️🌈🎼🌸❤️ So blessed! pic.twitter.com/7uLOyuC6Qm

— Jean Ann Hastings (@jah1227) July 29, 2019
"My motto has been 'kindness wins,'" she said, fighting back tears. "For all of my crew to show up and take a day off of work is amazing."
Monday turned out not to be her final chemo treatment due to low white blood counts pushing the date back. But because friends and family were coming from out of town and taking off work to participate, they stuck to the initial date she was set to finish.
Instead, she'll finish next week, which she said gives her a chance to show her medical team the video and the sign she made in their honor.
"I'm kind of excited it worked out this way because now I can go back and show the nurses the video," she said. " … It's not a place you want to be, but gosh, they make you feel special while you're there."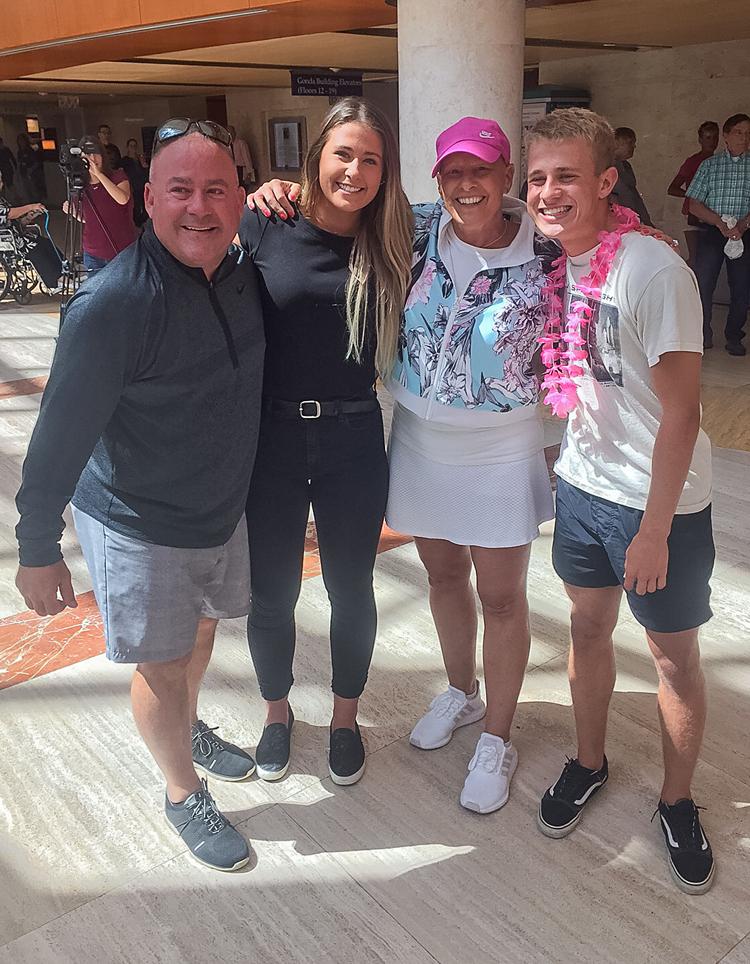 She finds just as much support among family and friends outside of cancer treatment. Her husband, Mike — Minnesota State University's men's hockey coach — and children, Hannah, 20, and Hudson, 17, were among those dancing behind her.
Neighbors stop by their Elysian home to drop off meals. Friends send encouraging messages before each treatment. Some have even driven her to Rochester for treatment to keep her company.
Amy Freshman, of Omaha, was one who went with her to treatment and came for the flash mob, along with others who befriended Hastings when her family lived in Nebraska. She described Hastings as an "amazing person" who lifts people up every chance she gets.
"She has such a magnetic personality and she exudes positivity," Freshman said. "If you were to ask me who Jean Ann is, I'd say: Faith, family and friends, and through that comes her positivity."
While Hastings isn't shy about busting a move, the public display was out of some participants' usual comfort zone. But the dance's choreographer, Los Angeles-based Rae Toledo Latsch, gave the group a shout out on her own Facebook page, wishing Hastings the best of health in the process.
"For Midwest housewives I think we've got some moves," Freshman said with a laugh.
While her chemotherapy will soon end, Hastings still has a ways to go in her treatment. She'll next prepare for lumpectomy surgery in September followed by 30 rounds of radiation.
With triple negative breast cancer being a rarer, more aggressive, and difficult disease to treat, she said the next five years will be critical. She remains positive as ever, though, with her dancing support system firmly behind her.
"To have so many people fulfill a dream that's on my bucket list was amazing," she said. "It was the most amazing day."{em style="font-family: Verdana, Arial, Helvetica, sans-serif; line-height: 16px;"}Follow Brian Arola @BrianArola{/em}