MANKATO — When rebels toppled the 22-year dictatorship of Siad Barre in Somalia 30 years ago, Mohamed Abdulkadir said many Somalians were optimistic at first.
"People were excited at the beginning because they wanted to overthrow the dictatorship for a long time," said Abdulkadir, of St. Peter, who works as a refugee employment specialist for MRCI in Mankato.
"But when they did that, there was nothing planned, so overthrowing the government changed to civil war, neighbor killing neighbor."
That year, as law and order collapsed and violence spread across the country, Abdulkadir and his family made the difficult decision to leave everything behind — arriving at a refugee camp in neighboring Kenya, waiting in long lines for basic necessities such as food, water and medicine.
Abdulkadir had every intention to return to his home in Somalia, where he had built a life for himself and his family. The harrowing journey across the border was only supposed to be temporary.
But the violence had no end in sight. It would be another four years of living in rough conditions at two camps before a ray of hope appeared.
With the civil war continuing, the U.N. high commissioner of refugees began looking for permanent resettlement for refugees living in those camps. The United States was one of the top countries willing to help people resettle here. Every day Abdulkadir would check the names on a giant board at the camp that revealed who was selected to begin the long process of emigrating to the U.S.
"I moved to another camp and my uncle came to me and said, 'Our name is on the board,'" Adulkadir said.
After three months of an elaborate vetting process by the U.S. government — filling out applications, giving multiple interviews with U.S. immigration officials and a lot of waiting — Abdulkadir was approved and soon on a plane bound for Decatur, Georgia, in 1994. It would be another seven years before his wife and children were allowed to join him in the U.S.
"Everything was new," he said. "You have to start all over, learning the language; it was tough, but luckily there were organizations trying to help us navigate the system, with finding a job and how to get a driver's license."
When his family finally arrived, Abdulkadir was running his own restaurant to make ends meet. But the demanding schedule meant he didn't have a lot of time to spend with his children. One day, while he was picking up supplies for his restaurant 30 miles away, he learned his son had been assaulted at school.
Luckily Abdulkadir's brother was able to make it to the school right away and informed him of what happened. When Abdulkadir arrived at the school, he discovered his son was left to sit in class as a large bruise continued to swell. Frustrated that the principal wasn't addressing the bullying and fights at the school, Abdulkadir made a decision that would change the trajectory of his life.
"That was my turning point," Abdulkadir said, who got in touch with a relative who had been living in Minnesota.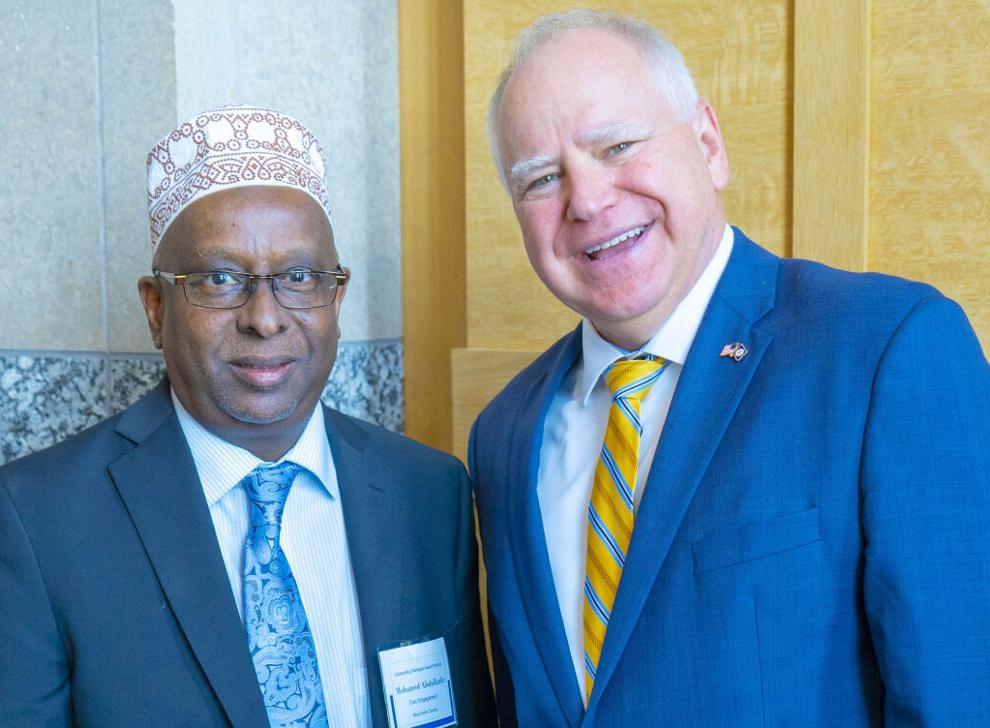 He found a three-bedroom apartment and moved here with his family in 2004. That's around the time he met the person who would be his new supervisor, Marcia Highum, director of public support programs for MRCI, which is contracted through Blue Earth County to provide employment services to immigrants and refugees.
"The first time I met him, I knew he was a gentle spirit," Highum said. "He was so calm, even under pressure. He was incredibly concerned and passionate about the plight of his people and the acceptance and integration of his community into the Mankato area."
Abdulkadir's personal story of adjusting to life in a new country allowed him to empathize with new refugees and immigrants in the Mankato area from places such as Somalia and Sudan.
As a refugee employment specialist for the past decade and on the staff for MRCI for 16 years, he helps newcomers to the area find work and overcome daily challenges of living in a new country, and he works directly with employers looking to hire.
"Mohamed was very instrumental in the success with Angie's (the popcorn maker) hiring immigrants," Highum said. "We had a huge project with Imperial Plastics. He had 130 people working at any given time there in different shifts and crews. We've had partners with Express, we've had partners with Spherion to help all these people get into the work force."
Abdulkadir's passion for helping immigrants become self-sufficient and to thrive in Mankato is a big part of the reason Highum nominated him for Minnesota Department of Human Service's Outstanding Refugee Award, which recognizes former refugees "who are making Minnesota a better place for all of us."
"I just knew he fit all the criteria for the award and exceeded it," Highum said. "I'm extremely proud to have him as one of my staff and that he's part of MRCI."
Abdulkadir, who recently received the award at a ceremony in St. Paul, said it has motivated him. As a resident of St. Peter, Abdulkadir had been instrumental in opening the city's first Islamic Community Center in 2017, a gathering space that offers driver's permit classes and career guidance services.
He also formed a youth group to maintain local parks, developed a community garden, and organized a group to participate in St. Peter's Fourth of July Parade this year.
"I feel appreciated and very happy," Abdulkadir said. "When your colleagues, especially your superior, recognizes your hard work, it is amazing."
A U.S. citizen for over a decade, he still remembers how difficult it was when he first moved here nearly 20 years ago. Today he provides a beacon of hope to immigrants who are just beginning the long journey of starting a new life.
He said the most rewarding part of his job is when he can provide hope to the people he serves. One elderly man had been living in Minneapolis for five years and hadn't found a job. Distraught that he couldn't send money back to his family in Somalia, someone recommended he contact Abdulkadir when he relocated to Mankato.
Before long, Abdulkadir had negotiated a job for the man, who was so appreciative he tried to give him his first paycheck. Abdulkadir encouraged the man to send it to his children instead.
"I don't know how you can calculate that happiness, because he can feed his children now, he got off the government assistance and he's now self-sufficient," Abdulkadir said.
"Our whole office, when anybody comes here, we look at what they need to be a success," he added. "Whether it's child care, transportation, issues for the landlord, all of us do that. We stabilize the family. Then we find them a job."