MANKATO — More intense rains and farm field drainage systems that have become highly efficient at pulling water off the landscape have led to growing devastation in the Minnesota River Basin.
"The river comes up so fast after rains. We're passionate about finding ways to slow down the river," Becky Waskosky told a group Thursday at the Kato Ballroom.
She and her husband, Don, live along the Le Sueur River southeast of Mankato in a neighborhood where three homes have already been moved or destroyed because of eroding river bank. And they are fearful about their own home.
"We're afraid of losing our home every time there's a heavy rain," Don Waskosky said.
The water storage forum, hosted by the Water Resources Center at Minnesota State University, drew a large crowd that heard about different ways to store more water on the landscape so it releases more slowly into ravines and rivers.
Senior state climatologist Kenneth Blumenfeld provided a chilling account of how the climate is affecting southern Minnesota.
"We know we're getting warmer and wetter," he said, citing a host of rain and temperature data collected for more than a century. In the past 30 years there has been more annual precipitation and warming temperatures. He said monitoring stations across the basin have recorded about 3 1/2 inches more rain annually in recent decades.
While that may not sound like a lot, he noted it is an additional 60 million gallons of water per square mile times the 15,000 square miles of land in the basin.
Blumenfeld said that while variables still exist from season to season, such as this past winter's cold and heavy snow, recent and long-term data collected show a clear trend of more rain, more heavy rainfalls, more record rain events and warming temps.
He said so far Minnesota's warming has been led by higher average low temperatures. But as that trend continues, it will lead to later starts to winter, earlier springs and more intense high temperatures and droughts in the summers. And, he said, all projections are that the wetter weather will only get worse as climate change worsens.
Restoring wetlands
The quantity of water flowing into the Minnesota River plays a big part in local pollution problems. Minnesota Pollution Control Agency studies show that increasing amounts of rain, combined with more artificial drainage, brings more pollutants from the landscape to the river — including sediment, bacteria and nutrients.
Merissa Lore and Dustin Anderson, from Faribault County, talked about innovative solutions their county is using to slow some of that flow, combining ditch management with conservation practices.
The county has a robust drainage department that works with landowners on finding solutions for water storage while easing the cost burden.
"County drainage departments are so variable," Anderson said. "There might be zero dedicated staff, it might just be the county engineer or highway department that oversees all drainage." Faribault County has seen the importance of it and managing it from a multipurpose approach.
He is the full-time drainage technician and Lore is the full-time drainage manager for the county. They also contract with others, such as engineering firms, and they have a drainage inspector.
Anderson said the stand-alone county drainage department got its start when the Soil and Water Conservation District provided a grant to the county to hire a drainage inspector.
"It progressed from there. The County Board saw how well it worked and got another grant and it's become a full county department now."
The department often partners with the SWCD, the Greater Blue Earth River Basin Alliance and others on finding solutions to farm drainage and water storage.
"We try to approach drainage from a multipurpose position. We want to preserve our agriculture — it's the backbone of our economy. But we also look for some ways to store water on the land and manage water flow better where we can."
One big project is a large wetland restoration project in Pilot Grove Township, southwest of Blue Earth.
"Landowners upstream filed a petition to clean out a ditch system, which created better drainage for them but led to issues down stream," Anderson said.
The drainage department created a map showing potential areas along the ditch where water could be stored. A landowner who saw his land was on the map came forward to create a restored wetland on his property that will take in water that would otherwise simply flow through the ditch and tile system.
Anderson said they look for ways to ease the financial burden for landowners willing to take land out of production and use it for storage.
In this case, the landowner chose to put it in a wetland banking program. That allows him to sell acres in the wetland to developers or cities that need to replace wetlands that they are draining for development projects.
Someone who restores a wetland gets credits in the state Wetland Bank that are then sold to someone removing part of a wetland. Developers and even state agencies such as the Department of Natural Resources have to replace wetlands they remove by a 2-to-1 ratio, so if a developer removes one acre of wetland they must buy credits equaling two acres of wetland somewhere in the state.
There are other ways to pay landowners who restore wetlands, including grants and charging farmers in a ditch system to pay a fee to the landowner to store some of the water coming off their land.
Anderson said he's optimistic creative projects to store more water will gain popularity.
"There's a lot of outside funding available right now. We understand the hardship of the current farm economy and conservation takes money and effort. So trying to offset the cost is important."
And he said simply making landowners aware of different approaches produces results. "A lot of it is just education. A lot of times they just don't know what options are available."
Home at risk
The Waskoskys played dramatic video of torrents of water tearing away banks on the Le Sueur River and moving closer to their home.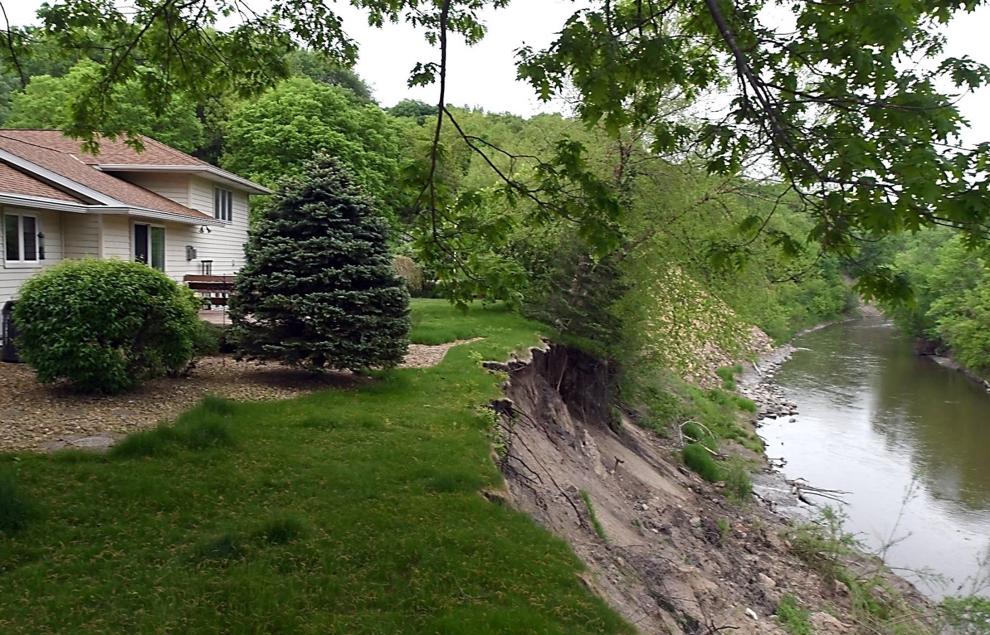 Their home, once about 100 feet from the edge of the river bank, is now just feet away from the bank, which has sloughed off in massive sheets during several high-water events. Two other homes nearby already have been moved away and another house partially fell into the river.
Don Waskosky said more needs to be done when installing drainage systems and ditches to hold water back so it flows more slowly to rivers.
While federal agencies have used stone riprap to shore up parts of the steep river bank near their home to protect a public road, little or no funding protects private property.
All rivers in the basin are widening and eroding because of the high flows of water. In recent times the Minnesota River alone loses 80 acres of land per year. That will mean an average of 15 feet of river frontage disappears over 30 years.
Beyond techniques such as wetland restoration to hold water, a variety of newer farm drainage systems are being used to hold water longer on the land. And there are methods such as adding cover crops in farm fields, which add nutrients to soil and reduce erosion in winter and spring.