MANKATO — A Mankato teen is getting VIP access as the Bridge Plaza building takes shape.
Chloe Aanenson is only an eighth-grader but already knows she wants to become an architect.
"I like designing things. I just think buildings are really interesting," the Dakota Meadows Middle School student says.
When Widseth Smith Nolting staff learned about Chloe, they came up with an idea that is giving her a unique opportunity to meet architects and other professionals while helping the company promote its work-in-progress in downtown Mankato.
Chloe paid her second of 10 planned monthly visits to the Bridge Plaza construction site Wednesday. A film crew is recording as Chloe gets to see the construction happening up close and talk to experts about the building and their careers.
Videos recapping Chloe's visits are being posted at www.widsethsmithnolting.com/news/wsns-bridge-plaza-video-series.
The five-story, $16 million Bridge Plaza going up next to the Veterans Memorial Bridge will have commercial spaces, a restaurant, offices and apartments. Widseth Smith Nolting, which is providing architecture, surveying and engineering services for the project, will be among the tenants.
Construction workers were laying bricks on the fifth floor of the stairwells and pouring the concrete floor on what will be a large third floor balcony as Chloe visited Wednesday.
Chloe said she is most impressed by the building's grand two-story lobby and use of locally sourced stone.
Each month Chloe is learning about one or two new of the many careers involved in erecting the plaza. In February Chloe met lead architect Mark Cipos, who showed her the building designs before giving her a first tour of the construction site.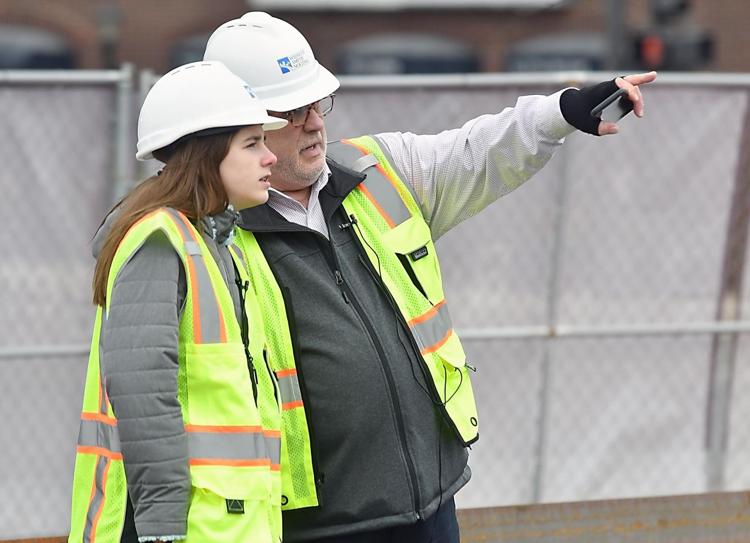 Cipos serves on the advisory committee for the architectural drafting and design program at South Central College and heard about Chloe's interest in his field through her mother, who is director of the SCC North Mankato Foundation.
During her March visit, Chloe heard about land surveying from Widseth Smith Nolting surveyor Peter Oetliker. Chloe learned that land surveyors' work isn't limited to the beginning of a building project.
After surveyors determine property boundary lines and the terrain and utilities on a proposed site, they stake out utility lines and the footprint of the foundation, Oetliker said. Later surveyors stake out exterior infrastructure such as parking lots and lighting.
"Cool. I had no idea any of that was part of this project," Chloe said as the visit with Oetliker drew to a close.
Cipos said construction is still progressing on track for Chloe to get to tour the completed building during her final visit in November.