A giant inflatable lung at Mankato East and West high schools Thursday gave students a supersized view of vaping's health risks.
The outsized organ was part of an anti-vaping educational day at the schools, organized as Minnesota and 48 other states grapple with an outbreak of vaping-associated lung injuries.
Mankato East senior Tatum Jahnke, part of the Project for Teens student mentoring group helping coordinate the event, said she wanted fellow students to understand how serious vaping is as the injuries rise.
"Just having that realization of this is really happening and what can happen from this is something I think is really important to take away," she said.
Along with the school district and Project for Teens, Mayo Clinic Health System in Mankato, the American Lung Association and Blue Earth County Public Health organized several stations to help students visualize vaping's health risks. One showed the various chemicals found in e-cigarettes to dispel the idea people are just inhaling water vapor.
"They've promoted these products as better for you than smoking or an alternative to quitting smoking, but we know the best alternative to quitting tobacco use is nicotine replacement therapy paired with counseling," said Kelly McIntee, health promotion specialist with the American Lung Association.
The 10-foot by 15-foot lung, though, was the day's centerpiece. It was big enough for students to stand under, with Mankato East junior Eli Olson of Project for Teens calling it a good learning tool.
"It definitely gives the kids a lot better visual of what's happening in there," he said.
Jahnke said if the other stations didn't sink in with the students, the inflatable lung could. She hoped the huge visual cue would then remind them of the risks.
"It's something that will stick with them rather than just having information thrown at them," she said. "They'll remember the big blown-up lungs."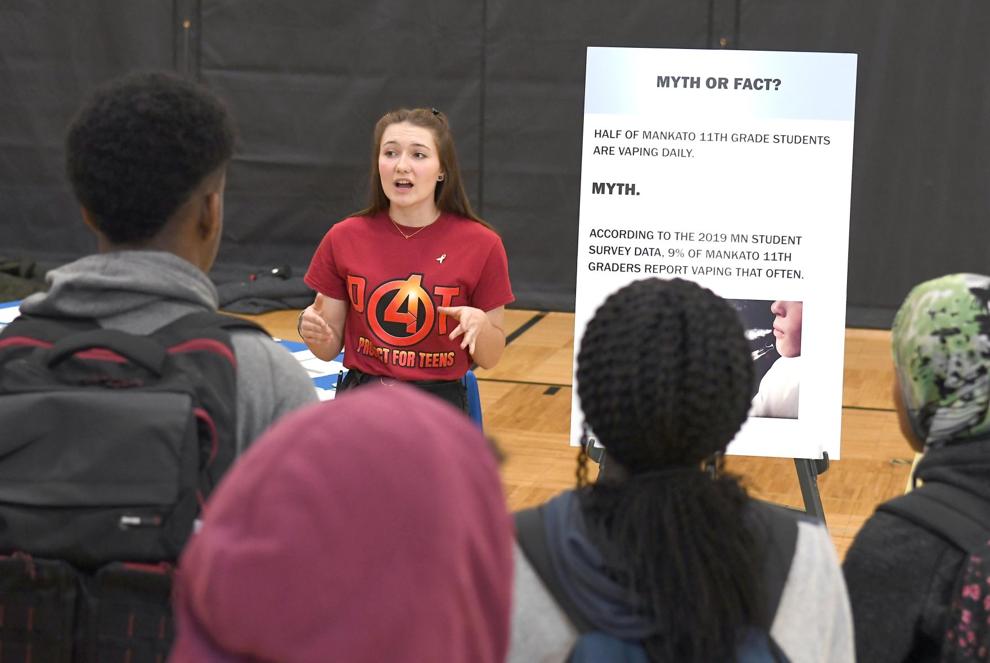 The 2019 Minnesota Student Survey found 23% of 11th grade males and 25% of 11th grade females in the Mankato district reported they vaped or used an e-cigarette within a 30-day window. More females reported vaping once or twice a month, while males were more likely to vape daily.
The Minnesota Department of Health has counted 99 confirmed or probable vaping-associated lung injuries and three deaths across the state as of late October. The cases mainly stem from vaping the high-inducing chemical THC, although vaping's largely unregulated market has health officials stressing caution about any forms of it.
Darla Theobald, nurse practitioner in pulmonology at Mayo in Mankato, said the health system has seen hospitalizations caused by vaping.
"They usually come in short of breath, sometimes coughing up blood or they have a significant cough," she said. "It's been pretty typical across the nation the symptoms people are having."
The injuries are occurring when the vaped chemicals aggravate the lungs, causing inflammation. Theobald said the inflammation can last days to weeks, but the long-term health effects aren't yet known.
"You treat the acute process with steroids and it usually responds very well, but the long-term effects we have no idea yet," she said.