ST. PETER — With this year's invasion of gnats, Megan Willette's horses are more than happy to get wiped down hoof to ears with pyrethrins, piperonyl butoxide and a mixture of other pesticides.
"They bite, they irritate, they make them anxious," Willette said of the insects — also called black flies or buffalo gnats — swarming her horses.
"I wipe down the horses' body, legs and ears, and they just relax. Normally they don't like their ears played with, but they'll walk up to me and put their ears down, like 'I want some of that.'"
Willette has three horses on her place on the outskirts of St. Peter and boards another person's horse.
For livestock, the overabundance of gnats can be more than just annoying, causing weight loss and stress and in some cases killing animals, particularly poultry.
Brooke and John Knisley run Alternative Roots Farm, an organic produce and animal operation near Madelia and have lost two chickens to gnats.
"We have a friend who lost 16 and another who lost one," Brooke said.
They are offering relief for their 75 chickens by running multiple fans in the chicken coop, placing vanilla-soaked rags in it and hanging fly strips by the windows where the gnats congregate.
"I think the air flow is really helpful," she said.
There are different ways the gnats can kill. "The gnats congregate around the eyes and ears and nose so they can clog them up. And I had some running around trying to get them off and they're really stressed and they don't eat," Brooke said.
They lost four young chickens a few years ago to gnats. "The chickens piled on top of each other and they get smothered."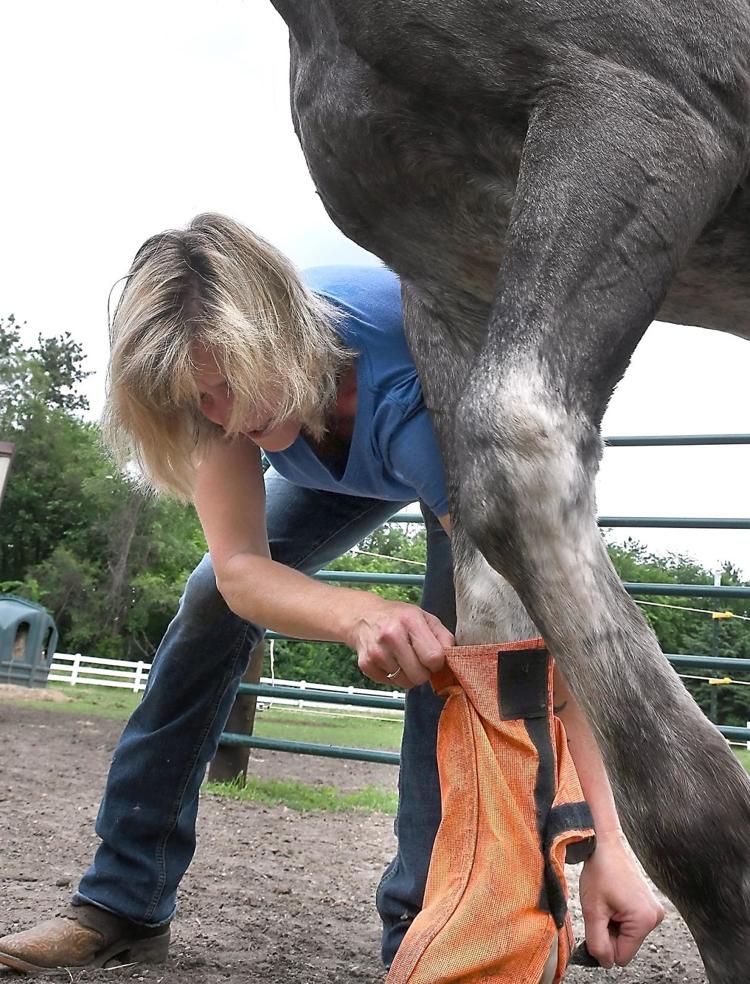 The gnats can kill large livestock. In the Deep South ranchers often lose cows to the gnats, which get up in the cattle's airways, causing anaphylactic shock. And they can die from blood loss because of all the incisions made by gnats.
Horses and wild deer also can die when the gnat population explodes.
Veterinarian Denny Rossiter, of Kind Vet Clinic in St. Peter, said his clients who own large livestock haven't reported or heard of any serious illnesses or death in animals.
But like humans, cows are irritated to the extreme by the bugs.
"I talked to a dairy farmer today," he said last week. "They said yesterday was the first day they let their dry cows out in the pasture. They were happy to go out, and then they came right back in the barn. Dairy cows in the barns are happy."
Rossiter said beef producers report fewer problems. "The beef cows, apparently, learn to live with it."
University of Minnesota Extension educator Shane Bugeja said he's heard anecdotally of poultry suffering or dying, but not large animals.
He said gnats aren't known to transfer any diseases to humans, but there is a belief that they can transfer leucocytozoonosis, a blood parasite, to poultry.
Bugeja said for cows the biggest concern is that the bugs cause stress and can reduce milk production.
Many of the livestock producers in the area have their animals in barns, which makes it easier to control the gnats. Rossiter said the many large fans running in the barns create the moving air that gnats don't like.
Willette said wiping down her horses has helped a lot, with the application lasting a couple of days or more.
She had one horse who was suffering from too many gnat bites. "I was giving her a bath, I was wiping in the udder area of the horse and it came out red. I used a medicated shampoo and cleaned the whole area and she got better. That would have caused a ton of discomfort."
Despite the annoyance to her and her horses, Willette stays in the saddle.
"I still ride. I try to ride in the morning — it's much better than the evening."