WASECA — Forty-five degrees and spitting rain, Thursday morning in Waseca's Courthouse Park would have been unpleasant for a crew of people cutting invasive buckthorn.
A roaming pack of about 40 goats recently hired by the county seemed unbothered.
The largest goats rise on their hind legs to grab higher dark-green buckthorn leaves with their teeth, balancing their front hooves against a branch of the plant.
Often the animals latch onto a leaf and, draping their torso on a branch, use their weight to drag the foliage to the ground. Smaller peers then join the feast.
Brian Tomford, Waseca County's building and grounds maintenance director, watched as goats tangled themselves in twigs and underbrush to eat common buckthorn shrubs, along with other species crowding the understory.
"(The plants) hurt when they poke ya — they don't hurt goats. They chew it right up, crawl right in it," he said.
Along the lightly electrified fence surrounding one grazing area, leafy bushes gave way to skeletal branches already scoured by the goats. If they repeatedly strip foliage from undesirable plants, the plan goes, those plants will be deprived of nutrients and die.
"Basically they just keep on the move. ... They'll come back, but they don't stay in one area real long. They'll just continue eating and continue moving," Tomford added.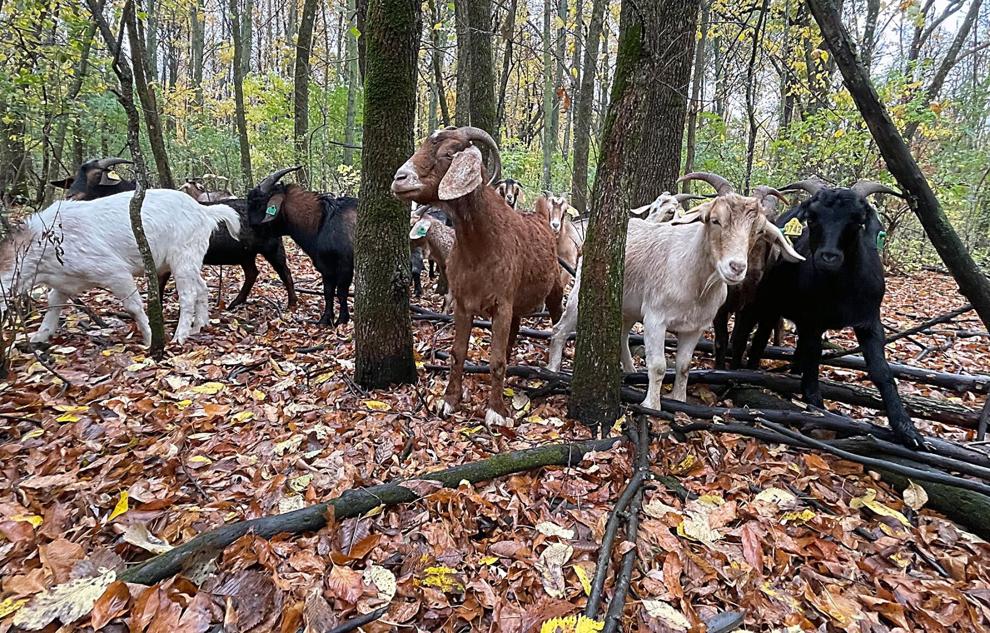 This relentless pursuit of invasive bushes is what led him to convince county commissioners to rent the animals for $11,000 from Goat Dispatch, a Faribault-based company led by a Minnesota State University graduate.
The first goats arrived Oct. 15, but the number grazing roughly 42 acres in the 175-acre park will increase to more than 100 in the coming weeks, Tomford said. The stragglers are finishing an assignment in Winona County's Whitewater State Park.
Goat grazing, an increasingly popular practice in southeastern Minnesota, initially appealed to Tomford because he felt helpless to maintain the jewel of Waseca County's park system.
He was surprised when research led him to goats as a solution, but soon found other counties in Minnesota had already begun to experiment with grazing. North Mankato adopted the practice within city limits last August, and Mankato plans to resume discussions about a similar policy early next year, Public Works Director Jeff Johnson said.
Having worked for the county for two decades, Tomford said the underbrush in Courthouse Park had never been comprehensively managed.
He directs four county workers. When he estimated the combined cost of difficult labor, herbicides and machinery, he said the sum exceeded $100,000.
Environmental risks were also at play. Tomford was wary of spraying chemicals near the Le Sueur River, which winds through the southern portion of the park.
Driving large machines would also mean tearing up much of the park's native vegetation, not only buckthorn. Goats tread lightly, leaving soil undisturbed and allowing other plants to grow.
The park's needs brought Tomford to Jake Langeslag, the founder of Goat Dispatch. A 2004 graduate of MSU's ecology program, Langeslag said he owns more than 500 goats and rents them across Minnesota.
"It's just kind of like a master switchboard controlling which goats go where," he said.
For $15 an hour — $30 an hour for emergencies — he hires "goat watchers" to erect electric fences and monitor the animals, sending him Snapchat videos of their behavior. All of the goats have names, including a buck named Bat whom Tomford has deemed the alpha goat at Courthouse Park.
"We have ones that do a really good job, some that are a little naughty, some that are in training," Langeslag said.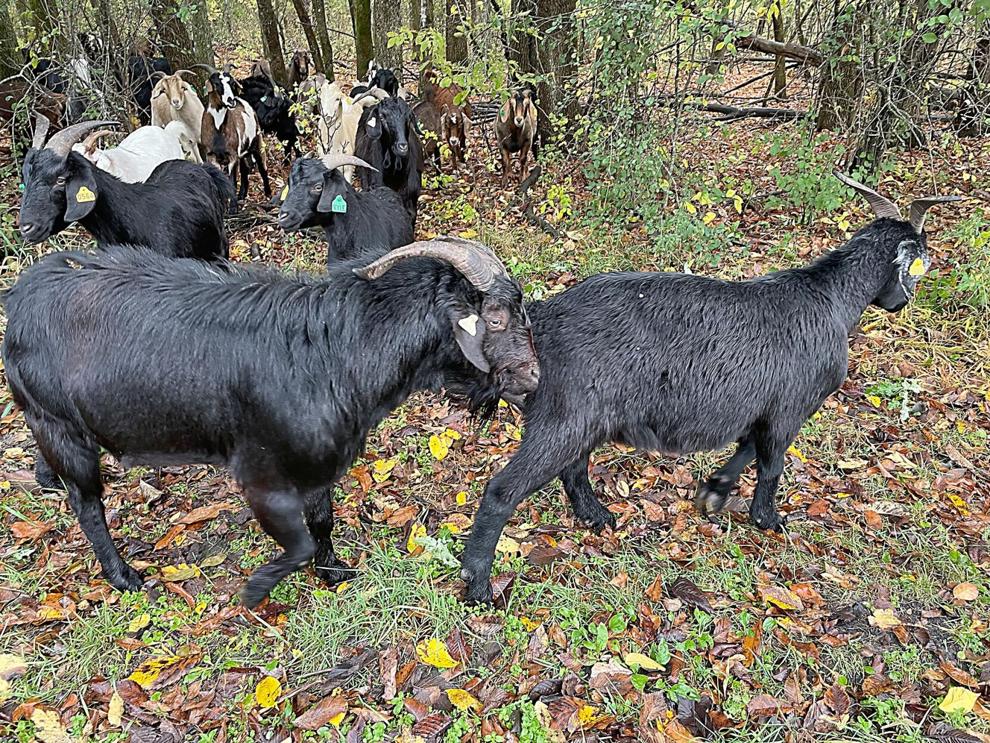 Having run the operation for about eight years, his proposition is that allowing goats to eat the foliage from invasive or unwanted plants for consecutive seasons will deplete them of nutrients. Eventually their root systems will weaken until the frigid Minnesota winter starves the plants, Langeslad says.
The older the plant, the more grazing it takes to kill off; stubborn shrubs such as buckthorn demand years of repetition. The goats in Waseca County will roam until snowy conditions begin this winter, only to return in the spring to eat more, Tomford said.
While Tomford is optimistic the process will succeed, Langeslag and other goat herders encountered early opposition and still face doubts about the idea's long-term efficacy.
A $456,000 study led by Tiffany Wolf of the University of Minnesota seeks to "evaluate the lasting benefits of goat defoliation for buckthorn management and determine if feeding poses harm to the native plant ecosystem." Langeslag's company is a partner in the study, which is 60% complete and projected to conclude in 2022.
Goat Dispatch has withstood a critical inquiry before. Wolf co-led research into whether goats spread buckthorn or other invasive species through their feces, putting diapers on several of Langeslag's goats and recording how many viable seeds passed through.
The study, published in 2020, found that just 2% of buckthorn seeds were intact after passing through goats' guts. Of those intact, only one in nine seeds remained viable to grow.
Without intervention by goats, 63% of buckthorn seeds were capable of growth.
"It's like a black hole once they get those buckthorn seeds in them," Langeslag said of the findings. "They really take them down while they're working on eating the plant back."
Walking along the edge of the woods Thursday, Tomford showed another perk of renting the goats: observing them is good fun.
The goats move together in packs, nudging each other and scratching themselves along the way. When they're around the edges of the park near the fence, they'll often stop and stare at humans.
Intrepid goats like Bat may walk toward you.
"Mind that it's a power fence. You will get zapped if you touch it," Tomford says to potential visitors.
Also, don't feed the goats, he added. That would partially defeat an $11,000 purpose.