A group with only one member speaking publicly, but with the firm belief Minnesota State Colleges and Universities are being corrupted by private interests, has launched a campaign against South Central College President Annette Parker with the goal of forcing her out.
Standing at the forefront of the increasingly public movement is former SCC adjunct professor Nicole Helget, who has loudly called Parker out for managing the college poorly at www.nicolehelget.blogspot.com. Claiming she was retroactively fired from SCC after announcing her resignation, the unabashedly vocal author is now the group's spokesperson.
The rest are faculty and/or staff at the college and fear losing their jobs, Helget said. A second blog, www.savesouthcentralcollege.blogspot.com, was started just last week and allows SCC employees and community members to vent concerns about the college anonymously. 
"I'm the only one in the position to talk about it," Helget said.
She did say there are at least 15 people at SCC who have given her information and financial documents to support accusations Parker abused her powers as president. Hundreds of fliers, dropped off at the North Mankato campus by Helget, made their way through SCC's halls two weeks ago and accused Parker of using students' money to make payments to several friends.
Parker, who took the reins at SCC in July 2013 and makes $170,363, said not only are the claims false, the fliers and accusations have the potential to distract faculty and staff from doing what they do best: serving students.
"I want to keep my focus on the students and how we move forward through dialogue with our students, with our faculty and staff, as we do the great work we do now, and the even greater work we'll do in the future together," Parker said.
Minnesotans United for Higher Ed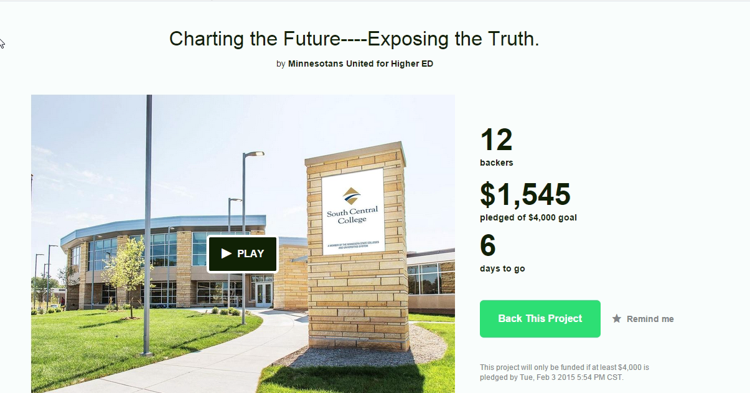 The group calls itself Minnesotans United for Higher ED and recently launched a Kickstarter campaign called "Charting the Future - Exposing the Truth" to raise the money needed for making several large data requests from MnSCU. (Kickstarter is an online funding platform.)
While the information requested is public, the group estimates it will cost more than $10,000 to compile it. It has requested several months' worth of emails, any and all communication between SCC's human resource department and MnSCU's office of human resources sent since July 2013, budget documents and more, according to a data practices request sent to MnSCU Dec. 23, 2014.
The only name listed on the Kickstarter page is Edward Wunsch, president of a full-service investigative agency based in Hopkins. He was recently hired by the group and Mankato lawyer Ryan Magnus to facilitate the group's data requests.
Magnus, whose wife works at SCC, says he's not helping the group for her benefit but because he feels strongly about the college's future. He is acting as the group's attorney for the purpose of making information requests. (Magnus said his wife is not actively involved in the Kickstarter group.)
The group has not only asked for data pertaining to SCC's operations but MnSCU's. Magnus believes the documents will show McKinsey & Company, the group contracted to work on MnSCU's long-range planning initiative Charting the Future, was also involved in getting Parker hired.
The executive search consultant firm Isaacson Miller was retained by MnSCU to recruit candidates for the president's position in 2013, according to MnSCU documents. The firm is one of a handful of search firms in the U.S. that cater to large nonprofit institutions such as MnSCU and claims 43 percent of its recruits are women and 23 percent are people of color.
McKinsey & Company and Isaacson Miller have no formal relationship to each other, corporate filings show. But Parker, who was previously employed at AMTEC, a consortium of American automotive manufacturers and the Kentucky Community and Technical College System, was featured in a McKinsey publication about the same time she was brought to SCC.
Magnus says Isaacson Miller is McKinsey's "go-to" when it comes to recruitment. He believes Parker was hired so SCC could become a pilot for Charting the Future, which is controversial in part due to the fact that it was created in consultation with McKinsey & Company.
"Documents received thus far strongly support the suggestion that Charting the Future is being implemented on a small scale at South Central College prior to it being spread system-wide," says the Kickstarter page.
Parker said the assertion is false.
"We really are in a planning stage of Charting the Future and no one knows what the complete outcome is going to be yet," Parker said.
She said allegations she has reorganized the college to further the interests of Charting the Future also are false. Changes made since she took office are in the best interest of the college, she said.
"The changes have put SCC in the best position to be one of the most premier community colleges, which we already are in my mind, in the country," Parker said. "So everything we do is to move forward and make sure our students have the best programming, the best opportunity, to reach their goals."
(See information box for more about recent changes at SCC.)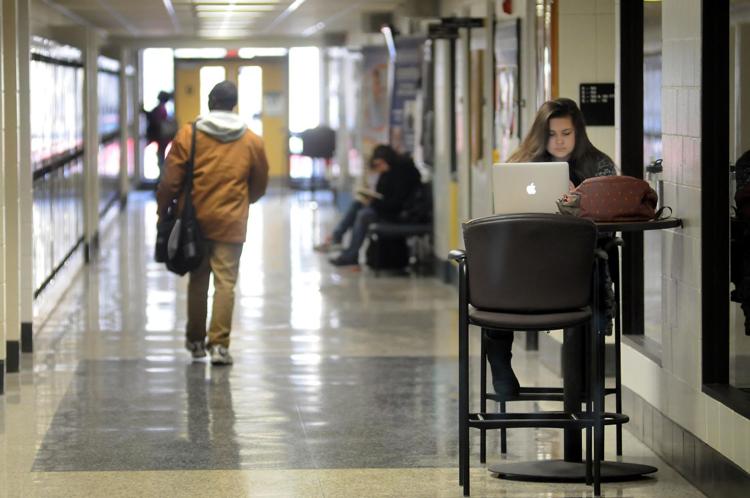 Funny money?
Magnus says the group also has evidence Parker misused college funds, a claim she disputes.
Financial documents obtained by both the Kickstarter group and The Free Press show SCC paid the consulting firm Innovation Partners International more than $100,000 during the course of one year to provide training at SCC.
MnSCU policy dictates that colleges bid out any contracts for services totaling more than $50,000, but there is no record of the college doing so. Payments to Innovative Partners International were billed using more than one vendor number. The college signed multiple contracts with the consulting firm. 
Magnus alleges that one of the firm's partners, Cheri Torres, is a friend of Parker's and that the contract was awarded to her because of their relationship. He thinks several other consultants were awarded contracts on the same basis.
Parker said while she was familiar with the services the consultants provided and had seen them in action before, she did not bring them to the college because she had personal relationships with them. She could not address allegations that some of the consultants were billed using different vendor numbers so the college would not have to use a formal bidding process to retain their services. 
Cheri Torres was shocked by the accusations. She said while she did consulting work for AMTEC, she's had no continued contact with Parker and would not consider her a friend. 
Shelly Megaw, director of college relations and marketing for SCC, said Innovation Partners was assigned two different vendor numbers due to an accounting change — the consultant was initially billed using a Social Security number and later its business identification number. 
MnSCU policy experts say generally, system colleges can enter into several different contracts and/or agreements with consultants, even if they total over $50,000. 
If a contract is for some reason extended — and as a consequence exceeds $50,000 — it may not be feasible to stop everything and bid for new consultants, according to MnSCU. If bids are not taken, staff are expected to amend the contract stating why. 
Financial documents obtained by both the Kickstarter group and The Free Press show that Parker's non-salary discretionary budget for fiscal year 2014 increased from $45,000 to $119,441.
Magnus said the increase is concerning, especially considering programs and courses at the college have been cut due to budget constraints. 
But Megaw said Parker's budget was modified to fund necessary start-up initiatives for her new administration (such as the work done by Innovation Partners International) without negatively impacting SCC's departmental budgets. 
The president's budget is set to go back down in fiscal year 2015 to $43,190, show financial documents obtained by The Free Press. 
(Also of concern to the Kickstarter group were documents that show Parker was reimbursed almost $700 to move her boat to Minnesota after she took the job at SCC. According MnSCU, newly hired college presidents may be reimbursed for up to $40,000 in relocation expenses. Parker received $33,714.)
Bad press
SCC union leaders say the Kickstarter campaign and fliers have cast the college in a negative light.
Darci Stanford, union spokesperson for the Faribault campus, says not all faculty are unhappy with Parker and that no one has come to her with any specific complaints.
Many faculty are surprised by "how quickly things have escalated," she said, referring specifically to the fliers disbursed on campus two weeks ago. Because she does not know which faculty members are involved with the Kickstarter group, she has been unable to talk to them about the allegations or suggest ways to resolve things more peacefully.
"I don't think people see this as a productive way of dealing with these issues," she said, adding that many faculty members have approached her about the Kickstarter page and believe the campaign is "really damaging to SCC as a whole."
Stanford said in her own personal experience, Parker is easy to work with. Though not legally required to discuss certain contract issues with faculty and staff — such as inherent managerial rights — the president is open to talking things through with the union, Stanford said. That's a marked difference between her and administrator's like the college's former president, Keith Stover.
Parker also has involved faculty in budget conversations and is making what the union thinks are positive changes.
"One process they're redoing, is the budget process," she said. "They're going to let faculty have more say and more input ... groups of faculty, by department, will get a pot of money and will get to decide how to divvy it out."
Jay Wendelberger, who represents faculty in North Mankato, said any issues at SCC are internal and should not be made public. There have been positive changes and there have been difficult changes, he said, but none that deserve special attention.
"We're a workplace," he said. "Of course there are issues ... We work on them. I think that's what's happening at SCC and has happened at SCC, with both the old president and the new president."
Helget is critical of both union representatives in her blog and has accused them of turning a blind eye to issues at SCC. 
But Kurt Dershem, chair of the college's humanities department, thinks she is being unfair. Last Friday, he sent out an email to all college faculty defending Wendelberger in particular, and denouncing Helget's claims. 
"... I believe that many of the claims being made are inaccurate and the campaign is counterproductive because of how it's being waged," he said in the email. "It relies on rumor, innuendo, illogical leaps and conspiratorial thinking, assuming the worst about individuals who are criticized and refusing to consider their perspectives. Specifically, Jay Wendelberger has been criticized for becoming 'captured' by the administration and refusing to defend faculty interests. In my view, this criticism is unfair, unprofessional and incorrect.
"Although it's true that Jay has a good working relationship with Dr. Parker, I think this is beneficial, not detrimental. Faculty members have legitimate issues with how the school is being run, but they will only be addressed if we communicate clearly, openly and professionally with one another and the administration. Some (including myself) have accused Jay of ignoring concerns which faculty have raised. Again, I think this is unfair. I deeply regret the part I played in promoting that claim."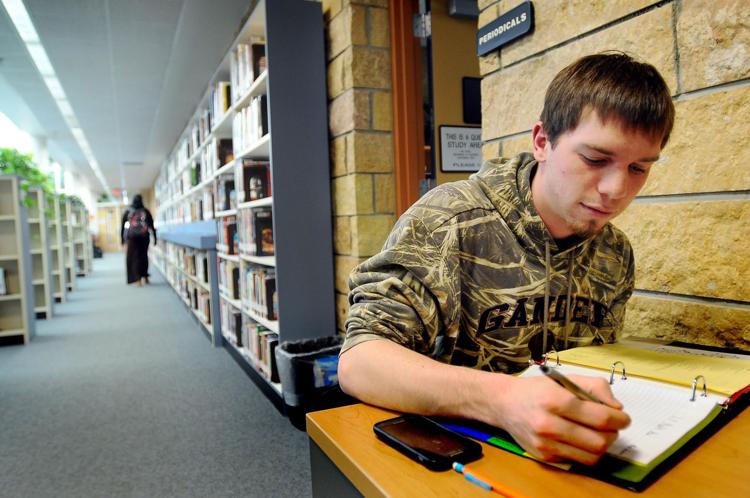 What students are saying
Students are of two minds when it comes to the allegations made by the Kickstarter group; they either believe them or they don't.
Hussein Osman, SCC Student Senate president, for one is not taking the fliers too seriously.
"It's 'he said, she said,'" Osman said. "There's no proof."
Osman said the Senate meets with Parker regularly and that she has always been transparent with students when it comes to the college's budget, course cancellations and more.
He believes she is leading things in the right direction and feels like there's a good atmosphere at the college — faculty and staff always seem to be smiling, he said.
"I have not found any difficulty with Dr. Parker. She has been very transparent with everyone in the Student Senate," Osman said. "As a student leader, I feel very comfortable with her."
Brittany Brock-Campagna feels very differently. Now that she has seen the fliers, she's considering withdrawing from SCC and enrolling at Minnesota State University instead.
She said a video posted on the Kickstarter page, which include several audio snippets of Parker speaking, has made her feel uncomfortable. It is not clear from watching the video if the audio was recorded with Parker's knowledge and the comments are taken out of context.
Still, Brock-Campagna said it would not surprise her to learn Parker has misused college funds. She is disappointed with SCC as a whole and said she is commonly overlooked by staff.
Due to recent course cuts, there are a limited number of liberal arts classes available, Brock-Campagna said. She also thinks the college does not offer adequate resources for those with learning disabilities.
She blames much of the college's current culture on Parker.
"I don't think I'm going to be returning there if she's still president," she said. "... All of this just doesn't sit well with me."