MANKATO — Key City Bike board member Joe Madson pedaled to eight Mankato stores in 1 hour and 18 minutes.
Theresa Crozier has less experience cycling on snow and ice and only made it to four stores. But she came back with a broader assortment of nonperishable food.
Key City Bike's second annual Cranksgiving brought out 15 hard-core and charitable bicyclists Saturday afternoon. They collected 185 food items valued at over $450 for the Committee Against Domestic Abuse shelter.
"It makes giving more fun and it gets people outdoors," organizer Acacia Wytaske said about the food drive challenge on two wheels.
Minutes before they departed from Key City Bike headquarters, participants were given a system for earning points by visiting select stores and buying food requested by CADA.
The more points a rider earned, the closer they got to the front of the line to chose a prize donated by area businesses.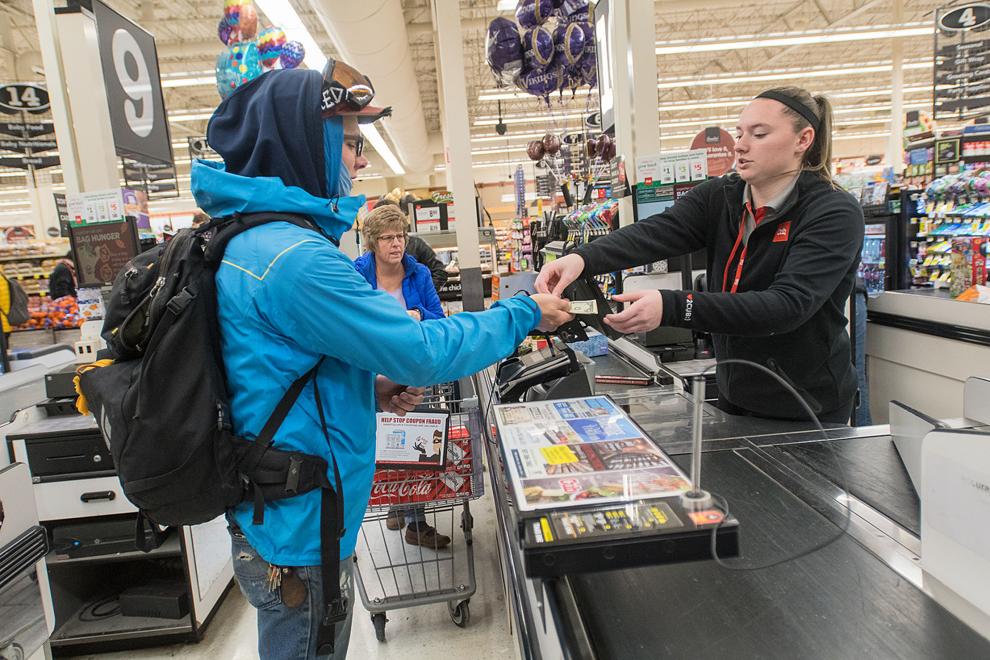 Madson, who is a Mankato resident and regular winter biker, decided to chase the bonus points for visiting all of the available destinations and being the first to cross the finish line. He achieved the first-finisher prize by riding his fat tire bike through ditches and using other shortcuts he'd discovered during his many prior two-wheeled jaunts around town.
Crozier, of North Mankato, focused on gaining points from collecting food items, including going after the bonus for bringing back the most boxes of cereal. She returned with 11 boxes of cereal, 32 boxes of muffin mix, a bag of rice and a jar of olive oil. She filled a backpack, her bike basket and a tote bag hanging from each handlebar.
Melissa Windom, of St. Peter, decided to stay downtown with Crozier and not risk overloading her bike with more bags than she could carry after Crozier made her a pledge. Both ladies coveted the sledding party at Mount Kato as their favorite prize and Crozier promised to invite Windom if she won.
The nearly 4 inches of snow that fell the night before shortened a few riders' routes but didn't stop this year's food drive on two wheels.
Wytaske said she actually was hoping for snow. Along with helping hungry people, she said the ride also aims to promote winter cycling.
"As long as you're dressed right it's so much fun," she says of taking a bike out in the less popular season.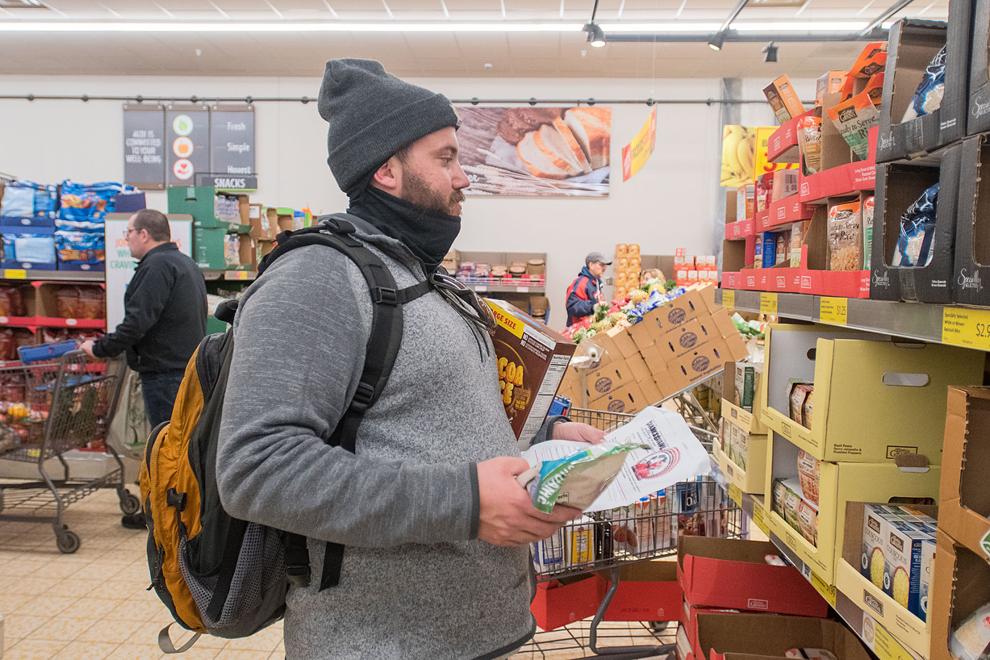 Cranksgiving competitor Joe Muehlbauer, of Mankato, doesn't usually bring his bike out in winter but said he might take more trips through snow now.
"It really wasn't as bad as I thought it would be," he said.
The biggest challenge, he said, had nothing to do with the weather: it was navigating the busy hilltop roundabouts.
2018 marks the 20th anniversary of the first Cranksgiving in New York City. This year there are nearly 100 Cranksgiving events being held across the country, according to www.cranksgiving.org.
Formerly the executive director of Key City Bike, Wytaske came back from California to continue the event she started in Mankato.
She said she had enjoyed competing in Cranksgiving rides in Minneapolis and decided to organize one of her own last year.
The local Cranksgiving will collect food for a different organization each year, Wytaske said.
Last year the event benefited a Feeding our Communities Partners program that sends meals home with school children in need for weekends and other no-school days.