MANKATO — AC/DC couldn't have sung it better, according to David Zimmerman. He was struck by a car while riding his motorcycle on Highway 14 more than 30 years ago, and he still deals with the physical toll of his serious injuries back then.
"It really is the highway to Hell," Zimmerman told the House transportation committee Friday afternoon.
Lawmakers convened Friday in Mankato for the fifth and final field hearing on transportation issues around the state. Local officials, firefighters, business leaders and residents whose loved ones have died on Highway 14 were there to urge lawmakers to fund the last project to expand the roadway to four lanes between New Ulm and Rochester.
There were signs calling for action. People shouted "Fix 14 Now!" several times during the meeting. And more than two dozen people told the transportation committee how crucial it is to improve the last 12-mile stretch of two-lane road, between Nicollet and New Ulm, before more crashes occur.
"We get calls from our grandkids saying, 'I'm sad that Daddy isn't here,'" Iona Reinarts told lawmakers.
Reinarts' son, Michael Reinarts, died last April after the van he was driving collided with a pickup truck on Highway 14 in Courtland. He was 41 years old.
Iona Reinarts described how devastating her son's death was to his family. She blames the two-lane stretch of Highway 14, which was icy at the time of the crash.
"I just feel that if it would be four lanes, it never would have happened," she said.
Courtland Fire Chief Dave Ubel was the first person to respond to the scene. He told lawmakers he thought Michael Reinarts was still alive when he first saw him. What stayed with Ubel after the accident was the the family Reinarts left behind.
"He never got to go home that day," Ubel said. "He never got to see his kids again."
Rep. Jeff Brand, DFL-St. Peter, has authored a bill that would allocate $85 million toward expanding Highway 14, the last such project since communities first pressured the Legislature about the road more than 50 years ago. 
Lawmakers have taken steps to address Highway 14 since creating the Corridors of Commerce program in 2013, which dedicates money to improve roads connecting rural regional centers like Highway 14 does. Last year the Legislature allocated $400 million toward Corridors of Commerce, of which $174 million went to expand a 12-mile stretch of the highway between Owatonna and Dodge Center to four lanes.
That leaves the stretch from Nicollet to New Ulm as the last two-lane portion of Highway 14 between New Ulm and Rochester.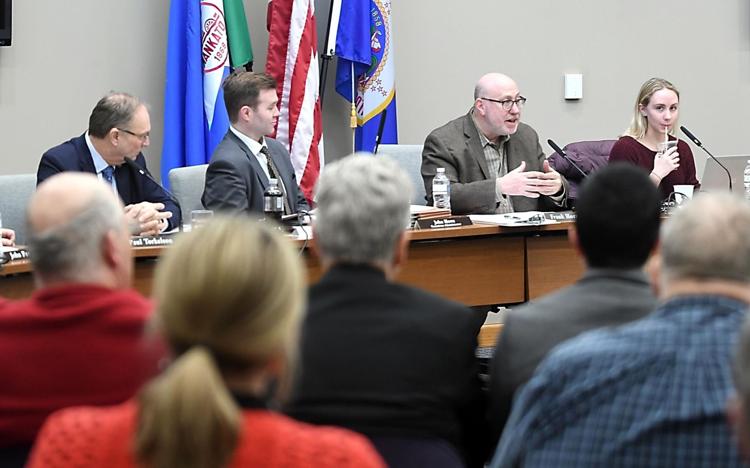 New Ulm officials said Friday more than 6,000 people commute into the city each day and more than 1,000 semi trucks leave New Ulm daily, of which many take Highway 14 to transport goods across the state. Trucking officials said the two-lane stretch costs area companies time and money as the speed limit is reduced when traffic moves through Courtland, which means trucks have to expend more gas getting back up to highway speed once they're out of the city limits.
Business leaders say the bottleneck the two-lane stretch causes is hampering economic development in the area.
"Our infrastructure is not keeping up," said Patrick Baker, vice president of Greater Mankato Growth. 
It's unclear whether lawmakers will include Highway 14 funding in a larger transportation bill this year.
House transportation committee Chair Frank Hornstein, DFL-Minneapolis, said the area's testimony Friday was a strong reminder of how important the project is. Yet he and other lawmakers noted other communities around the state have similar problems with their local roadways.
Hornstein said Highway 14's inclusion in a transportation budget bill largely depended on how much funding House and Senate leaders could secure with Gov. Tim Walz. A Mankato Democrat, the governor has proposed a $49 billion budget over the next two years that includes a 20-cent-per-gallon gas tax increase, which the GOP-controlled Senate strongly opposes.
While some area lawmakers have tried to earmark money for Highway 14 in the past, including in a 2016 transportation bill, the Legislature generally opposes earmarking specific projects as legislators prefer the Minnesota Department of Transportation prioritize which road projects receive funding. 
Walz said earlier this week he supports expanding Highway 14 as soon as possible and isn't opposed to earmarking as a concept, but said lawmakers need to decide on funding through the legislative process.
Still, the area is used to waiting on fixes for Highway 14. North Mankato Mayor Mark Dehen told lawmakers he still remembers when his father, who served as mayor of Eagle Lake in 1970, told him it would take 20 years and $200 million to make Highway 14 four lanes between New Ulm and Rochester. 
Brand told lawmakers Friday he's met with many constituents who say the road needs to be expanded now. He remembers a firefighter from Courtland who spoke with him last February, when Brand was still running for office, about how important the project is to the area. The firefighter told Brand he was "tired of pulling dead bodies out of cars."
"That stuck with me," Brand said.