Tony DeSantiago has looked at the Kern Bridge in his backyard since he built his house in the '90s. He's seen everything from swimmers to romantic dinners to proposals happen on the picturesque bridge behind his house.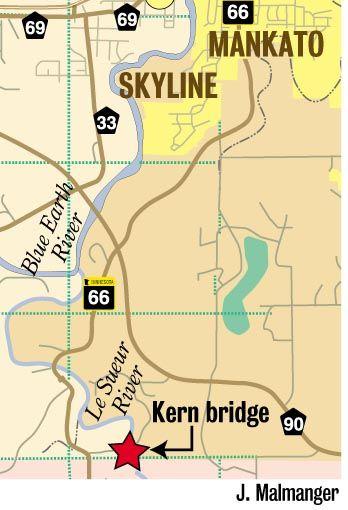 The historic bridge, which has spanned the Le Sueur River south of Mankato since 1873, was moved from its crumbling limestone abutments Thursday after spring flooding over time eroded them. The longest of its type at 189 feet, the bridge carried everything from horse and buggy to pedestrians and vehicles along Township Road 190 until closed in 1991.
A mix of federal and state aid funding paved the way for the wrought-iron bowstring truss bridge to be saved. The bridge will be carefully disassembled and stored by the Minnesota Department of Transportation until a new owner can be found.
"When you think what was available for technology at the time, that it's still standing is really remarkable," said Blue Earth County Engineer Ryan Thilges last spring. "... The craftsmanship and design that went into it — we certainly want to preserve that."