ST. PETER — Tori Elker was saying she feels her band, Good Morning Bedlam, has grown into its name over the past few years, embracing the need for spirited live performances, when a bandmate interrupted.
"Tori, we need you to be setting up right now," Isaak Elker, the Minneapolis band's main songwriter and the creator of its name, said with emphasis to Tori, his wife.
He seemed tense — "urgent," he corrected after the band's hour-long set — because he worried the 10 minutes of switchover time wouldn't be enough to set the stage for a Sunday afternoon performance.
After several minutes of plugging in wires and tuning their instruments, it became clear why Isaak may have felt tension. The band was geared up to rock. Hard.
Having given a four-count, Isaak launched the band into its performance of "I am sad," an upbeat tune whose musical mood contrasts with its title and lyrics. He quickly strummed a black acoustic guitar, jumping around, bobbing his head, baring his teeth with the release of energy.
Minneapolis band Good Morning Bedlam playing its upbeat, outstanding song called, "I am sad." pic.twitter.com/NX9MC8lNGm

— Jordan Smith (@jordantsmith09) September 12, 2021
Tori sings lead on the track and plays upright bass for the band, yet her ginger head of hair also bobbed as her body swayed behind her instrument. Sophia Beyer, the band's fiddler and third singer, played an up-tempo melody.
"Isaak really liked the word bedlam, because it comes from the old insane asylum in London, and the word just became chaos," Tori Elker said of the band's name prior to the set. "We decided to put those two words together because it's like greeting the chaos of life."
The three-person ensemble encapsulated the energy of 24 acts scheduled to play at the Rock Bend Folk Festival in St. Peter over the weekend, marking the free event's 30th year after its first-ever cancellation in 2020.
Organizers were two or three bands short of a complete festival when the decision to limit outdoor gatherings came from Gov. Tim Walz in late spring of last year, said Kris Higginbotham, one of the outing's founders. The set list would have included a couple national acts that couldn't be rescheduled this year.
Scheduling for this year's festival presented its own hurdles, Higginbotham said. The nonprofit committee that organizes the fest had to overcome interstate travel regulations, wariness of traveling among some musicians and a shortage of commercial flights.
Though arrangements are typically complete in early June, they weren't finished this summer until just over a month before Rock Bend.
At least two major acts ended up canceling just before this weekend, said Ron Arsenault, who reaches out to musicians and managers to book bands. He's also in the band City Mouse and for three decades has led efforts to curate who is invited to play.
About 100 artists are pitched each February, Higginbotham said, with a growing emphasis on younger acts fronted by women or people of color. The organizing committee listens to each artist and researches music to narrow its list of possibilities.
Arsenault, 69, said the committee books bands late and seeks musicians already touring in the area to make the most of its relatively low budget.
"Over 30 years now, we've been working with a lot of agents that get who we are," Arsenault said. "And they kinda get how much money we have, and that we don't have a gate. And the agents that know who we are and that we trust, they refer good people to us."
Those people have included 355 bands in the event's 30 years, their names printed on the back of Rock Bend's official T-shirt for this year's festival.
Higginbotham said she, Arsenault and Dawn Devens, the third founder, began in 1991 with a simple but steadfast commitment that the festival must remain free to enter, and the stages must be devoid of tacky signs announcing corporate sponsors.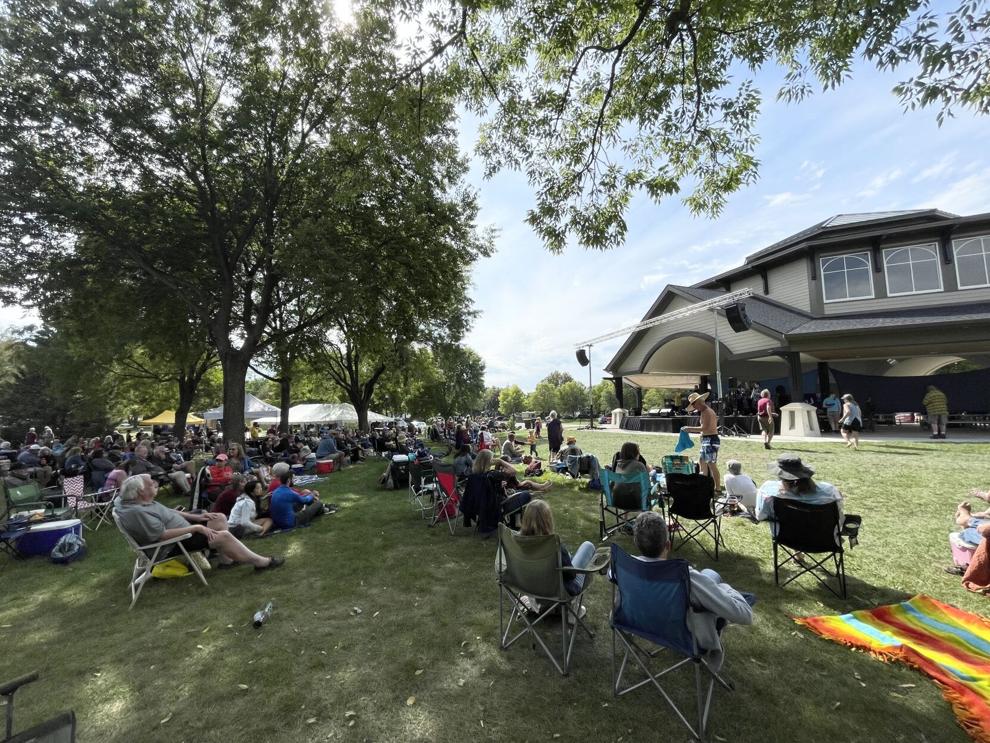 That vision manifests itself in an official motto, read by Arsenault to an afternoon audience: "A festival which has never been coerced, co-opted or besmirched by the proliferating greed of commercialism."
Musicians and guests are often in disbelief that there's no catch, Higginbotham said. The nonprofit organizers aren't making money on bands' talent like their promoters and managers would.
The founders preach that it's enough merely to enjoy good music and be joyful. Nothing more is needed for them.
It has led to consistently impressive music and a set of sometimes relaxing, sometimes lively performances that draw thousands of area residents to St. Peter's Minnesota Park. Higginbotham said about 10,000 had come this weekend, down only a third from the usual 15,000.
"We can't offer as much as a lot of people make. That's why you don't see huge national acts because we can't afford them," Higginbotham said, explaining that 75% of money raised goes to the bands.
For a mother and son near the stage as Good Morning Bedlam played, loving it meant clapping, skipping and dancing in a circle with arms intertwined. Along with the boy's father, the family had been preparing to leave when they stopped on the sidewalk, struck by what they heard.
The dad went from tapping his foot patiently to swinging and laughing along as the song progressed. Dozens of others sat entranced, sprawled out on blankets on the lawn or sitting in folding chairs.
Tori Elker, who without prior knowledge learned upright bass five years ago to join the group, said the band savors an attentive audience like the one it had Sunday.
They've endured two-hour performances at which only a bartender is listening. The 27-year-old University of Minnesota graduate said those shows feel like joyless work.
She tells aspiring young musicians that life on the road is often unglamorous, made up of 30% pure fulfillment and 70% hauling equipment. Isaak Elker said he and the other members basically lived in a cramped van during 2018 and 2019, when they were touring nine months out of each year.
"Put three people in a van and see if you can get along for five weeks," the Rochester native said. "Sleeping on floors and staying up late and meeting people around the country — it's a really beautiful experience, and it can also be really challenging."
And what did he hope the band could attain on day 3 of a Midwestern tour during an hour-long performance in St. Peter?
"We want to share our experiences in the hopes that other people will connect with those. We want to be able to be vulnerable, in the hopes that other people will say, 'I felt that way, too.' Or, 'I thought about that, too,' or 'Sometimes I'm also sad,' or 'Sometimes I also don't feel like I'm loved,'" he said.
Artistry, to Isaak, is a band of nomads sharing their feelings so others they meet on the road will know that someone understands.
He added that opening their hearts to audiences around the country is a way for each member to remind themselves they aren't alone.